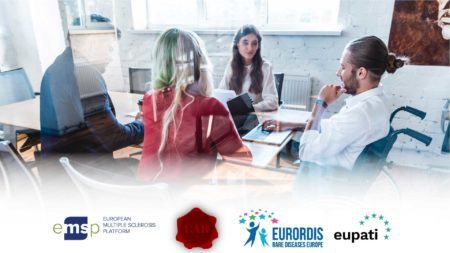 ---
EMSP News
MS Community Advisory Board (MS CAB) launched
21.12.2021
In December 2021, EMSP launched a new initiative called the Multiple Sclerosis Community Advisory Board (CAB), through which we intend to become a positive and constructive partner in the research and development of safe, effective, and tolerable treatments for MS.
What is a Community Advisory Board (CAB)?
Patient Community Advisory Boards (CABs) are groups established and operated by patient advocates and facilitated by EURORDIS, Rare Diseases Europe and EUPATI Spain, a patient education specialist. CAB members are people living with a specific condition, a close family member or carer, and/or a member of a patient organisation that works with the disease.
The Multiple Sclerosis CAB is a representative group of dedicated MS community activists and patient advocate members from different European countries, who have knowledge of scientific as well as policy-related issues. The MS CAB offers a pool of patient experts with the aim of meeting with companies, researchers and other stakeholders to provide our expert knowledge, including advice to optimize clinical trials for better and faster results, everything that can accelerate treatments/cure through to market and bring them to the patients without leaving anyone behind.
What exactly does a CAB give input on?
CAB members are the experts on a wide variety of topics that including:
patient outreach
education on research
clinical studies and their design
criteria for participation
informed consent forms and processes
compassionate use programmes
retention of participants
and reporting on results
Input is also given on disease-specific topics such as clinical endpoints and how they are measured, meaningful patient-relevant outcomes (PROMs), disease registries and their common elements or factors that are meaningful to patients when measuring health and social outcomes.
Why now?
More than ever, patients and the patient perspective are seen as a way to make medical research and clinical studies more impactful, possibly quicker and certainly more efficient. The MS CAB is interested in engaging with all researchers at the earliest stage possible.
Who are our partners?
The MS CAB is supported by the EURORDIS EUROCAB Programme which assists patient organisations in setting up the CAB and offers guidance on common principles and tools for engagement.
The programme will be managed day-to-day by EUPATI Spain with expertise in capacity building of patient advocates through e-learning and other training opportunities, peer-to-peer exchange of experiences across CABs, quality monitoring of the process and outputs of CABs, and transparency.
Both EURORDIS and EUPATI Spain will work on the promotion of the programme, evaluation and eventual scientific publication of successes and/or barriers to successes.
Please contact us for more information at projects@emsp.org
---