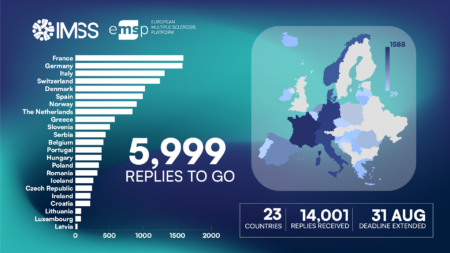 ---
EMSP News
Uncategorized
Impact of Multiple Sclerosis Symptoms (IMSS) – Where are we now and what can you do?
24.07.2023
EMSP and 25 member organisations have launched their pan-European survey on the Impact of Multiple Sclerosis Symptoms (IMSS) in May 2023.
The aim of the IMSS survey is to understand the symptoms of MS, their prevalence and severity as well as how people with MS are managing their symptoms across Europe. Documenting MS symptoms and how they affect the quality of life and disability is crucial at this stage to push for more accessible and timely care. Therefore, gathering and understanding this information cannot be delayed!
How is IMSS going to help people with MS?
Through IMSS, EMSP aims to gain a deeper understanding of the challenges faced by people with MS regarding their symptoms and management, aiming to uncover valuable insights into effective symptom management strategies and coping mechanisms. By identifying the most debilitating symptoms and gaps in accessing symptomatic treatment, but also the successful approaches that people with MS are using, EMSP seeks to address the issue of access to treatment and potential barriers.
This research will be used by EMSP and MS patient organisations, both on a national level for each participating country but also on an EU level, to advocate for improved healthcare policies and increased availability and accessibility of MS symptomatic management, catalyzing the development of more personalized, timely, and effective treatments and increased support services for people with MS and their caregivers.
The more people with MS across the participating countries share their voice and their experience, the more EMSP and patient organisations across Europe can understand what those needs are and advocate widely to meet them. Through this initiative, we hope to make a meaningful impact on the lives of those affected by MS, fostering improved health outcomes, increased support systems, and a greater understanding of MS and the needs of people with MS within the patient, medical, and policymaking communities.
Where are we now?
IMSS has reached by now, mid-July, 14,001 people with MS from 23 countries in Europe. Data collection has been extended until the end of August 2023 as our target is to reach 20,000 people with MS, so we have 5,999 more people with MS to reach to be able to gather the voice of as many people with MS as possible.
Check how many people from your country have responded to IMSS until now here:
Responses to the IMSS Survey (24 July 2023)
| Country | Number of replies |
| --- | --- |
| 🇫🇷 France | 1,588 |
| 🇩🇪 Germany | 1,575 |
| 🇮🇹 Italy | 1,312 |
| 🇨🇭 Switzerland | 1,242 |
| 🇩🇰 Denmark | 1,023 |
| 🇪🇸 Spain | 991 |
| 🇳🇴 Norway | 901 |
| 🇳🇱 The Netherlands | 839 |
| 🇬🇷 Greece | 578 |
| 🇸🇮 Slovenia | 509 |
| 🇷🇸 Serbia | 444 |
| 🇧🇪 Belgium | 411 |
| 🇵🇹 Portugal | 386 |
| 🇭🇺 Hungary | 385 |
| 🇵🇱 Poland | 347 |
| 🇷🇴 Romania | 325 |
| 🇮🇸 Iceland | 264 |
| 🇨🇿 Czech Republic | 245 |
| 🇮🇪 Ireland | 223 |
| 🇭🇷 Croatia | 217 |
| 🇱🇹 Lithuania | 85 |
| 🇱🇺 Luxembourg | 82 |
| 🇱🇻 Latvia | 29 |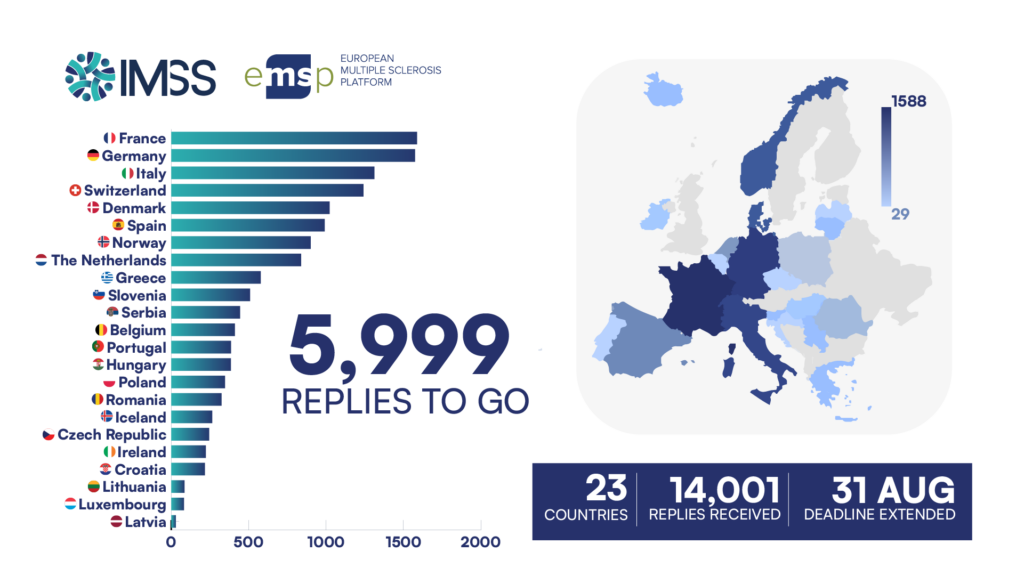 How can you be involved?
If you are a person with MS or a caregiver of a person with MS, please take the IMSS survey today! Your voice, perspective, and experience are unique and will help us in understanding how MS symptoms can be prioritized to be properly managed. Any person diagnosed with MS in the participating countries can take part in this survey after providing their consent. People with MS under the age of 18 are also encouraged to participate given parental consent.
If you are not a person with MS, you can help by spreading this survey further, so it can reach people with MS across Europe.
The countries participating in IMSS are Belgium, Croatia, Czech Republic, Denmark, France, Germany, Greece, Hungary, Iceland, Ireland, Italy, Latvia, Lithuania, Luxembourg, Netherlands, Norway, Poland, Portugal, Romania, Serbia, Slovenia, Spain, and Switzerland.
Take the survey by clicking on the button on the right and please share it with a friend or family member who might be interested!
If you have any questions on IMSS, don't hesitate to contact Patricia from the EMSP team at patricia.moghames@emsp.org.
---