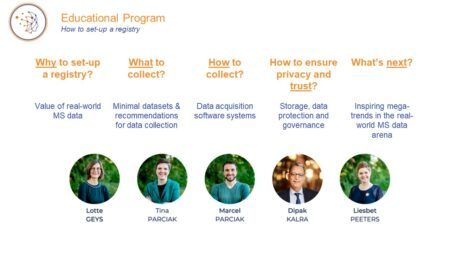 ---
EMSP News
How to set up a Multiple Sclerosis Registry? – MS Data Alliance Academy Webinar Series Completed
25.04.2023
We are excited to share that the European Multiple Sclerosis Platform (EMSP) hosted a successful series of five webinars from February to April 2023 as part of the MS Data Alliance Educational Program on "How to set-up a Multiple Sclerosis registry".
The webinars covered various aspects of setting up a registry, from understanding the value of real-world MS data to recommendations for data collection, data acquisition software systems, ensuring privacy and trust of stakeholders, and inspiring grant momentum in the real-world MS data arena.
Patient representatives, researchers, clinicians, and patient advocates from different European and other regions participated in the webinars, making them an informative and collaborative learning experience.
We would like to extend a special thanks to the topic experts and our champions who shared their knowledge and expertise during the webinars, as well as the participants who contributed their insights and perspectives.
Overall, these webinars provide a valuable resource for anyone interested in setting up a Multiple Sclerosis registry, and we look forward to seeing the impact they have on the field. We hope that the knowledge and insights gained during the webinars will continue to inspire progress and innovation in Multiple Sclerosis research and care.
---