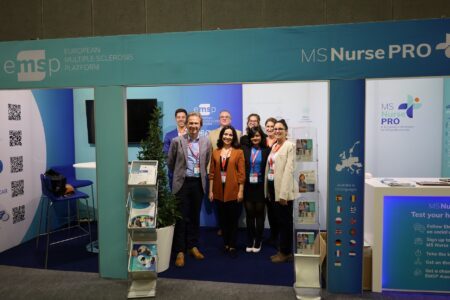 ---
EMSP News
From Europe|Stakeholder Events
EMSP @ ECTRIMS 2022 – Key takeaways
30.11.2022
ECTRIMS is the world's largest annual international conference devoted to basic and clinical research and care in multiple sclerosis. The Annual Congress offers a host of educational sessions, plenary lectures, posters and young investigator sessions, as well as meet-the-expert opportunities.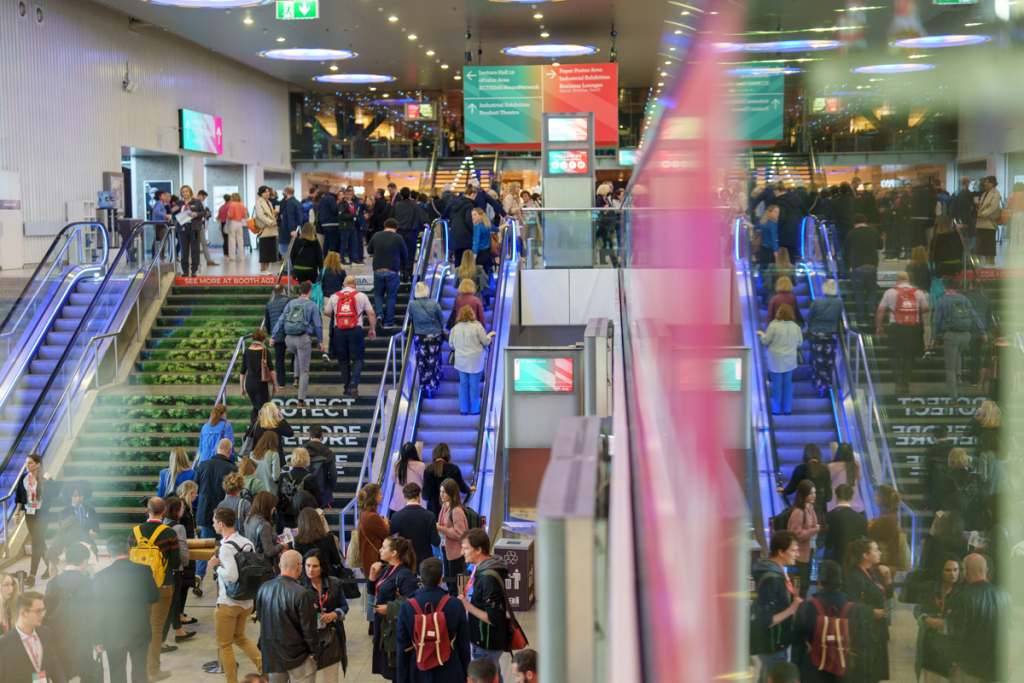 About ECTRIMS 2022
The 38th Congress of the European Committee for Treatment and Research in Multiple Sclerosis (ECTRIMS) in collaboration with the 27th Annual RiMS Conference took place between 26-28 October 2022 in Amsterdam, The Netherlands.
More than 8,700 participants from over 100 countries and more than 200 speakers attended. The event was hybrid, on-site and online, with participants enjoying scientific, hot topics and educational sessions, as well as selected free communications, young investigator sessions, guided e-Poster sessions, and meet-the-expert sessions.
The recordings of the sessions are available on-demand for registered delegates here.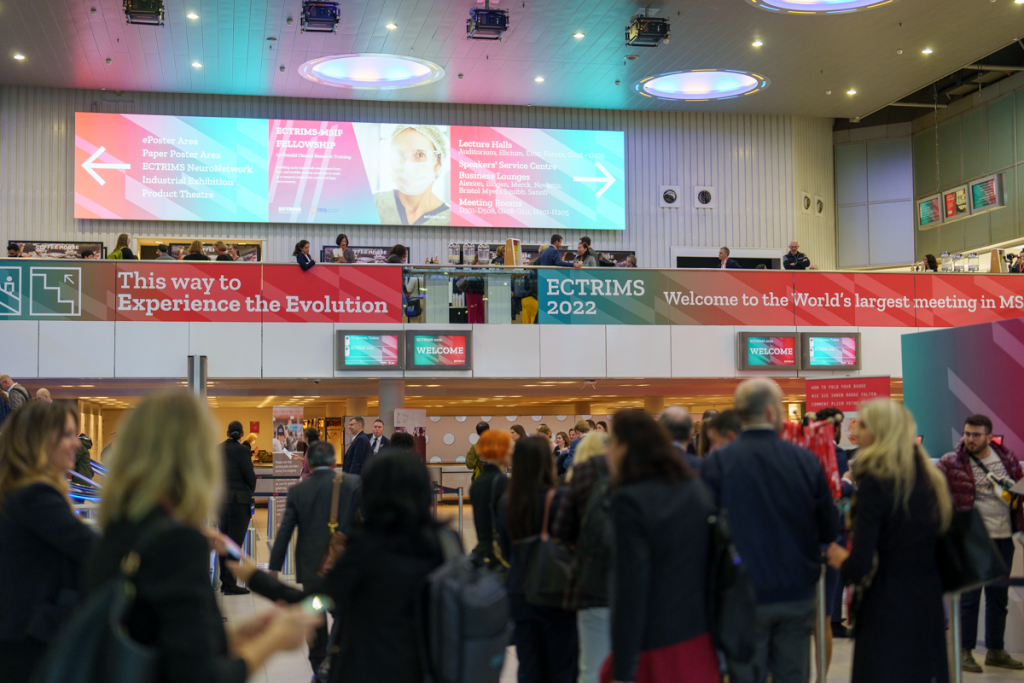 EMSP at ECTRIMS 2022
Between 26 and 28 October 2022, the entire EMSP team was present in Amsterdam attending important sessions, meetings and greeting visitors during the exhibition at the EMSP booth where we were working hard to increase the visibility of EMSP, its members, and initiatives.
Thanks to the generosity of ECTRIMS, we could also ensure the participation of 10 patient representatives through the free passes offered by the organizers of the Congress. We would like to express once again our appreciation for their gesture.
The main project of EMSP at this year's ECTRIMS Congress was definitely MS Nurse PRO, which not only had its own event about the evolving role of MS nurses, but also officially announced the launch of its new course on MS Research developed with the support of ECTRIMS. What's more, MS Nurse PRO was expecting the visitors of the exhibition at the EMSP booth with a contest, where people had the opportunity to complete a 9-Hole PEG Test with the fastest and slowest ones being awarded a ticket, flight, and accommodation for the next EMSP Annual Conference 2023 to be held in Helsinki, Finland next year.
Finally, on 29 October 2022, just one day after the end of the Congress, Jana Hlaváčová – our interim CEO – participated in the event organised by ECTRIMS specifically for people with MS discussing the main research findings presented during the congress. In her intervention, Jana emphasized that "MS takes away the feeling of control over your life. Without research, there would be no progress and no cure." She added that research needs to focus on issues that are truly relevant to people with MS themselves. There must be a lot of information and training provided for people with MS on research, and we must allow the sharing of experiences between patients. She also highlighted that people with Multiple Sclerosis can also contribute by providing data in the different MS registries. In addition, she underlined that it is essential to have a good understanding of the different phases of clinical trials before actively participating in research.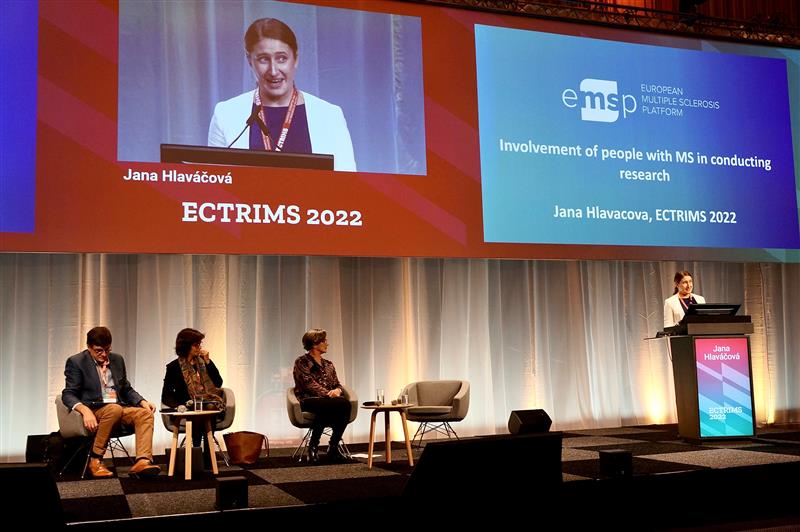 "But what were the main takeaways of the largest multiple sclerosis research meeting of the world?" […] You may ask.  The EMSP team was working hard during the event taking notes and collecting below the most important highlights for the European MS Community.
Key Highlights – Day 1
Bringing patients into the center through PROMS
ECTRIMS was launched with a discussion led by the European Charcot Foundation focusing on the importance of keeping the patients in the center of decision-making, be it on research, programs, and services. This opening session highlighted "Bring patients into the center. Translate their needs and experience to scientific language."
This session highlighted that Patient Reported Outcomes in MS (PROMS) play a key role in understanding patients' perspectives. Continuous evaluation of PROMS needs to be maintained to ensure that newly needed outcomes are added.
"We are shifting from center-based care to patient-based care and more in specific, patient-engaged care. Silent progression is silent just because we can't listen to it."
Tools as simple as tracking the changes in the everyday life of people with MS, the use of sensors, and even the use of emojis, can help researchers understand how MS is progressing. The key is to ensure that PROMS, which reflect everyday patient input, are prioritized, understood, standardized, and included in policies and decisions. There are currently many barriers when talking about PROMS at the clinical and policy level. PROMS are starting to be normalized but a lot of effort is needed to maximize their use in change-making.
Remyelination
Remyelination is a hot topic that was addressed at ECTRIMS as well. Researchers are digging deep to understand how remyelination, helping the body to rebuild its myelin sheath where lesions are, can help in reversing the progression of MS. Silent progression is independent of relapses or detectable inflammation that could be irreversible. There's a major challenge to prevent neurodegeneration and therefore, accelerating remyelination is a crucial step.
There are early preclinical studies to deliver remyelination where it is important to remyelinate the right site at the right time after the lesion. This session also highlighted that from 2017 until 2022, there were clinical trials, some with small but positive effects, others were not promising or the drug was poorly tolerated. Currently, there are few promising ongoing trials with promising results. The discussion concluded that remyelination will alter MS to become manageable with slower progression, but not to be considered as a cure.
High efficacy therapies (HET) & COVID-19 Vaccination in MS
One of the first hot topics of the congress was High Efficacy Therapies (HET) that may overcome some of the poor prognostic problems in people with Relapsing-Remitting MS (RRMS). There are a lot of discussions on how and when to use HET as they have more serious side-effects complicating the quality of life of the patients. However, HET is strongly recommended to be used in patients with poor prognostic factors as early as possible.
In this session COVID-19 vaccination in MS was also discussed with the conclusions:
MS Patients taking medications that weaken their immune system may not be protected even if they are fully vaccinated.
These patients should continue to take all precautions recommended for unvaccinated people, including wearing a well-fitted mask and keeping social distance.
It is important that those around them are fully vaccinated as well, in order to limit their exposure to COVID-19.
Paediatric MS
The first lecture after the welcoming session was about putting Paediatric-onset MS (POMS) in perspective by Dr. Banwell, the Chief of Child Neurology and Professor of Neurology and Pediatrics at The Children's Hospital of Philadelphia, Perelman School of Medicine, University of Pennsylvania.
Professor Banwell outlined the great strides made in paediatric MS over the last 10 years. In particular, the addition of disease-modifying therapies (DMTs) to treat MS early in children, networks of specialist MS paediatricians, guidelines to treat paediatric MS and the need for careful management of cognition issues as the brain develops during childhood.
Professor Banwell reported that the biggest change she has seen in her 20 years as a paediatric MS neurologist was how the children viewed their disease.
Previously, when she asked them how MS impacted on their life, it was often a sad reply about needles. Now with DMTs that are much less invasive, it is having less of a day-to-day effect on their lives, with overall quality of life being much greater. However, Professor Banwell also cautioned that recent research has uncovered that some mothers of children with MS also suffer from depression and that holistic care must be extended to the entire family when working with children living with MS. (We couldn't agree more. Read our report on the unmet needs of caregivers of children and adolescents living with MS here)
At last, Professor Banwell emphasized that patients with Paediatric MS do not demonstrate physical disability which perhaps is the main reason why they are almost invisible for clinicians and researchers. However, the last observations showed that patients with Paediatric MS have highly active disease characterized by frequent relapses which in turn has a detrimental effect on brain volume.
The MS Barometer found that currently there are more than 30,000 cases of paediatric MS in Europe that are affected by these findings.
MS Nurse PRO Launches its 7th Course on Research in MS Nursing Practice with ECTRIMS
On the first day of ECTRIMS there was also a special session dedicated for nurses, that involved discussions on the evolving role of the MS Nurse and MS Nurse education through MS Nurse PRO, EMSP's educational platform to strengthen nursing training and research skills.
The future perspectives of MS nursing from a neurologist view was given by Jörg Kraus (Member of the MS Nurse PRO Steering Committee and MS Nurse from Austria);
MS treatment and the evolving role of the nurse was presented by Piet Eelen (Chair of the MS Nurse PRO Steering Committee and MS Nurse from Belgium); and finally
Research in MS nursing practice was introduced by Amy Perrin Ross (Member of the MS Nurse PRO Steering Committee and MS Nurse from the USA)
during a session that was dedicated specifically to the nursing community.
Key Highlights – Day 2
Neuromyelitis optica (NMO)
Neuromyelitis optica (NMO) was also a topic that was discussed across various sessions in ECTRIMS. NMO is similar to MS, but that affects the optic nerves and spinal cord. For years, NMO was misdiagnosed as MS but 15 years ago, an antibody was discovered that allows differentiation between NMO and MS. There are currently 7,300 people living with NMO in Europe with a median age onset of 40.
Women are 9 times more likely to be impacted than men. In NMO, optic nerves are attacked which may lead to becoming legally blind in at least one eye 5 years after disease onset in around 41% of patients. The discussion also highlighted that 75% of people living with NMO may experience pain, even depression resulting from the pain severity. If left untreated, it affects mobility leading to wheelchair use. NMO is an "attack-driven disease", unlike MS, with severe acute episodes.
Awareness about NMO is important among the MS community to ensure that commonalities and differences are addressed, prioritizing the need of patients who may seek MS community support, especially in Europe.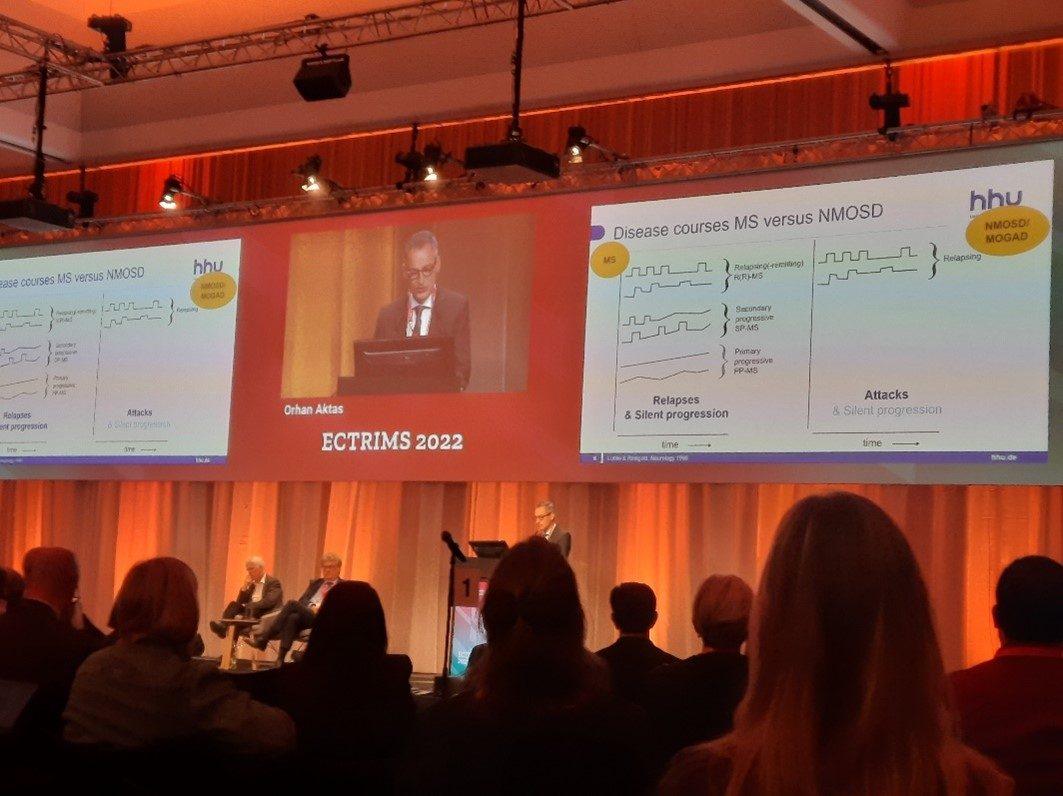 Tracking Progressive MS
Tools on how to track Progressive MS were also discussed, mentioning the advantages and limitations of different tools and how they can be used by researchers and clinicians, aiming to highlight that it's important not to take one symptom as a factor for progression, but rather keep mobility, vision, fatigue, and cognition in mind – and not just mobility which seems to be the common practice.
From the discussions in this session, cognition seemed to be a challenging symptom to measure regarding its progression. Investing in comprehensive tools that reflect MS progression accurately at all symptom-level is needed. This same discussion also challenged researchers to think of new ways to conduct clinical trials, especially in relation to how these trials are designed. Drugs on one type of MS may not work on another and therefore, drugs need to be tested in different mechanisms, ditching old-school designs and moving into more flexible designs where drugs are closely monitoring, and data is flexibly analysed throughout the trial. This was praised as a trial design that is more efficient because it can stop the testing of drugs that are shown to be ineffective. It is, however, complex and requires intensive planning and organization.
This session was wrapped by discussing late onset MS (LOMS), which usually onsets over the age of 50, with reaching progression quicker and with more disability at diagnosis. Sarah Knowles, researching LOMS in the UK, urged the importance to revise the upper age limit that clinical trials have to be able to understand LOMS better.
Cognitive impairment
Cognitive impairment was also a very vital topic throughout ECTRIMS. Cognitive impairment seems to start early, before motor symptoms and way before clinical diagnosis of MS. Usually memory, both visual and verbal, information processing, attention, and concept formation may be affective. Professor Bruno Brochet highlighted that "the higher the intellectual function, the lower the risk of impairment". Using our brains actively could mitigate the cognitive progression in MS.
Cognitive impairment negatively impacts employment and people with MS who have cognitive impairment in specific may be more prone to accidents, including decreased driving ability. Daily activities that are simple may not be affected, like handwashing or use of telephone, but more complex activities such as medication management or bill paying may be affected. The focus in practice is for healthcare professionals to monitor the impairment, but there needs to be more information from day-to-day performance.
"All hidden symptoms affect the quality of life. Cognitive impairment impact the quality of life in a much stronger way compared to physical impairment"
– stressed cognitive neuroscientist and neuropsychologist Prof. Iris-Katherina Penner.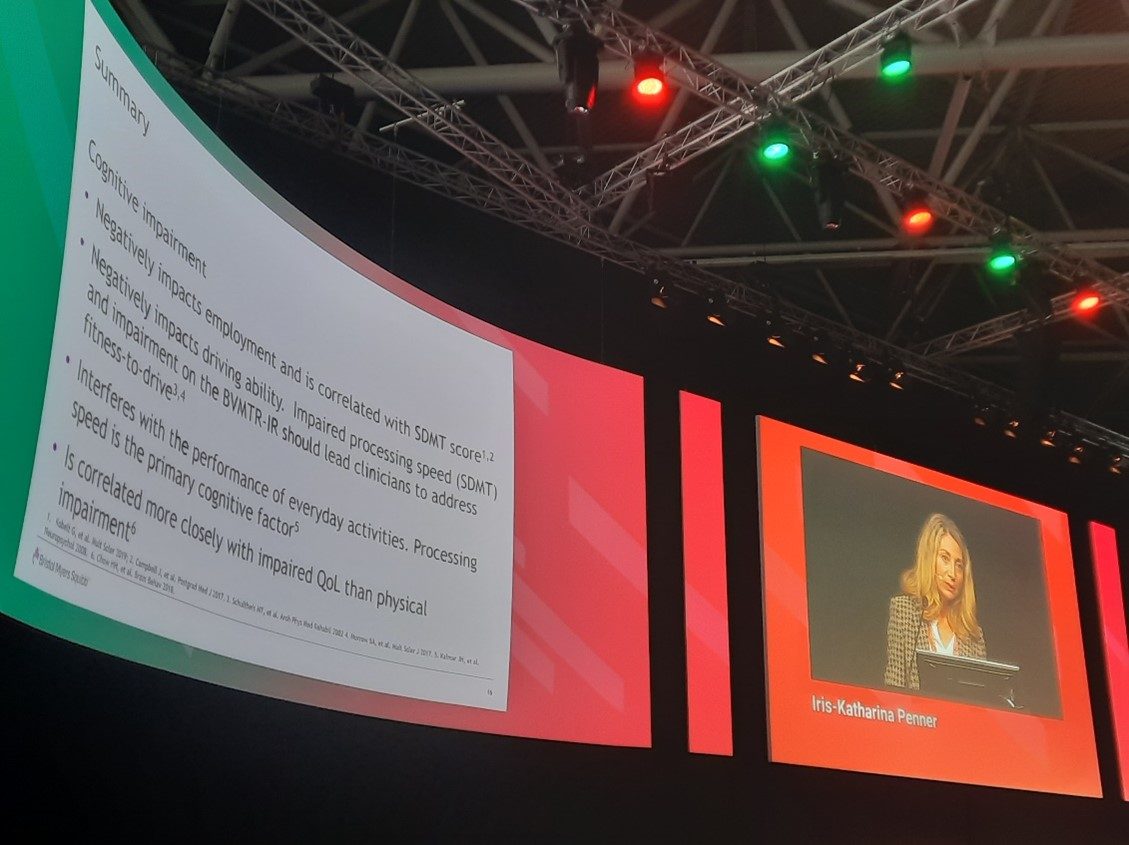 How does MS start?
The earliest events in MS were also discussed during ECTRIMS. There is currently limited information on this topic but more research is focusing to understand how MS all starts. What is known is that the silent progression which is independent of inflammatory relapses. Different types of lesions were traced back way before symptoms and diagnosis of the disease were seen. Interestingly, researchers were able to transmit MS from the brains of humanized mice, so there seem to be factors of MS that are transmissible; however, genetic and epigenetic factors are influenced by environmental factors. The Epstein–Barr virus (EBV) was also discussed as one of the strong risk factors for MS with it being detected 5 to 10 years before clinical debut of MS.
Pregnancy and breastfeeding in MS
Clinical trials and experiments related to children and pregnant women are considered unethical. This reminds us again of the importance of Real World Data collection using AI technologies and tools accessible to everyone, including children, their caregivers, and pregnant women with MS.
During this session about pregnancy and breastfeeding in MS, Prof. Elisabeth Gulowsen Celius – Oslo University Hospital · Department of Neurology MD, PhD -presented the issues of women with MS and their children during and after pregnancy. She highlighted that relapses and disability during the pregnancy may have an effect on the formation process of the child that consequently brings immunological issues, low birth weight, and other newborn problems. The results of observations of the treatment of relapses during the pregnancy and oral & injectable DMT (Disease Modifying Therapies) use in pregnancy and breastfeeding were demonstrated.
It was underlined that clinicians should take into account the safety and fetal risks when they take decisions on medications. The most important thing is that this should be discussed with women preferably before they plan pregnancy. From questions from the auditorium, it turned out that there are a lot of cases when people with MS surprise their doctors with the news about their pregnancy. The response of the expert to this was that healthcare providers should talk about pregnancy in MS from the very onset. Even if the patient does not plan pregnancy, they should be informed and plan the pregnancy seriously, since treatment could change during the pregnancy to ensure fetal safety.
Key Highlights – Day 3
Global Access to Healthcare
Access to healthcare across the globe was also one of the important topics highlighted at ECTRIMS. The reality is different from the theory, started Prof. Maria Pia Amato, ECTRIMS president. There is variation in standards of healthcare delivery so there are reasons, more than ever, to re-focus on quality of care. People with MS need to be at the center of their healthcare decision-making and must have access to a comprehensive network of providers and services. Healthcare providers, on the other hand, must have awareness, resources and tools to enable timely diagnosis, treatment and symptom management. Regardless of disparities, access to quality MS care needs to be available.
The discussion also highlighted the barriers that people with MS face to access quality care, including the difficulty of diagnosis, disparities, health literacy, cost of care, and unavailability of specialist services, among others. Access to a comprehensive holistic medical team was accentuated "MS care is not only for neurologists, but it's also about getting rehabilitation services, and occupational therapy to name a few. In healthcare, there's a big gap between wanting services and getting services", stressed Prof. Lorna Galleguillos. The sessions concluded that healthcare professionals, policymakers, and all involved stakeholders must be aware of the barriers people with MS face to access treatments, before, during, and after the visits to be able to support where needed, during the entire journey of healthcare.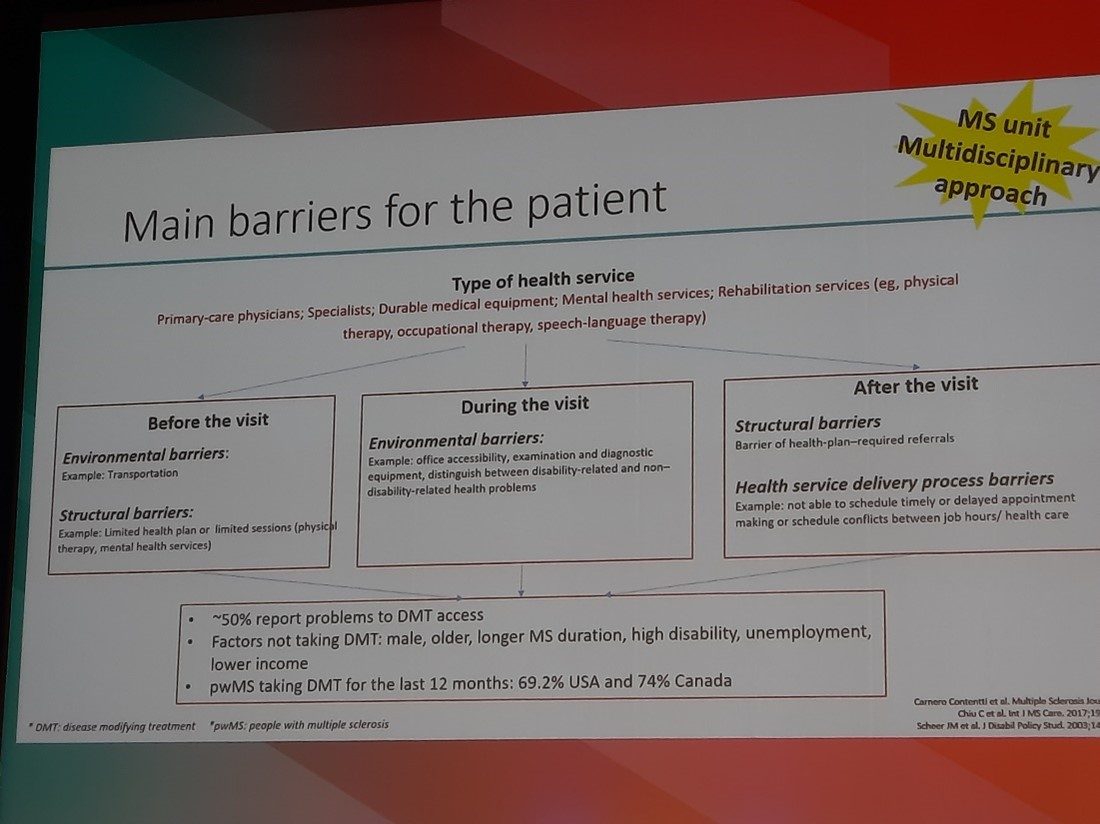 Event Report
With so many insightful sessions presented at this year's ECTRIMS congress, the organisers also wanted to make it easy for the public to review the key takeaways from the three-day congress.
If you would like to learn more, please find the ECTRIMS 2022 Congress Report here. The sessions featured in this year's report have been hand-selected by the local organising committee, and divided into the congress' four main topics: pathogenesis, clinical, therapy, and imaging and non-imaging biomarkers.
ECTRIMS 2022 Podcast
This year ECTRIMS Podcast. In Episode 4, Joelle Massouh from Harley Street Medical Centre interviewed Piet Eelen – MS Nurse at the Belgium National MS Centrum in Melsbroek and Chair of the MS Nurse PRO Steering Committee – sharing the key takeaways of the Nurse Sessions at ECTRIMS 2022, including the evolving role of the MS nurse and why more is needed.
ECTRIMS 2022: For People with MS
On Saturday, 29 October 2022 at 10:30 – 13:00 CEST at the RAI Convention Centre in Amsterdam, a free, livestreamed event was held for people with MS to discuss key insights unveiled during ECTRIMS 2022. More than 350 people attended the event, onsite and online.
Together with Prof. Bernard Uitdehaag (Netherlands), the neurologist and researcher at Cemcat Mar Tintoré opened the event.
The event was held in 🇬🇧 English, with simultaneous translation in different languages. The recording of the event is also available in 🇩🇪 German, 🇫🇷 French, 🇪🇸 Spanish, 🇮🇹 Italian and 🇳🇱 Dutch.
Mar Tintoré, new president of ECTRIMS
Mar Tintoré, a neurologist at the Vall d'Hebron University Hospital Neurology Service in Spain, Cemcat care coordinator, principal investigator of the Clinical Neuroimmunology research group at the Vall d'Hebron Hospital Research Institute (VHIR), and former speaker during various EMSP Annual Conferences has been appointed as the newest President of the European Committee for the Treatment and Research of Multiple Sclerosis (ECTRIMS).
Dr. Tintoré has been working with people living with MS for more than 30 years. We would like to hereby congratulate her and wish her success in her new mandate.
Announcement: MSMilan2023
At last, as every year, ECTRIMS also announced the venue and date for their upcoming congress. We are glad to inform you that the 9th Joint ECTRIMS-ACTRIMS Meeting will be held between 11-13 October 2023 in Milan, Italy at the Milano Convention Centre. We hope to see you there next year.
---