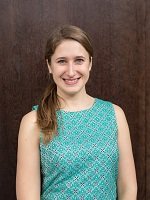 Jana Hlaváčová
Jana was diagnosed with MS when she was 24. Since 2015 she has been a member of European Multiple Sclerosis Platform's (EMSP) young people's network and from 2015 to 2017 she was the young people's representative at the organization's Executive Committee.
She joined the Civic Association SMS – an association of and for young people with MS in the Czech Republic – in 2013 and led the organization between 2014 and 2016.
She currently works for the Ministry of Health of the Czech Republic, where she coordinates a new agenda of support of and cooperation with patients and patient organisations and patient involvement in decision-making.
Her strategic management and planning experience, networking and communication skills as well as her active involvement as young advocate made Jana a recognized MS ambassador both at European and national level.