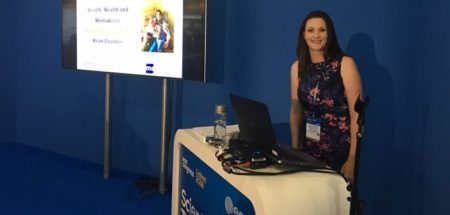 ---
EMSP News
Young People with MS
YPN Series: Helen's story from Hampshire, UK
06.05.2019
By EMSP YPN member & guest author: Helen Chandler (Hampshire, UK MS Society)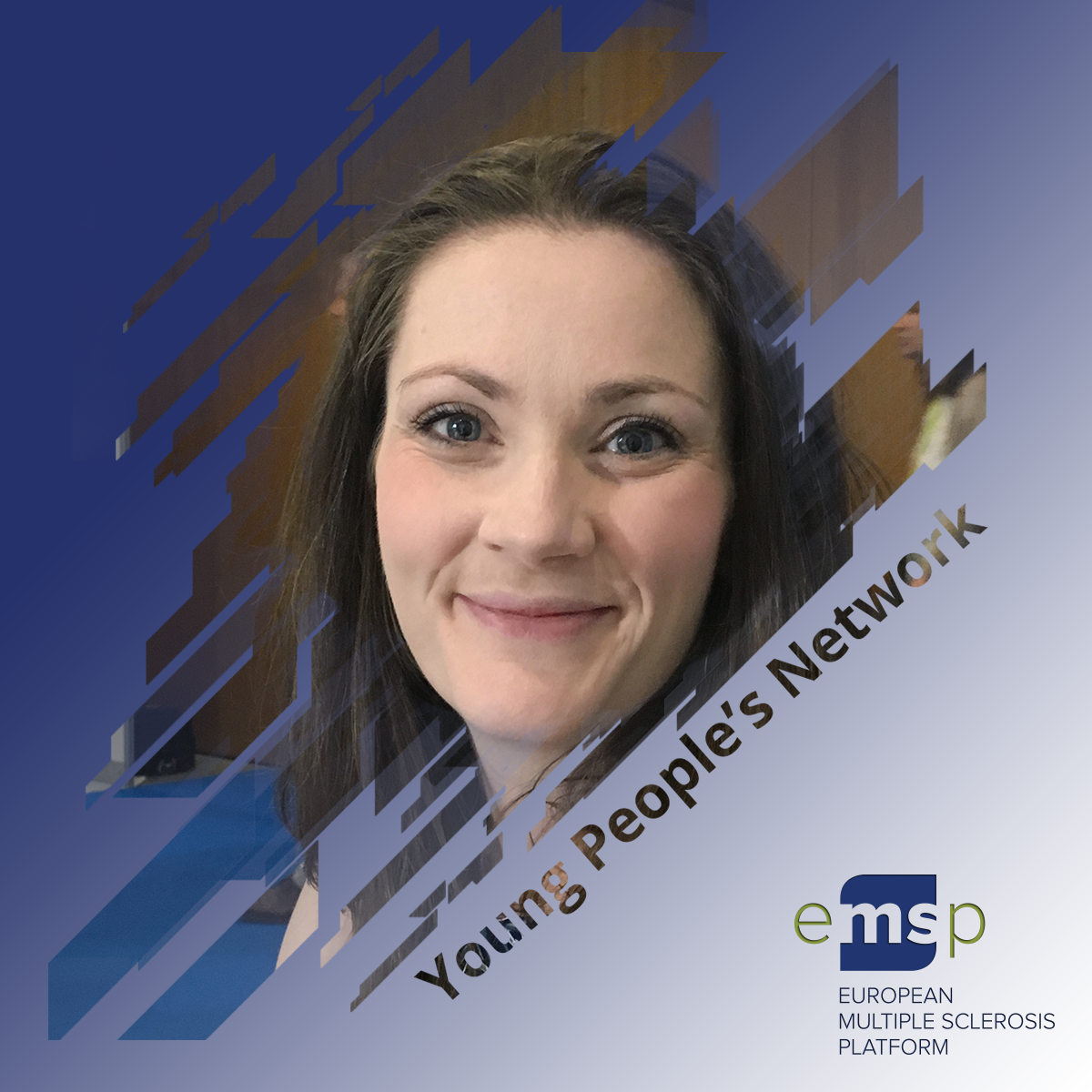 Last month EMSP's Young People's Representative, Patrik Puljić shared with us how he's been doing as a member of our Executive Committee for the last nine months. We're not out of young MS warriors though! There is a long line of enthusiastic MSers keen to share their stories to encourage you to follow their lead. In this Young People's Network Series article, Helen Chandler, a 33-year-old mother of two little boys living in Hampshire UK, diagnosed with relapsing-remitting multiple sclerosis (RRMS) in June 2014, shares her experience of becoming an MS advocate at both local and European level.
Inclusion, happiness, and belonging at MS Sessions
"I first became involved with the Young People's Network when the EMSP organised MS Sessions in conjunction with Shift.ms back in November 2017. Held in Prague, it was a 3-day festival for young people with MS. As soon as I was tipped off about the event, I was just desperate to go. I checked the application details online and I had to write a short account of my journey with MS and why I should be selected to go. I wrote, with passion, about my journey to diagnosis back in 2014. I wrote about the total abandon with which I accepted my neurologist's words as I had only just found out I was pregnant with our longed-for first child five days previously and nothing could spoil my excitement. I wrote about the crushing fatigue after having my son. I wrote about the lonely and difficult post-natal depression. But I also wrote about acceptance, love, and support. Prior to attending MS Sessions, my involvement in the MS community had consisted of being an administrator for a large (16k member) Facebook group of Women with MS. Through the group, I had made lots of great, like-minded friends. I heard about a meet-up happening about 30 miles away from me and decided to go along. It was definitely the right decision. I have made some great, life-long friends there. One of whom was the one to tell me about MS Sessions.
Once my application to attend MS Sessions was accepted and I knew I was going to Prague, I felt so much excitement. So much trepidation. I would be traveling alone to a country I had never visited. But I was so excited to be joining everyone.
On arrival at the airport in Prague, I began to confuse myself about where to go. It was at this moment that good fortune would bring me to stumble upon Eve and her husband. They were also on their way to MS Sessions and they offered to share the cab ride with me. I can't tell you how grateful I was! Eve and her husband were wonderful company while we were there and I'm glad to say we are still in touch.
That feeling of inclusion, happiness, and belonging would become the theme of my time in Prague. I walked into the welcome evening drinks to find myself surrounded by fellow young MSers and I knew I had found my people. I wasn't alone! It was a feeling so potent I was absolutely determined to spread it to others.
Bringing the spirit
The experts who spoke over the weekend were so enlightening and afterwards, I felt so empowered with knowledge. I just knew that patient advocacy was something I felt extremely passionate about.
I promised myself I would get myself involved with my local branch of the MS Society once I returned home. I went along to one of their three monthly meet-ups. All three were on a different week, but all on a Wednesday at 2pm. This was no good for those who worked during the week. I spoke to the people who run the local MS Society Branch and they told me that their weekday meet-ups were often poorly attended. They were also struggling to find someone to run their Facebook page. I offered to help with both.
I began by taking over the Facebook page, adding the MS Society logo to the page to make it easier to find us. I also began arranging regular meetups on a Sunday afternoon (in the pub, of course). This has attracted a good turn-out and people who wouldn't be able to attend the midweek meet-ups have enjoyed being able to join a friendly, open group at a time that's convenient to them.
I told my MS Nurse about the meetings and she very excitedly told me she would love me to set up a group for MSers at my local hospital. I gladly agreed and now we have many members. It's great to get together to talk about anything and everything, but it's especially nice to bounce MS tips, hacks and 'it's not just me!' moments.
Always trying to find a way to get involved, I saw an advert by the MS Society to attend a Focus Group about the use of technology in managing my MS. I was really excited to go along and add my own perspective on the subject. I also met some great MSers and it was so useful to bounce ideas off one another.
Raising the voice on the European scene
Last year I received an email from the EMSP YPN to say they were welcoming applications from people to attend and speak at the EAN Congress, in Lisbon. The organisation seeking a speaker was EFNA (European Federation of Neurological Associations). I very gladly put my hat in the ring. My chosen subject to speak about was 'Health, Wealth and Workability with MS'.
I was lucky enough to be selected and I packed my bags and kissed my husband and two children goodbye and off I went to Lisbon. The writing process was a little daunting, but I received incredible support from Emma Rogan at EMSP. Without her help, none of what I achieved in my time in Lisbon would have been possible.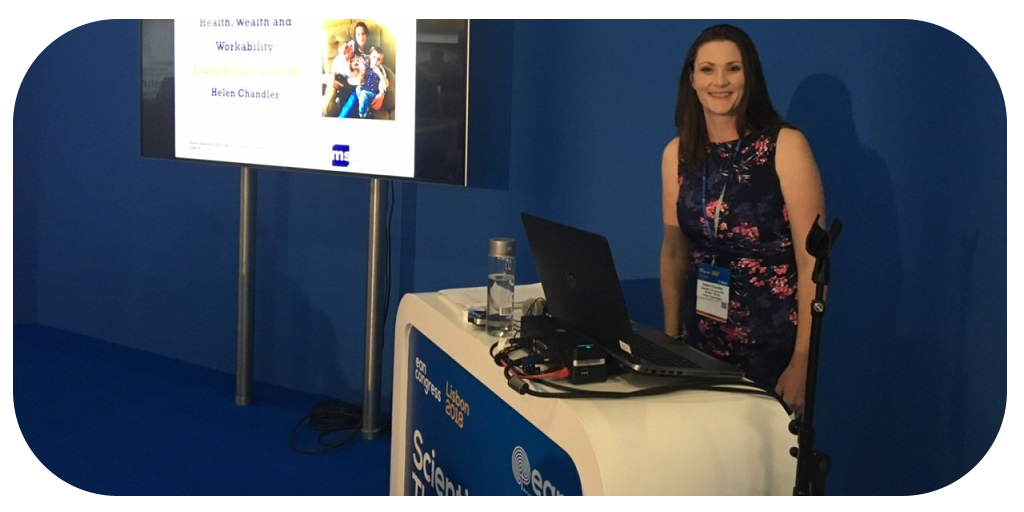 I was so nervous to speak to neurologists as I felt they may not take me seriously or may not be interested in what I had to say. But with the support an encouragement of all the others on the EFNA stand, it went really well. I spoke about my own experiences and also shared some information about some of the brilliant projects that the EMSP has produced alongside The Work Foundation, on helping people with MS get into, remain in, or return to employment. Hopefully, I at least gave them all something to think about.
Until I started to get involved in my MS community and patient advocacy, I never realised how many ways there are to take part. I'm so glad I made that leap and applied for MS Sessions."
If you would like to connect with the EMSP Young People's Network, please email emma.rogan@emsp.org.
---