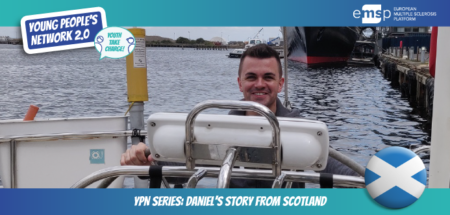 ---
EMSP News
YPN Series: Daniel's story from Scotland
03.09.2019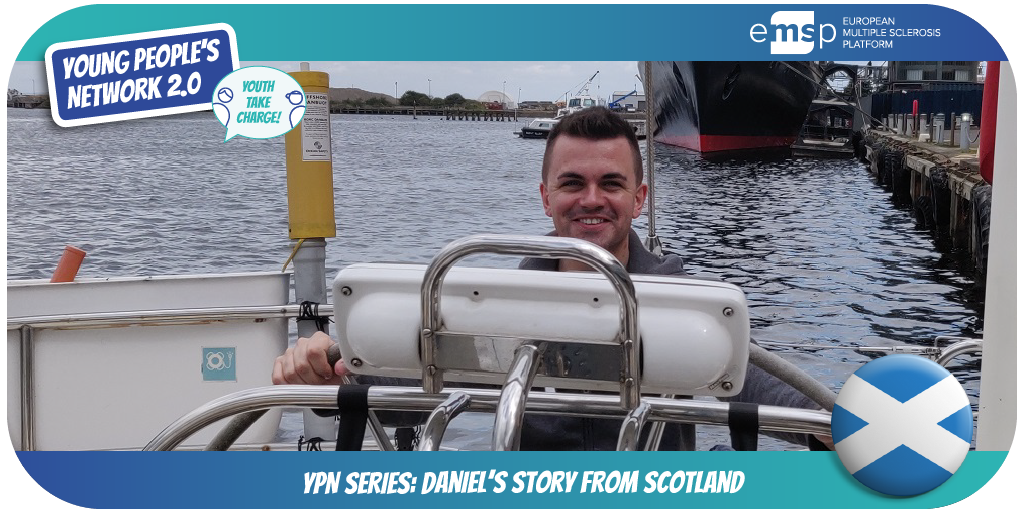 By EMSP Young People's Network member & guest author: Daniel Lafferty
Daniel's life changed forever when he got diagnosed with multiple sclerosis (MS) at age 15, but he learned how to build the momentum of change himself. Another aspiring young MSer shares with us how he reached acceptance after his diagnosis and how he became an MS ambassador and advocate.
Would you change your diagnosis if you could?
Recently – at an advisory board – an interesting and controversial discussion presented itself: 'Would you change your diagnosis if you could?'. This puzzling thought has often crossed my mind. I believe that now I can say 'No I would not', I have reached acceptance. By no means was this an easy journey.
Reaching acceptance
I reached acceptance through a combination of patience, finding the support that worked for me and being open to a crucial change in personal perspective. MS Sessions 2017 formed a crucial part of this acceptance.
This was a bittersweet journey. If I could tell 15-year-old newly diagnosed Daniel that one day not only will you reach acceptance, but you will be presented with a range of advocacy opportunities – on a local grassroots and International scale – I would have never believed it.
MS Sessions – the game changer
Honestly – I debated applying to MS Sessions 2017 until the very last minute. If I hadn't applied, I do not know where I would be now. The first event changed my outlook, represented a tangible change and positive energy!
I am delighted to be attending this year's MS Sessions in Bucharest, and I am looking forward to meeting more like-minded people!
Building the momentum of change
As an ambassador and advocate – with a particular interest in paediatric MS – I believe I hold a key responsibility in building momentum that represents change, develops peoples' understanding and begins to identify key service gaps.
As an active member of my local MS community, in Scotland, I have been involved with local organisations (Revive MS and Leuchie House), sat on The Scottish Government's Cross Party Group on MS and been involved with MS Society Scotland.
Unique platforms for young MSers
Following MS sessions in 2017, I was delighted to become a member of EMSP's Young People's Network (YPN). The YPN provides a unique platform to raise the voices of young people across Europe, providing an opportunity to challenge and implement change on an infinite scale!
MS sessions and EMSP's Young Person Network represents new friendships and alliances that have become the foundation towards achieving a joint goal – 'Alone we can achieve so little, but together we can achieve so much'.
Join the EMSP YPN
Would you like to follow Daniel's lead and become part of the YPN?  Drop us an email to elisabeth.kasilingam@emsp.org and tell us about yourself, what you do in your local community or the ideas you have for people with MS in your country.
If you would like to learn more about the YPN, read the YPN 2.0 – Youth Take Charge' Declaration.
---