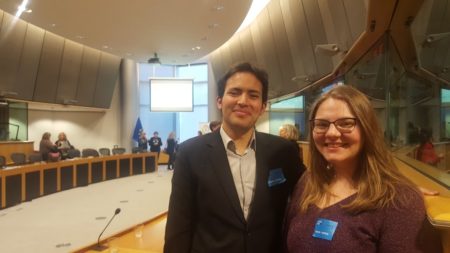 ---
EMSP News
Youth Take Charge: EMSP's Young People's Network in Action
28.02.2018
By: Emma Rogan
Higher! Faster! Louder! It seems that everyone wants to be the very first one, the best, the singular the standout, the BIG ONE. Yet it is when we're at the heart of a force greater than ourselves, a community, there's a great sense of belonging, that we've something to contribute and that we're going to have our voices heard. We're not the first and we won't be the last group of young people with MS wanting to make a difference. But, when I hear the stories, see the impact of the work of EMSP and national organisations and other MS groups, this time it's different.
In past eight years since the EMSP Spring Conference in Stuttgart, the Young People's Network has grown in numbers and in strength with more than 60 active members.  Moreover, the wonderful, joyful and noisy feedback from the MS Sessions event (November 2017) continues to echo around Europe.
Since the start of the year, we've been hearing about people's new adventures in activism. Mel has been lobbying hard making use of her links with her local MS society, other MS organisations and local healthcare staff to get another MS Nurse. She is also involved in helping build-up the communications with her local support group in Hampshire where they have plans to get involved in the information events run by health care professionals. Nadia has been building on her connections, reaching out to young people in Greece, continuing her volunteer work with her local MS society and sharing information through her new blog (miskasgreekmsers.blogspot.gr).
Helen went back to her local MS Society branch after a bit of a hiatus and is now working on recruiting more young people in her area to join in, help or get involved in any way. She is also helping administer their Facebook page.
As well as being really involved with the Bristol branch of the UK MS Society Kim has been running a social event in London that has gone from strength to strength. Reaching out to the community has resulted in more new people getting involved. She has also been talking with her hospital about improving procedures internally.
Finally, we are proud to announce that Patrik from Croatia was recently chosen to represent EMSP at EPF's Youth Group. We have no doubt that he will bring an important voice on behalf of Young MSers at the European Patient's Forum!
We know that there are thousands of young people with MS doing brilliant, influential work in their local communities and getting involved in their national societies or branches. At MS Sessions, the message and energy from our participants was clear—there is no better moment for change making than now. We heard stories of courage, action and activism from all corners of Europe and we couldn't be prouder.
We welcome your updates on what's working for you in terms of activism, what you've tried and what plans you have for the weeks and months ahead. Your work might spur others on and this is what being part of a community is about, leading by example. The communication and networking of this generation of MSers has reached Critical Mass, we are making change in greater number of places than ever before. From this newsletter on, we invite you to take the opportunity to get your stories heard through this channel and many more at EMSP. We look forward to hearing more stories of action from your YPN Community!
Advocacy in Action. YPN Members takes the European Parliament
Merely a couple months since MS Sessions, our YPN members are already demonstrating activism in action.  Jacobo Santamarta Barral from Spain represented EMSP at the high-level meeting of the Brain, Mind and Pain MEP interest group last February 21 at the European Parliament. He spoke powerfully about his diagnosis, subsequent adaptations to work and more importantly, the need for better support and ensuring people living with MS have access to work.
At meeting of the @brainmindpain MEP Interest Group now, Jacobo Santamarta Barral highlights the positive work of @eumsplatform for young people with #ms.#BrainMindPain #makeworkwork pic.twitter.com/hAJmY0E3ww

— EFNA (@EUneurology) February 21, 2018
An inspirational presentation from @jacobosantamar1, a powerful voice for young people with MS across Europe. @EUneurology @PainAllianceNI @ArthritisSoc pic.twitter.com/tYuKtT56FP

— Marian Harkin (@MarianHarkin) February 21, 2018
Pleased to speak just now at @brainmindpain & @pain_europe event on #makeworkwork for young people affected by brain, mind and chronic pain conditions. Lots of excellent contributions especially from @fibrofella & @jacobosantamar1 pic.twitter.com/MIQVwvWKGn

— Rory Palmer (@Rory_Palmer) February 21, 2018
Susanna Van Tonder from Luxembourg was also present at the meeting co-hosted by the European Federation of Neurological Associations. Together with Jacobo, there advocated for stronger voices and presence for young MSers.
On my way to #MakeWorkWork – Looking forward to fellow member of the EMSP YPN @jacobosantamar1 speaking today 😊 @brainmindpain @eumsplatform pic.twitter.com/DF2MiIC39q

— Susanna van Tonder (@Susanna_Eliza) February 21, 2018
Three cheers to Susanna and Jacobo for showing us advocacy in action. You make us all proud and have no doubt that this is just the beginning of bigger things ahead.
Support the #MakeWorkWork campaign here: http://www.brainmindpain.eu/written-declaration-access-to-employment/
---