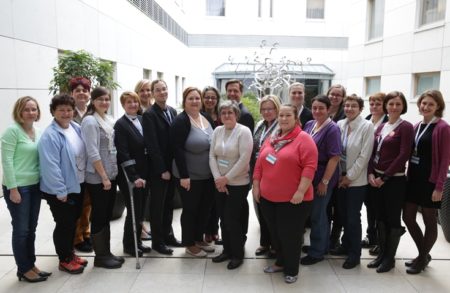 ---
Member News
Workshop for Central and Eastern European MS Societies: Make your voice heard
08.12.2014
The Hungarian MS Society organised a two-day workshop with the participation of the national MS societies of five Central and Eastern European countries – the Czech Republic, Austria, Poland, Hungary and Slovakia – in association with other international organisations and speakers. The event took place on 2-4 December, in Budapest, Hungary.
The main topic referred to the challenges MS organisations have to face in the Central and Eastern European region. The working title of the program was Make your Voice Heard – How to Communicate with Impact.
EMSP was represented at the Hungarian event by External Affairs Coordinator Yves Brand. He spoke about European initiatives helping the work of local MS organisations and about opportunities for cooperation.
The conclusion of the conference was that MS organisations need detailed and consistently executed strategies over an extended period of time in order to better represent the interests of patients. Such strategies have to include effective networking and communication with the relevant members of the sector, policy makers and with the external stakeholders.
---