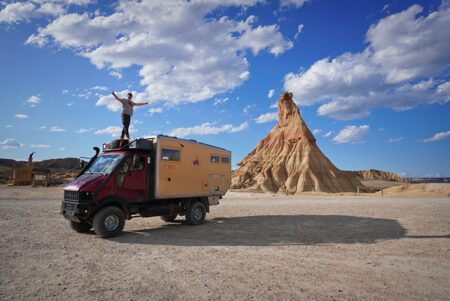 ---
EMSP News|From Europe
From Europe|Member News
Member News
Wildheart Expedition
24.04.2023
With the support of SPEM (Portuguese Multiple Sclerosis Society), Pedro and Ana Cristina, together with their two 4-legged friends, Cuca and Kyra, set off in search of adventure: discovering remote places in the world, absorbing different peoples and cultures, spreading awareness about MS. They are embarking on a journey of approximately 150.000km in 3-5 years, crossing 5 continents and over 60 countries, while living on the road in their Bremach T-Rex expedition truck.
About the Wildheart Expedition Team
Pedro is 45 and he's an IT professional. In February 2020 he was diagnosed with Multiple Sclerosis after a second relapse that left him with permanent dormant feet and legs. Fortunately, current medication was able to stabilize the disease.  Traveling has always been his passion and a world tour has always been a dream he kept postponing… until now.
Ana Cristina is 43 and she has worked in the aviation sector for 17 years. She loves her work and her lifestyle, but she also loves traveling and exploring new places and cultures. She could not fail to support Pedro in his dream and disease so she will embark on this adventure with him.
Cuca is a 13-year-old French Bulldog, still with a lot of energy! She's the dominant one and she demands treats. She loves chicken treats and traveling to find new smells.
Kyra is a 3 years old American Bully. People think she's the muscle of the team, but all she does is lick. She doesn't like the truck or traveling, but she follows her parents and Cuca everywhere they go.
Pedro and Ana Cristina would never consider separating their family. Cuca and Kyra are an extra challenge but they have always been together and it will stay like that on this adventure.
About the Wildheart Expedition Journey
The Wildheart Expedition is a journey divided into 5 legs with an itinerary available on Google Maps. The itinerary is subject to adjustment, as land border crossing rules may change.
Social Networks
Pedro and Ana also be writing a journal that will hopefully serve as the base for a book that will be published once the expedition is complete. They have a website they'll keep updated in a travel blog style: www.wildheartexpedition.com
They'll soon launch their social networks with the same Wildheart Expedition name on Instagram and Facebook. A Youtube channel is already registered and they're planning on having 1 weekly update on this platform so everyone can follow their journey.
Mass Sclerosis
Although Pedro's disease is controlled, he does need to attend treatments in Portugal every 6 months. This forces him to fly back to Portugal while Ana stays with the truck and the dogs. Also, this treatment kills most of his immune system, which increases the risk of contracting other diseases. To mitigate these risks he'll be focusing on hygiene and wearing a mask, just like he's been doing on his past travels.
Departing on World MS Day
Their departure is currently planned for the 30th of May 2023, on World MS Day. They'll be present at the MS event organized by SPEM in Lisbon, and they'll depart from there to start their journey towards Girona, Spain, while raising awareness of MS across the globe.
---