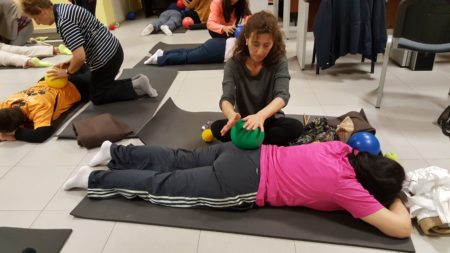 ---
Member News
Training for MS carers
10.04.2017
By Madeleine Cutting
The Spanish MS Society AEDEM organised two training sessions for MS carers – key but often disregarded actors in the process of MS management. This in an article for EMSP's Membership Newsletter.
The motto of this initiative was "Knowing how to look after oneself in order to look after others".
Indeed, in order to provide quality of care for their loved ones affected by MS, family members have to first acquire the necessary skills and strategies regarding their own care and wellbeing.
The training sessions took place in March and May 2016.
What is this about?
The training sessions consisted of theoretic and practical courses and were coordinated by psychologist Rosa Gómez Aguilera. She is a European Specialist in Psychotherapy and State Consultant on professional qualifications for social-sanitary assistance of dependent persons.
The outcomes were encouraging: participants received relevant certificates and a number of AEDEM branches developed similar initiatives locally.
Giving care
Through its contacts with people living with MS and their carers, AEDEM has learned that caring for a dependent member of the family is very taxing and carries a great amount of physical and emotional responsibility. Caring for others can be wearing but in this process MS carers should not forget to also look after themselves, advises AEDEM.
Supporters
The previous training courses for MS carers were held in AEDEM's Training Centre in Madrid and were sponsored by the ONCE Foundation – the National Organisation for the Blind.
According to the Atlas of MS, 46,000 people currently live with MS in Spain.
---