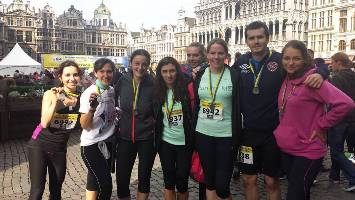 ---
EMSP News
The 'Run for MS' team completed the Brussels Half-Marathon
07.10.2013
EMSP was successfully represented in the 2013 edition of the very popular Brussels Marathon by a young and enthusiastic team. Among those "running for MS" on 6 October were Emma Rogan, EMSP's Youth Representative and MS advocate, Andreea Antonovici, EMSP's PA and Event Coordinator, and Claudiu Berbece, EMSP's Communications Officer.
Each "runner for MS" wore a T-shirt with the EMSP logo, in support of our mission: bringing a better quality of life for the 700,000 people living with multiple sclerosis in Europe.
EMSP would once again like to thank all the members of the "Run for MS" team and invite them to participate on our behalf for future similar events.
A special "thank you" goes to EurActiv for promoting our "Run for MS" initiative.
Those who want to join in helping people with MS can donate using EMSP's account IBAN: BE74 3101 4457 0607.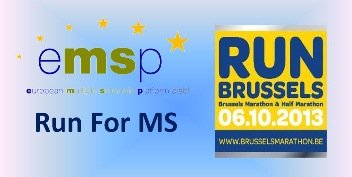 ---