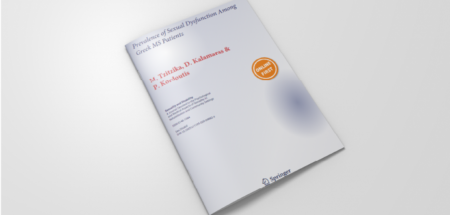 ---
Member News
The prevalence of sexual dysfunction in Greek MS Patients
11.12.2020
Sexual dysfunction (SD) in Multiple Sclerosis
Sexuality and intimate relationships are a significant part of life and well-being. Sexual dysfunction (SD) is common in persons with MS and can occur throughout the disease course complicating the lifelong course of sexual development and the ways in which one defines and expresses sexuality. It has also been shown that the proportion of SD in MS is greater than in other neurological diseases. Although many patients have sexual complaints very few have the courage to discuss them with their doctor and fewer doctors have the tools to address them.
Study on Greek MS Intimacy and Sexuality
Recently, two studies conducted by Greek researchers concerning Greek MS patients and sexual dysfunction were published in the "Sexuality and Disability" Journal. The first study was "The Multiple Sclerosis Intimacy and Sexuality Questionnaire (MSISQ‑15): Validation and Cross‑cultural Adaptation of the Greek Version in MS Patients" and was conducted by Moira Tzitzika, who is Clinical Sexologist and Vice President of Hellenic Federation of Persons with Multiple Sclerosis. The objective of this study was to develop a cross-cultural adaptation and validation of the MSISQ-15 (a widely known questionnaire about the prevalence of sexual dysfunction in MS used by many researchers worldwide) so that it can be used as a tool to evaluate SD in Greek patients with MS.
In this study a total of 127 individuals, 68 Greek MS patients and 59 healthy persons for the control group who visited the urology department of the National Rehabilitation Centre of Athens completed the Greek version of MSISQ-15 along with the Female Sexual Function Index for women and International Index of Erection Function at baseline (test) and 3 weeks later for the MS patients, (retest). Data were analyzed for measurement properties and the Greek version of MSISQ-15 found to be reproducible, reliable, and valid so as to be used as a tool for assessing the impact of sexual dysfunction in patients with MS.
Prevalence of Sexual Dysfunction Among Greek MS Patients
The second study (conducted by Mrs. Tzitzika et al.)  was named "Prevalence of Sexual Dysfunction Among Greek MS Patients" and is the first study ever made for the issue of SD using a validated questionnaire in Greek and regarding both sex. The aim of the study was to register, examine and categorize sexual dysfunction (SD) among Greek patients with MS. 866 individuals, all Greek MS patients members of MS societies all over Greece under the umbrella of Hellenic Federation of Persons with Multiple Sclerosis, completed the Greek version of MSISQ-15 along with demographic data. The results of the study show that SD was present in both sexes at high levels with age, MS duration, and gender being the main predictors.
Fig. 1 Age distribution for the total sample (min, max, and InterQuartile Range)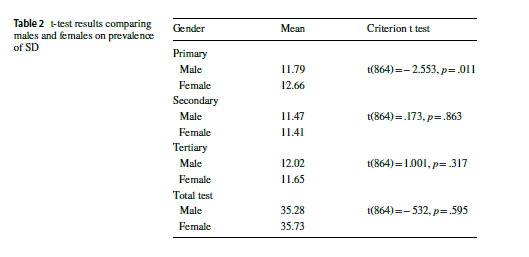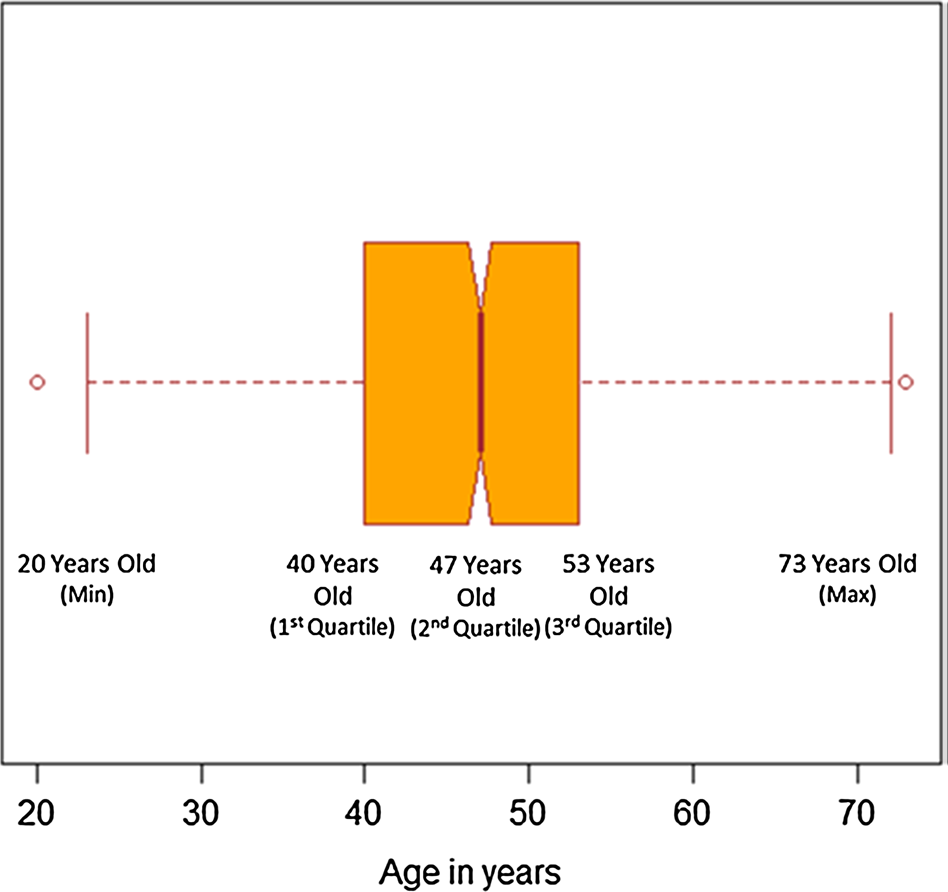 According to Mrs. Tzitzika: "Awareness of primary, secondary, and tertiary aspects of SD in patients with MS is essential for successful evaluation and management. At present, the best clinical approach to achieve alleviation of symptoms and improvement in the quality of life consists of open communication with the patient and a multidisciplinary approach. For that, all clinicians working with MS should proactively ask their patients about their sexual life in order to provide suggestions and solutions about these issues or a referral to a sex specialist".
---