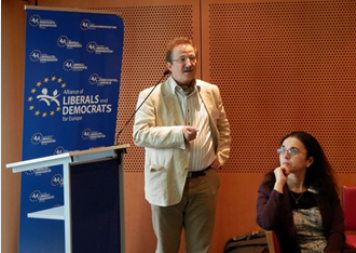 ---
EMSP News
ESMP asking for increased affordabitily and accessibility of MS medicines
20.02.2014
Austrian Member of the European Parliament Angelika Werthmann organised a debate on inequalities in access to treatment in Europe, on 20 February, to coincide with the launch of a report by Charles River Associates (CRA) entitled "Access to medicines for multiple sclerosis: Challenges and opportunities". The 55-page report provided the stimulus for a lively debate between representatives of patient organisations, healthcare professionals, EU institutions and industry.
EMSP was represented by Deputy CEO Christoph Thalheim (pictured above, next to MEP Angelika Werthmann), who expressed his hope "that today's discussions will drive forward concrete actions that will increase the affordability of and access to essential medicines for MS patients across all Member States of the EU".
The CRA report, commissioned by pharmaceutical company Biogen Idec, unveiled that significant inequalities still remain in patient access to multiple sclerosis (MS) treatment across Europe in 2013. These variations exist both across countries as well as within countries at a regional level. In general, patients in Western European countries have better access than in Central and Eastern European countries. There are, however, some exceptions, with access to treatment being as high as 69% in Germany but only around 21% in the UK.
The report is available online here.
---