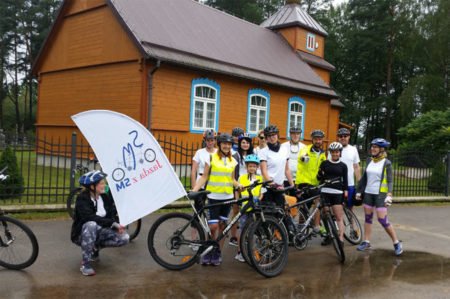 ---
Member News
Rehabilitation through sport. MS testimony
05.02.2017
By Milena Trojanowska
In 2015 I ran a marathon. It was almost eight years after I had my first MS symptoms. I am Milena and this is my story. Article from EMSP's Membership Newsletter.
The 2015 experience helped me realise that I want to support other people with MS in Poland. So last year I organised an MS bike tour. It was the first event of its kind at national level. We were 20 participants and together we biked over 300 kilometers in seven days, from Augustów to Hajnówka, extremely picturesque parts of Poland. There was a fair amount of effort but also lots of laughter.
The everyday programme
But let's start with the beginning. Many years ago, when thinking about rehabilitation in MS, I was picturing myself inside a hall full of sports equipment, with a clock running down the time allocated for my exercises under the coordination of a physiotherapist dressed in white sportswear. But the MS experience taught me that rehabilitation is more than that. It is not just one visit at a specialised clinic and two weeks of gym during a calendar year – the rehabilitation programme reimbursed by the Polish National Fund. The body of a person with a chronic disease also requires plenty of effort and everyday exercises to stay in the best possible condition.
'Proper' running  
I also used to think that running was not a sport for people living with an incurable disease. But one day I dusted off my running shoes and went to stretch my legs. I had the help of a dedicated professional physiotherapist and the will start a proper MS rehabilitation programme. I was running several times a week, covering different distances. Then I learned about a running group in my city and I met with them. They turned out to be fantastic people who cheered me on and helped me keep faith in my ultimate goal: completing a marathon (42 km).
While on my marathon quest I started to leave the house more often, eat healthy and regularly, and always get my medical check-ups. My passion for running was also helping me socialise more. I was making friends and meeting new people all the time. We were sharing personal track records and planning our next races together.
The pleasure of rehabilitation
As my passion for sports and rehabilitation grew stronger, I felt the need to share it with others. I started a blog and looked for sponsors who would help me run and raise money for MS. This was a good way to start my MS advocacy career. After a while, I came up with the idea of extending my activities to biking. And that's how the 7-day biking tour came about. It also had a fitting name: 'Jazda z SM' (which translates both as 'Drive with MS' and as 'MS, go away!'). With the help of the Polish MS Society, I am planning to organise more biking tours. Together, we still have much to prove: above all, that rehabilitation in MS can bring great pleasure.
Poland has one of the biggest MS populations in Europe, with estimates of between 45,000 and 55,000 people.
---