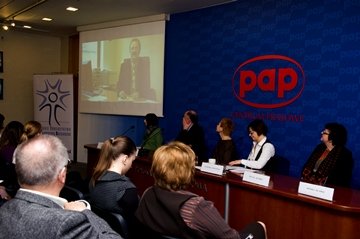 ---
Member News
Progress in access to vital MS treatment brokered by Polish MS Society
24.02.2014
On 20 February, the Polish MS Society (PTSR) met with representatives of the Polish Ministry of Health in a bid to convince the health authorities to solve the problem of multiple sclerosis patients losing their entitlement to state-funded treatment with disease-modifying drugs (DMDs). The meeting produced a temporary solution involving the pharmaceutical industry, with PTSR vowing to keep this matter on the public agenda as "it concerns real people and their health, not so-called diseases qualifications".
According to PTSR, the Polish authorities agreed to a "risk-sharing" solution in which the pharmaceutical industry will ensure that MS patients coming to the end of their state-funded DMD treatment continue to receive the DMDs they need. This arrangement is expected to be in place until the authorities proceed with the decision about the DMD treatment prolongation. For the time being, the Ministry of Health promised to speed up the process of deciding on the time limits of the so-called first line treatment in MS.
Currently, the Polish State limits to five years access to DMD therapy for which MS patients can be reimbursed. During 2014, at least 1,000 people with MS living in Poland will reach the end of this five year period.
Two days before the Ministry of Health meeting, the topic of access to DMD treatment for people with MS was addressed during a conference organised in the headquarters of the Polish Press Agency. To reinforce the message, EMSP's Deputy CEO Christoph Thalheim sent a video message (pictured above) reminding the Polish authorities that MS patients need constant DMD treatment in order to keep their condition from deteriorating:
"Almost 1,000 Polish people with MS were happy and relieved when they learned, last September, about the Polish HTA Agency's recommendation to allow treatment with interferon and glatiramer acetate as long as it is medically useful.
Sounds like common sense and is good practice almost all over the EU – but today it looks as if the happiness of those of those 1,000 people with MS came too early. Why? Because the Polish Health Ministry decided to ignore the recommendation of their own HTA body and stick to the artificial limit of 60 months for DMD therapies.
This means for those 1,000 people with MS that soon their therapy will end – and, most likely, together with the end of the therapy their condition will worsen again. This unless an unbureaucratic, human rights-driven solution is found quickly!"
EMSP and its partner organisations in Poland recommended a "fast track" requalification of those patients nearing the end of their five year DMD treatment period.
Conservative estimates of the number of Polish people with MS vary between 45,000 and 55,000, making Poland the country with the third biggest prevalence in MS in Europe. This causes big challenges for the Polish healthcare system on one side, and those affected by MS on the other.
---