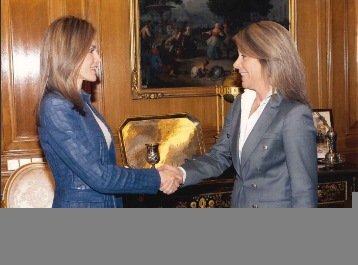 ---
Member News
Princess of Asturias meets Spanish MS Society in support of MS research
17.03.2014
On 14 March, Her Royal Highness the Princess of Asturias Letizia Ortiz received a delegation from the Spanish MS Society (EME) at the La Zarzuela Palace in Madrid.
During this official reception, the Princess of Asturias showed a great interest in the area of MS research. She expressed her support especially for research into progressive MS, which cannot be managed with any drugs at present.
Princess Letizia Ortiz discussed with EME's President Anna Torredemer and CEO Pedro Carrascal about the Spanish MS Society's M1 project, created precisely to bolster MS research.
The Princess of Asturias (left) with EME's President Anna Torredemer
---