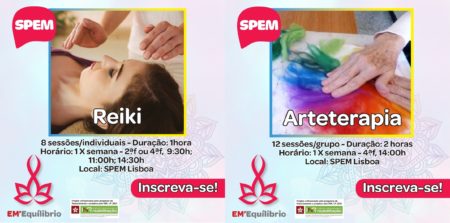 ---
From Europe|Member News
Member News
Portuguese Project Offers Alternative therapy for Multiple Sclerosis Treatment
29.09.2021
EM' Equilíbrio ('MS Balance' in English) is a project developed by the Portuguese MS Society (SPEM), co-financed by the Portuguese Institute for Rehabilitation, which aims to provide non-conventional therapies to people with Multiple Sclerosis, including reiki, meditation, acupuncture, and art therapy.
Benefits of Alternative Therapies to Multiple Sclerosis Treatment
The use of alternative therapies and techniques as a complement to conventional MS treatment has proven to be very beneficial in promoting physical, psychological, and emotional well-being. These alternative therapies have been in increasing demand by MS patients, as they alleviate the symptoms caused by the disease thanks to the nature of the therapies, thus leading to a better quality of life.
Alternative Therapies Made Available Through the Portuguese MS Society
In order to provide alternative treatment for people with Multiple Sclerosis, the project of the Portuguese MS Society (SPEM) offers more than 40 sessions divided among different therapies. The therapies available are acupuncture, art therapy, reiki, and meditation, and the sessions take place in a physical and online format. Reiki and acupuncture sessions are held individually and the others (meditation and art therapy) are held in groups.
The requirements to participate in these treatments are to be a member of SPEM and to fill out a form where users choose the therapies they wish to attend.
High Demand & Positive Response from the MS Community
So far, these therapies have been in high demand from people with MS. The project has not yet received detailed feedback, but the reactions have definitely been positive.

---