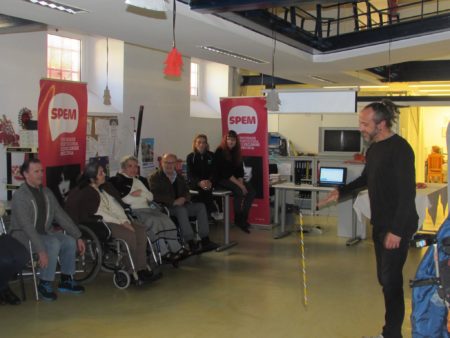 ---
Member News
Portugal: 32 years of national MS advocacy
05.01.2017
In early December 2016 the Portuguese MS Society (SPEM) marked two important milestones for national MS advocacy. They celebrated the 10th Multiple Sclerosis Patients' National Day and the 32nd anniversary of the organisation.
MS simulators 
The highlight of the celebratory events took place on 7 December in the national Parliament. On that day, elected members were able to experience common MS symptoms through a number of MS simulation gadgets. As such, they tried to walk in divers' shoes, keep their balance on a treacherous mattress, see through adjusted glasses, wear a heavy vest and write with restrictive gloves. Over the next week, these 'symptom kits' were distributed across the country to policymakers and opinion leaders.
SPEM volunteers and patients, and the medical community also made their contribution. They raised awareness on national and local media: public television, radio, newspapers and even student magazines.
United for MS
During the whole month of December, the regional SPEM delegations led related initiatives.
In Lisbon, they held an art exhibition at Bordalo Pinheiro Museum to raise funds for the expansion of a neurorehabilitation centre.
In Porto, they contributed to a Clinical Seminar on MS at Pedro Hispano Hospital. They also set up a golf tournament and a treadmill race at a local gym in order to raise funds.
In Coimbra, the local MS society shared patients' stories on national television.
And in Leiria SPEM patients organised a walking tour through the city and the local Christmas fair.
According to the Atlas of MS, 6,500 people live with multiple sclerosis in Portugal.
---