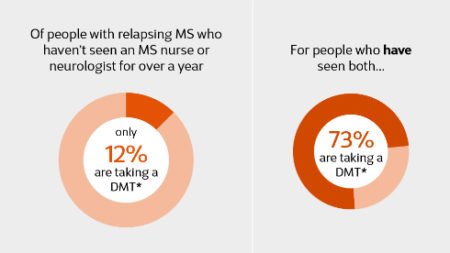 ---
Member News
UK: Hundreds of people with MS are missing out on treatment
22.08.2016
Hundreds of people living with multiple sclerosis (MS) in the United Kingdom (UK) have little or no access to treatment. This is according to the My MS My Needs survey carried out this year by EMSP's member the UK MS Society.
The second edition of this survey, after the one in 2013, was completed by 11,000 people throughout the UK.
The survey found that one in ten of those with relapsing-remitting MS (RRMS) haven not seen an MS nurse or neurologist for over a year.
Among this group, just 12% are taking a disease modifying therapy (DMT) which could reduce relapses and slow progression of MS.
This means that around 500 people with RRMS living in the UK have little or no access to treatment.
However, the survey also shows that 73% of those who have seen a specialist within the last year are taking a DMT.
Respondents: mostly women in their 50s
There are around 100,000 people living with MS in the UK. 89,000 of them live in England.
Out of 11,000 UK-wide respondents to this survey, 9,000 were from England.
75% of respondents were women.
The majority of respondents were aged between 50-59, and 66% were diagnosed more than 10 years ago.
44% of respondents had relapsing-remitting MS.
MS Nurse Pro. Ready for Work
ESMP is currently running two projects relevant to the topic. One project highlights the importance of MS nurses and the other encourages meaningful discussions between patients and neurologists.
MS Nurse Pro is an accredited online training programme aiming to consolidate standards of MS nursing across Europe.
And Ready for Work aims to provide guidelines which will support neurologists to have regular work-related conversations with their MS patients.
---