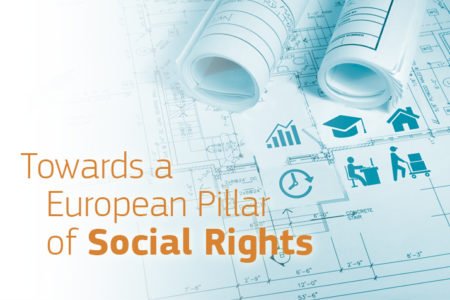 ---
EMSP News
We need your input: EU public consultation on social rights
25.08.2016
EMSP is inviting members and supporters to share their ideas and proposals to shape a future European Pillar for Social Rights focused on employment and social policies. 
Find more relevant information here.
How to contribute?
EMSP is working on a related draft proposal for the European Commission and we are looking forward to including your input.
We welcome contributions by email at andreea.antonovici@emsp.org. The deadline is 15 September.
Find a template with the questions proposed by the European Commission here.
The process is simple. Just prepare a word document, mentioning the number of the question and adding below your comments. Then save the document with the name 'EU consultation_MS Society of (your country, e.g. Spain)'. And send it our way!
Should contributors wish to send their feedback directly to the EU institution, they can do so here. Though experience tells us that our voices are stronger together. 
Opportunity for people living with disabilities
One of the most pressing issues for people with disabilities in relation to employment is the need to access work and to remain in workplace, in order to live their life to the fullest and make their contribution to society.
Although all European countries have protective social legislation, in practice people with multiple sclerosis (MS) and other potentially disabling chronic conditions are disadvantaged in the current job market, experiencing inequality and lack of opportunities.
A better alignment of health, labour and social policies alongside best practice in keeping people with MS as healthy and productive as possible will ultimately lead to significant public health and economic benefits for society.
Access, fairness and protection
The European Pillar for Social Rights aims at improvement in three main areas:
Equal opportunities and access to the labour market: This includes skills development, life-long learning and active support for employment. All these elements are all indispensable to increase employment opportunities, facilitate transitions between different employment statuses and improve the employability of individuals.
Fair working conditions: Needed to establish an adequate and reliable balance of rights and obligations between workers and employers. They make sure that there is evenness between flexibility and security to facilitate job creation, job take-up and the adaptability of firms, and promoting social dialogue.
Adequate and sustainable social protection: This includes access to health, social protection benefits and high quality services, including childcare, healthcare and long-term care, which are essential to ensure a dignified living and protection against life's risks. This enables citizens to participate fully in employment and, more generally, in society.
---