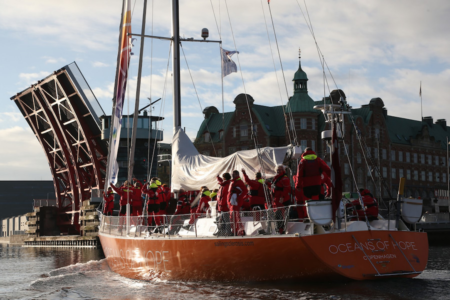 ---
EMSP News
MS crew Oceans of Hope, special guests at EMSP's 2016 Annual Conference
21.01.2016
The Danish yacht Oceans of Hope – that circumnavigated the world manned by a crew of people with multiple sclerosis (MS) – will be present in Oslo, between 16 and 18 May, for EMSP's 2016 Annual Conference.
Click here to register for the Conference.
Since 2014, when Oceans of Hope's daring journey started, the crew have become close partners of EMSP: they were present at our 2015 Annual Conference and EMSP was represented at their 2015 ECTRIMS event.
During our May 2016 Conference, the Oceans of Hope boat will dock in the Oslo Harbour, at the Royal Norwegian Yacht Club. Boat tours on the Oslo Fjord will be available for participants and other people living with MS. They will be able to feel the awe of the circumnavigation and hear about this experience directly from founder and skipper Mikkel Anthonisen, and his crew.
Time and place: May 16 and 18. Both days at 5.30 pm at the Royal Norwegian Yacht Club.
More information will follow. Make sure you apply in timely fashion if you are interested. Email to: andreea.antonovici@emsp.org
Organisers: EMSP, Royal Norwegian Yacht Club & Sailing Sclerosis Foundation
The global circumnavigation has raised awareness around the world by aiming to change the perception of MS and what it is like to live with a chronic and potential disabling condition.
Read more on www.sailing-sclerosis.org.
---