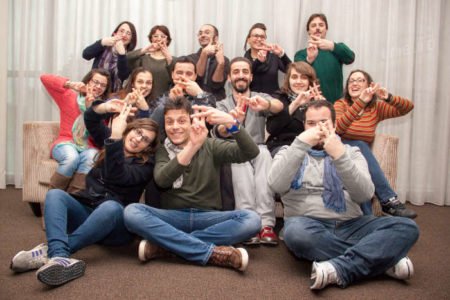 ---
Member News
Italy: Five years of MS blogging
25.01.2016
Mainstream multiple sclerosis (MS) blogging in Italy has marked an important milestone: the MS blog set up by a group of young MSers has recently celebrated five years since its first post. GiovaniOltrelaSM has grown into a solid partner for the Italian MS Society (AISM) and its founders have become inspirational MS advocates in Italy and beyond.
In their celebratory post, they highlight the importance of sharing MS experiences:
"When we created this blog we didn't know where to start, or how to express our feelings and describe the challenges of living with multiple sclerosis. The only thing we were sure of was our need to share and communicate. And we knew that there were other people out there who felt the same. We already had a feeling of community."
MS advocate Martina Vagini
Among the founders of the GiovanniOltrelaSM blog is a member of EMSP's Young People's Group, Martina Vagini.
Over the last four years, Martina has played an important role in our advocacy and awareness-raising initiatives, most notably being the central character in our Under Pressure MS documentary on living with multiple sclerosis in Italy:
Country stats
Italy has one of the most numerous MS populations in Europe, an estimated 68,000 people.
The national MS prevalence of 113 in every 100,000 people is also above the European average.
Find more relevant MS data in MSIF's Atals of MS and EMSP's MS Barometer.
---