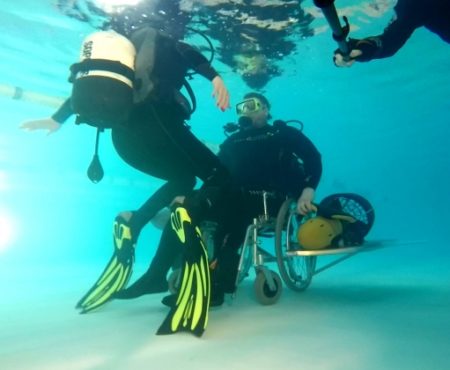 ---
Member News
Introducing the underwater 'barracuda' wheelchair
10.04.2017
By Pavel Zlobin
The Russian MS Society explores novel ways of expanding the mobility for people living with multiple sclerosis. In this edition of EMSP's Membership Newsletter they are promoting an intrepid initiative: the underwater wheelchair.
'Why not?' say representatives of the Society. Especially since – they point out quoting an article from the Regnum press agency – this wheelchair has already been tested.
According to the article, Russian inventor Igor Skikevich has produced a special design that can navigate under water (as pictured below).
The MS diver
The hand-maneuvered four-wheel vehicle becomes amphibian under Mr Skikevich's design: with 'fins' on both sides and special propellers which can be activated at the touch of a button. Everything – the article adds – can be assembled in just three minutes.
There is a 'catch' though: the wheelchair user has to wear diving suit and gear.
Tests have shown the device to be safe and even able to perform underwater somersaults.
More optimism
In the Russian MS Society's interpretation, this invention will not necessarily turn lots of disabled people with MS into divers in wheelchairs but can enable 'unlimited' perspectives on MS mobility and rehabilitation.
The 'barracuda' underwater wheelchair, as it was appropriately named by Mr Skikevich, also has the potential to encourage further engineering feats for the benefit of people with MS and other potentially disabling conditions. At the very least, it can make those affected look forward with greater anticipation towards the summer season.
The number of people with multiple sclerosis living in Russia is estimated at 150,000.   
---