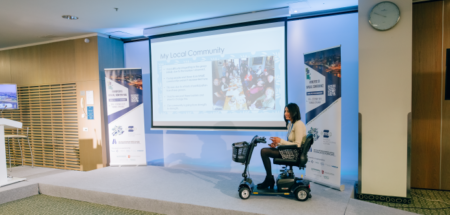 ---
EMSP News
Young People with MS
Highlights of the #EMSP2019: A young MSer's Perspective
16.07.2019
By our Young People's Network member & guest author: Amandeep Donna Nahal (UK MS Society)
The Wait is Over
May 9th, 2019 and I arrived in beautiful Vilnius, Lithuania for EMSP's Annual Conference 2019.  This year's theme was Digital Health Management and I had a general idea of what this was. Admittedly, I wasn't entirely sure of everything this encompassed but I was keen to find out.
Before the Conference started, I was looking forward to meeting with EMSP friends and fellow members of EMSP's Young Peoples Network. Excitement and some nerves surfaced as Susanna and I spoke about our prospective presentations. Then as we filtered into the conference room, I could feel the positive energy building and the anticipation of a great day to come.
If I had to sum up what I experienced in 3 words; they would be these; Positivity, Knowledge and Progression. The idea of working together to achieve a common goal: a future of living fully, with MS, whist we ultimately work towards a future without it.
Our Health, Our Brains – Let's Get involved!
Every single presentation was filled with positivity for the future and how we can manage MS effectively by building good relationships between everyone involved. That includes researchers and neurologists, as well as physiotherapists and occupational therapists.
Not forgetting family, caregivers, workplaces and most importantly: us! At every point, it came back to the patient and the importance of their involvement and input in shaping care and MS management. I was truly empowered. Every frustration I have experienced on my journey with MS, was being addressed.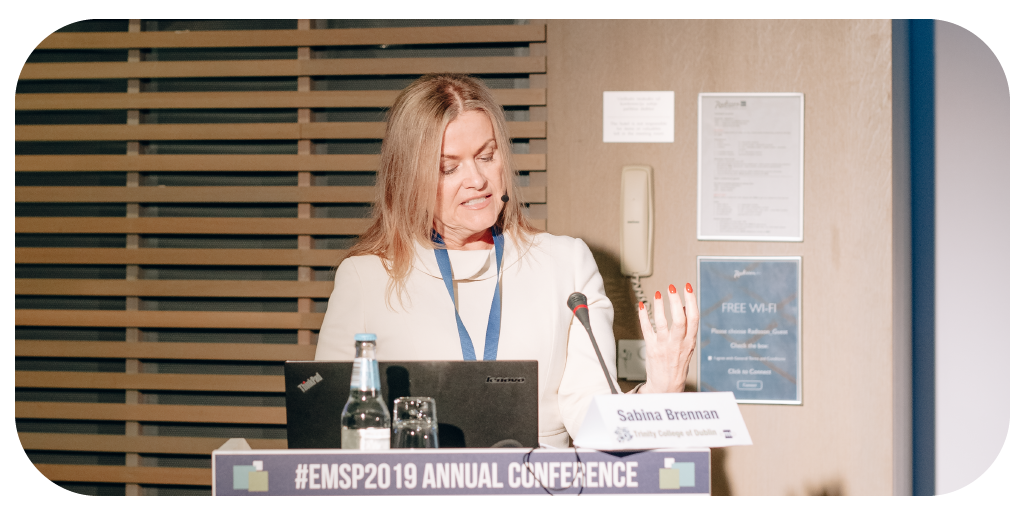 It was all about embracing technology and using it effectively to improve care. One example that resonated with me particularly was Dr Sabina Brennan's 'Digital Health and Patient Involvement in MS Research' presentation.  Since I've been using the 'Brain Health: Time Matters in Multiple Sclerosis' recommendations in the management of my own MS, I was intrigued to hear more on the importance of Brain Health. It didn't disappoint!
We were introduced to www.brainhealth4ms.com website and it was really refreshing. An online resource that's simple to access and covers many lifestyle choices that can have an effect on our brain health. It's definitely one I'll use. Not simply to educate myself on self-care; but also, others around me. To improve their understanding of MS and the way it affects me.
Knowledge is Power – The Future
I felt a running theme throughout the conference was, 'Knowledge is power.' As people with MS, there is so much we can do to positively impact the way our MS affects us.
This leads nicely onto the future, and Marcello Moccia passionately conveyed, that although the importance of patient engagement is being acknowledged; there is still more to be done. We need to keep patients abreast of the latest research to get them involved.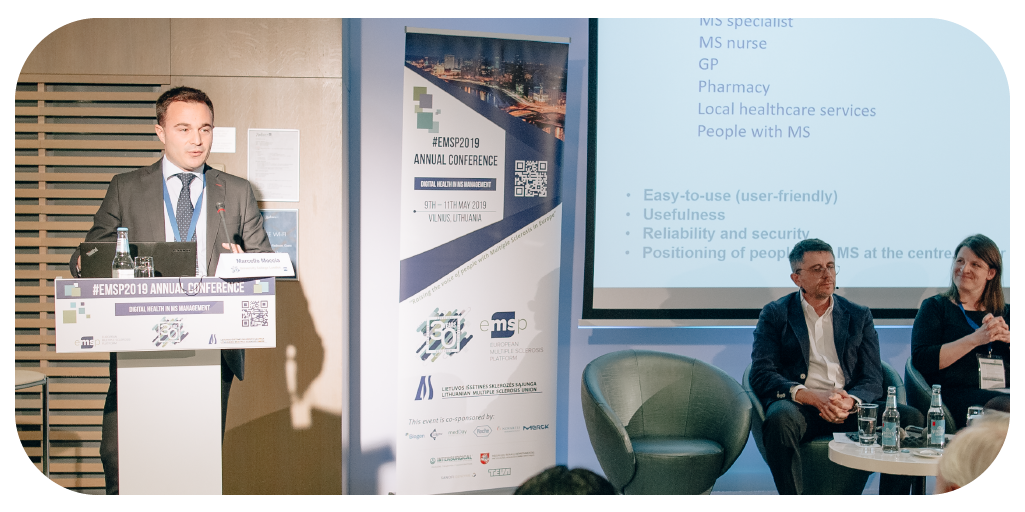 This is not just as simple as relying on medical professionals to direct us to research. As young people with MS, we are knowledgeable about the use of social media. This can help us keep up with the latest developments. It is important that we access reliable information by reading the research and educational blogs and share information through personal ones.
Gone are the days of solely relying on Google. Today, we are in a position to actively take part in the discussion and connect with the MS community.
Effective rehabilitation with the right tools
Part of managing MS, is effective rehabilitation when things change. That means treating the whole person and considering their lifestyle. We heard how this involved bringing together a team of professionals, family and caregivers to collaborate and produce a program that's right for the individual, using the right tools.
In terms of the use of technology, it can get quite futuristic. But the future is happening now and it's continuing to develop. The introduction of virtual reality means patients can really engage in rehabilitation and it's not simply a passive activity that can seem like a chore.
With the use of wearables, mobile phones and apps to monitor symptoms, the possibilities are endless. As an MS patient, the conference filled me with real hope for the future. I feel we are experiencing a time of positive change. The next step is to work towards access for all.
We are more than MS
Strong, resilient and inspiring young people with MS are the future. When we get together there's an overwhelming energy. From Susanna Von Tonder's informative and motivational address on 'Young Peoples' Perspective on Digital Health and the importance of our involvement' to Izabela Sopalska-Rybak's inspiring story of embracing her MS diagnosis and not letting it stop her.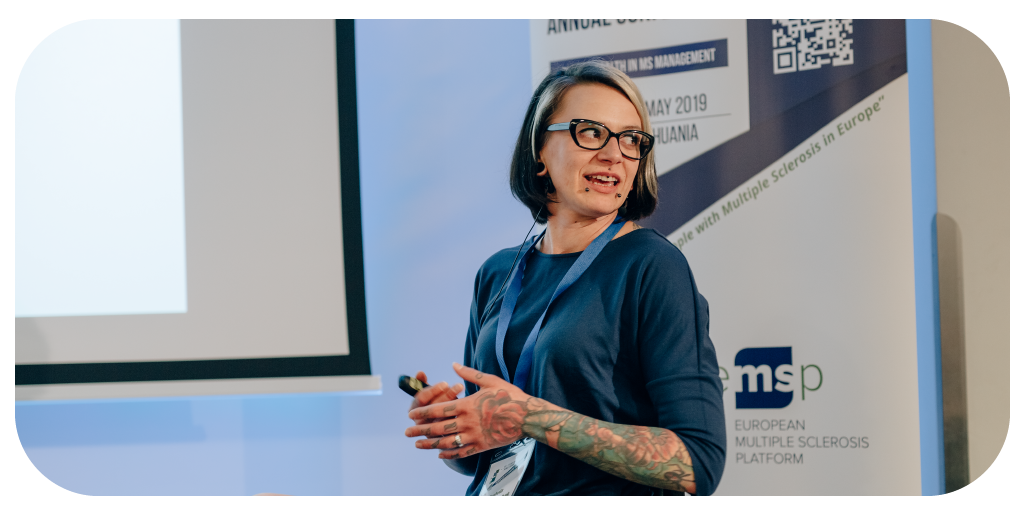 It was clear to see that by adapting and continuing to get involved, we can achieve amazing things and shape the future. Personally, connecting with new and old friends that are driving change for the future; provided me with motivation to me to continue along this path.
My experience closed with my opportunity to inspire by sharing my story for my presentation of 'Just Do It: Living life with MS'. When I was approached to be a speaker, I did not hesitate in saying yes. Since MS Sessions 2017 – the game changer for me – I have experienced the power of being involved in the community and of sharing my story.
I wanted to demonstrate that it is never too late to change our perspective. Through an acceptance of all that MS is, and adopting an attitude of gratitude for all MS has taught me. I learned to appreciate the opportunities it has given me and how I can use my experiences to drive, share and help others. I chose to live rather than spend my life fighting.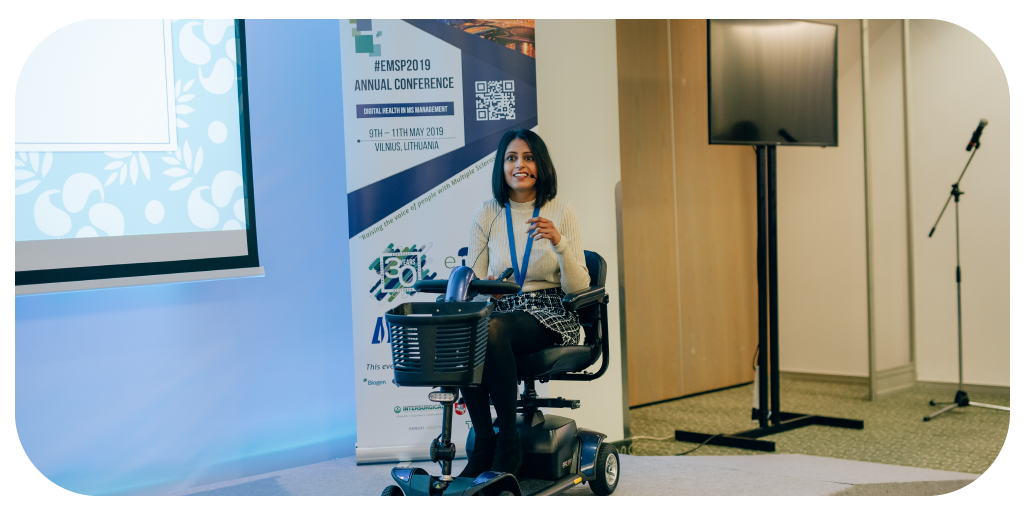 Unity – My absolute highlight, and hope for the future
The Gala dinner gave me an opportunity to witness and experience the work that EMSP, their partners and everybody there is doing continuously to improve the lives of people with MS. It was a chance to see and connect with the incredible people behind their professions.
There was a real feeling of unity and when Judita Leitatie performed her beautiful rendition of Hallelujah, it was difficult to hold back the tears! Everyone was singing and it was a beautiful moment of togetherness. It was my absolute highlight.
For me, the conference was about a realisation that knowledge is power, and our experiences are important to promote change. This means it is our responsibility as people with MS and particularly young people with MS to get involved.
It's time to own our MS. We must keep on connecting, keep on talking and keep on sharing.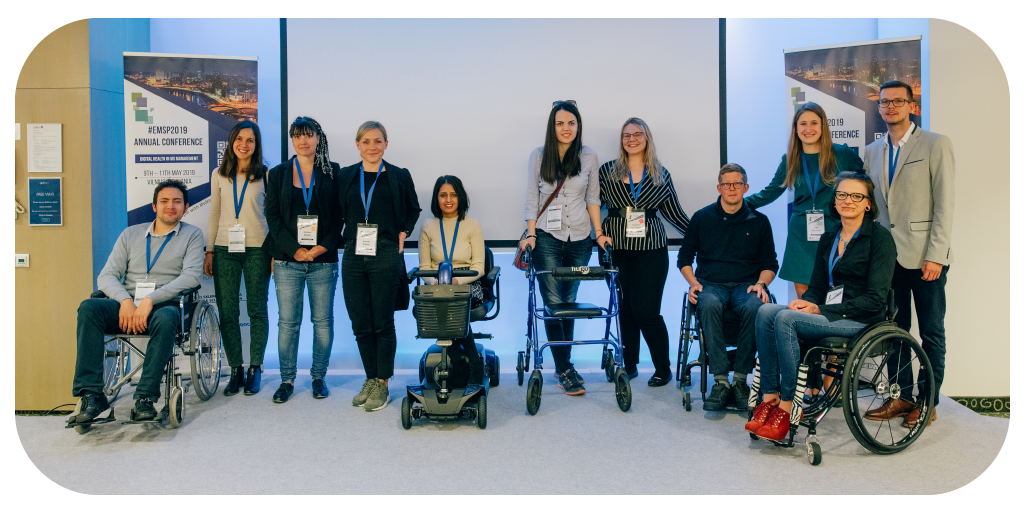 How do young people get involved with your MS society?
 What suggestions do you have in mind?
 Share your ideas with us by sending an email to mate.tagaj@emsp.org
---