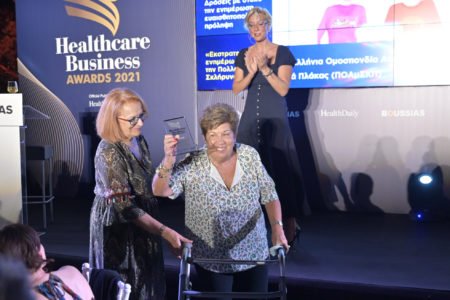 ---
From Europe|Member News
Member News
Hellenic Federation of Persons with MS Receives Award for MS Awareness Campaign
29.09.2021
At the Healthcare Business Awards 2021, which took place in Athens Greece, on Monday, September 20, 2021, the Hellenic Federation of Persons with Multiple Sclerosis received the SILVER Award for the Federation's MS awareness campaign in Greece.
About the Awards
The Hellenic Federation of Persons with Multiple Sclerosis received the SILVER award at the Healthcare Business Awards 2021 in Greece, in the category of Patient Associations – Actions raising awareness, for its MS Connections campaign. The main aim of the campaign was to eliminate the stigma of the disease, to support those who live with MS and to communicate to the general public about the issues that concern them.
This category of the Healthcare Business Awards in Greece aims to reward the effort and action of Patient Associations, but also to motivate them to intensify their activities, significantly improving the support they provide to patients, informing them about their rights, their access to appropriate and quality health care, educating them on ways to manage their health condition.
The Healthcare Business Awards in Greece is organized yearly by Boussias, which is a leading Greek B2B trade publishing, conference and awards organizing company, to recognize Excellence in Healthcare, Innovation and Investment. The Judging Committee consists of significant personalities in the Greek Health sector, as well as distinguished academics.
About the Award-Winning Campaign: a Replicable Best Practice in Europe
When the Multiple Sclerosis International Federation (MSIF) announced that the theme for World MS Day 2020-2022 was "MS connections", the Hellenic Federation decided to organize a local MS awareness campaign using this flexible theme.
The MS awareness campaign included material such as: videos and graphics for the Federation's social media, videos and articles with testimonies of MS patients, the creation of 2 animation heroes (Manos and Stella, whose initials spell MS), a TV spot (shown on National range TV channels), interviews with representatives of the organisation (on radio / publications / television / Health sites), 2 press conferences for health journalists and sending official letters to Greek Ministries.
The organisation received plenty of positive feedback for the MS Awareness campaign. The Federation's site and social media accounts were used to communicate the campaign messages and share all the articles, videos, cards and interviews. There was a great engagement in May due to the World MS Day (30th of May) celebration. The TV spot was displayed free of charge – as a non-profit spot – and while it was showing on National range TV Channels, MS patients from all over Greece had contacted the Federation asking for advice or information. The Federation had also received some donations due to the publicity.
The HFoPwMS would like to thank its partners and sponsors for their kind support in the creation and implementation of the MS awareness campaign. We are happy and proud for having been honored with the SILVER Healthcare Business Award and promise to keep working hard for improving the quality of life of persons with MS.
---