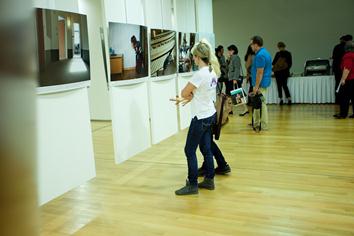 ---
Member News
Greek MS society event:
'Improve the qualify of your life'
16.10.2013
The Greek MS Society organised the annual meeting titled "BmyLife – Improve the quality of your life", on 16 October, in the city of Thessaloniki.
EMSP was represented by President John Golding and Chief Executive Maggie Alexander.
An important moment of the event was the launch of a new video from EMSP's Under Pressure project. This short film contains a series of stories on living and coping with MS in Greece.
The event was held in the Aristotle University Research Dissemination Center and attended by numerous stakeholders from the MS community in Greece, including specialists from fields such as nutrition, urology or physiotherapy.
It was also a good occasion to organise an Under Pressure photo exhibition (shown in the pictures below).
---