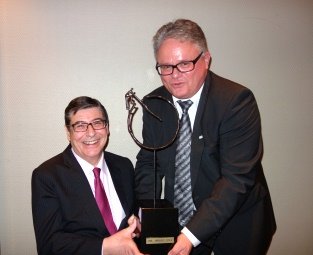 ---
Member News
Former EMSP President receives Norwegian MS Prize
10.11.2014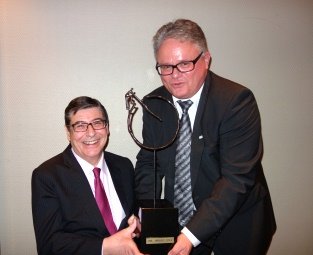 Former EMSP President John Golding (pictured above, left, with the Chairman of the Board of the Norwegian MS Society, Lars Ole Hammersland) was awarded with the Norwegian MS Prize 2014 for his extensive activity in service of people with multiple sclerosis from Norway, Europe and the world.
John Golding received this honour during the biannual Convention at Gardermoen, Oslo, organised on 8 November by the Norwegian MS Society. Delegates from all over the country were present.
John Golding, 63, was diagnosed with multiple sclerosis in 1987. With the constant support of his wife Elisabeth, he managed to overcome the setbacks associated with this condition and become one of the most active and inspiring MS advocates. Find their detailed story in the May edition of EMSP's Web Alert.
John Golding acted as President of EMSP between 2010 and 2014 and is currently a member of EMSP's Executive Committee and of MSIF's Board. He and Elisabeth Golding live in Fredrikstad, Norway.
---