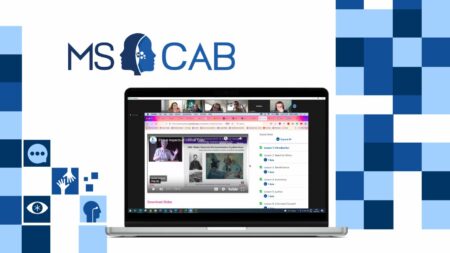 ---
EMSP News
Equipped for Impact: MS CAB Members Successfully Completed Training Program
29.06.2023
We are thrilled to share some exciting news from the Multiple Sclerosis Community Advisory Board (MSCAB) facilitated by Rob Camp (EUPATI Spain). Our dedicated MSCAB members have recently completed a comprehensive series of training courses, equipping them with the necessary expertise to provide consultation to research institutions interested in the field of multiple sclerosis (MS) research and development. 
The MSCAB is a vital component of our collaborative efforts to advance MS research and ensure patient-centric approaches. By completing the following courses, our MSCAB members have expanded their knowledge and skills in crucial areas related to the research and development process: 
Medical Research and Development

 

Ethics in Medicines Development

 

Statistics in Medicines Research and Development

 

Medical Regulatory Framework and Procedures

 

European Medicines Agency

 

Benefit-Risk Assessment and Pharmacovigilance

 

Market Access and Health Technology Assessment

 
This rigorous training has empowered our MSCAB members to provide independent personal insights and guidance to research institutions in pursuing groundbreaking advancements in the MS field.  
We extend our sincere congratulations to each of our MSCAB members for their commitment and successful completion of these courses. Their dedication and expertise will undoubtedly contribute to enhancing MS research and development, fostering innovative approaches, and improving outcomes for people living with MS. 
We invite all research institutions interested in collaborating with EMSP MSCAB members to reach out and benefit from their valuable insights. Together, we can continue to make significant strides in the MS field and improve the lives of people affected by this complex condition. 
Advantages of having a consultation with the MS Community Advisory Board: 
The MS community advisory board provides a collective and organised platform for the MS patient community to participate in the development of treatments and clinical trials actively.

 

It represents a broader range of voices, offering a comprehensive understanding of the needs, challenges, and preferences of the MS community.

 

The advisory board's insights and recommendations have a significant influence on shaping trial design, patient recruitment strategies, and decision-making processes.

 

Involving the MSCAB ensures that your efforts are closely aligned with the interests and priorities of the MS patient population.

 
For further information or to initiate a consultation process, please get in touch with us at projects@emsp.org
Stay tuned for more updates as we embark on new initiatives and collaborations to drive progress in MS research and advocacy. 
This initiative has been financially supported by: 

---