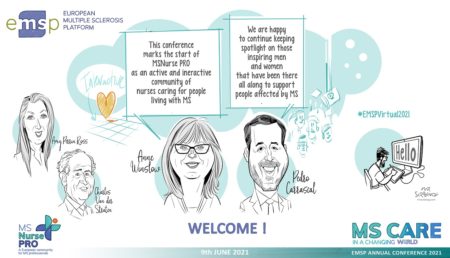 ---
#EMSPVirtual2021
#EMSPVirtual2021: Welcome and Patient-Nurse: a unique relationship
29.09.2021
Accessibility, trust, and education: the 2021 EMSP conference opening session took MS nurse training  to the next level and celebrates the unique relationship of people living with MS and MS nurses.
The world is changing in the light of a worldwide pandemic and MS care is challenged on many levels. This year the annual EMSP conference acknowledged this under the motto MS Care in a Changing World in a virtual format with a promising mix of interactive sessions and highly inspiring speakers.
Welcome session
The conference started with a warm welcome by president Pedro Carrascal and former president Anne Winslow, who emphasized the importance of stable and reliable care systems. They thank all carers, health care professionals, and the national MS societies that have been particularly challenged last year.
Anne celebrated with the audience the 10th anniversary of the MS Nurse Pro program and announced the launch of a digital training platform built around an active and interactive online community. It is aiming to improve and harmonize the international exchange between nurses and people living with MS. With the new platform the promise was made to people living with MS "Regardless of where you live, you will receive, over time, the best possible care." MS Nurse PROfessional evolved from offering a handful of courses into an international platform with over 7,000 registered nurses.
Patient-Nurse: A Unique Relationship
Underlining the indispensable support of having a specialized MS Nurse was given by UK-Asian Donna Nahal who has been living with MS for 16 years. Complete trust and accessibility are key in dealing with everyday life with MS, which became even more essential to her during the last year and a half:
"Stephanie has always been at the end of the phone. I particularly was struggling with anxiety, losing a lot of weight. Stephanie was able to pick up on the fact that there needed to be an intervention by the health care services and arranged for that to happen remotely, over video and phone. So I didn't feel alone. Her role was vitally important."
Stephanie Maw, a UK-based nurse, agrees that personal and effortless access to help and information enhances her patient's well-being. She addressed the importance of interactive nurse communities. Peer effort can be a driver in caregiving, be it in thinking out of the box or knowledge exchange.
Key Pillars of Good MS Care
Accessibility and the unique personal relationship between patients and MS nurses are critical for people living with MS and their quality of life. Key pillars to good MS care in a changing world are training, interrelated care associations and interactive international nurse networks that supported their challenging work during the pandemic.
If you would like to learn more about the first two sessions of the conference, watch the recording of the sessions here:
---