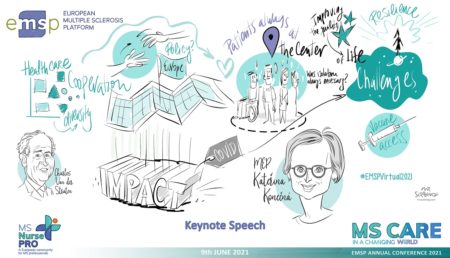 ---
#EMSPVirtual2021
#EMSPVirtual2021: Keynote Speech of MEP Katarina Konecna
29.09.2021
In her keynote speech MEP Katerîna Konečna addressed the need for protection and involvement of caregivers and patients, using the crisis as a lesson to learn from. The MS Barometer largely supports the view that more recourses and policy implementations are needed.
Katerîna Konečna, a member of the European Parliament from the Czech Republic, is known to be a public health policy maker rooting for the involvement of patients as well as caretakers in issues such as access to medicine, vaccination and digital solutions.
"We politicians should be able to hear your voice".
Katerîna Konečna talked about mistakes that the EU and the member states made during last year's pandemic. Misinformation and naivete caused harm that could have been prevented. The pandemic has surfaced shortcomings in European action plans, which were unfit to prevent the crisis. The importance of solid public health policies is back to the top of politician's agendas. A chance to learn from mistakes and improve information and cooperation networks.
MS communities face specific daily life needs and people with MS should be at the center of health policies to ensure that their needs are met. Caretakers also need support and protection.
People with MS stayed behind in the pandemic, they have been unnecessarily isolated and misinformed. The EU provides a number of programs but for people living with MS who have specific economic and social needs, they are insufficient.
Caregivers such as family members and friends are often unpaid and work under high personal risk. Carers have not been included in the COVID-19 vaccination priority groups making their job more difficult and risky.
There is a clear shortage of qualified nurses. Particularly during the pandemic, they lacked structures and plans that should be re-addressed on a high level.
Harmonization of information and cooperation politics is needed and patients need to be involved actively in the information flows. At the base, there is a lack of funding for public health policy at EU level. It is difficult to deal with, as it is an issue primarily for member states who are not contributing more financially in this area. Ms. Konečna's statements were supported by Pedro Carrascal, who presented the 2020 MS Barometer. He pointed out that we have extensive data that demonstrate the need of long-term improvement in European health care systems policies.
Patients and caregivers must be heard by policymakers on European and national levels. The pandemic clearly showed that we were not prepared to protect the vulnerable and that more resources are needed. Doctors, nurses, and all carers should be acknowledged.
If you would like to watch the keynote speech, you can access the recording here:
---