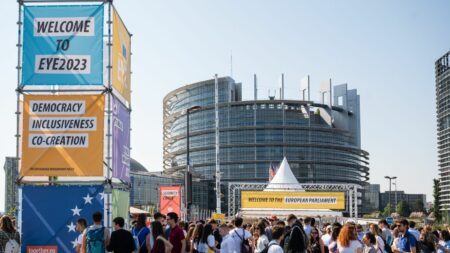 ---
EMSP News
EMSP YPN at EYE 2023
29.06.2023
On the exciting days of June 9th and 10th of 2023, the Young People's Network of EMSP embarked on an awe-inspiring journey at the heart of the European Youth Event (EYE) 2023 in Strasbourg, France.
With an unwavering passion for change, they orchestrated a captivating interactive experience that breathed life into three urgent concerns of our era: environment, health, and security. They unveiled their gripping personal narratives, shedding light on these pressing issues that demand our attention.
If you're eager to dive deeper into the remarkable journey of the YPN during EYE 2023, be sure to stay tuned for a thrilling summary of their extraordinary "ACT! Activists Cut Through" experience.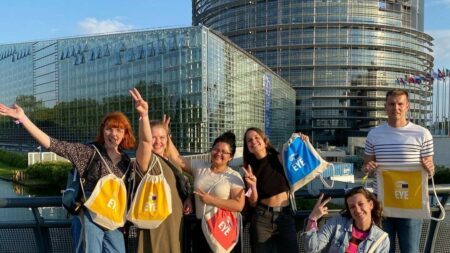 About the European Youth Event (EYE)
The EYE (European Youth Event) brings together at the European Parliament in Strasbourg and online over 10,000 young people from all over the European Union and the world, to share and shape their ideas on Europe's future.
It is a unique opportunity for 16- to 30-year-olds to interact, inspire each other and exchange their views with experts, activists, influencers and decision-makers, right in the heart of European democracy.
EYE2023, the fifth edition of the event took place on 9 and 10 June and featured both in-person and hybrid activities in Strasbourg.
During the event, participants took part in activities co-created with institutions, international organisations, civil society, youth organisations and participants themselves, offering a space for discussions and networking. This included the activity of the EMSP YPN where young MS-ers were able to have a say in what people living with MS need and want from the future of Europe.
Learn more about the EYE here.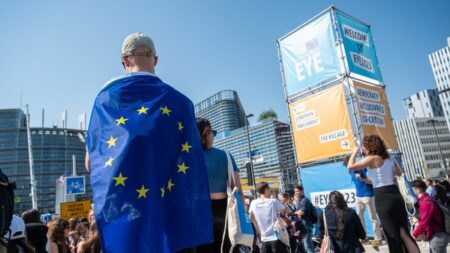 ACT! Activists Cut Through
An electrifying experience shook the very foundations of the European Youth Event (EYE) Village on June 10th. The EMSP Young People's Network, fuelled by an unwavering passion for change, orchestrated a captivating activity called "ACT! Activists Cut Through."
As the sun-drenched tent welcomed attendees, an eye-catching banner posed an important question: "What issue do you want the EU to ACT on in 2024?" Over 80 participants eagerly stepped forward, depositing their hopes and aspirations into a voting box representing three critical areas: The Planet, Health, and Security. And what did the youth proclaim? The environment emerged as the front-runner, followed closely by health, with security claiming the third place among the main concerns demanding the EU's attention in 2024.
🇪🇺🤩 We voted 📨 pic.twitter.com/bRY1Opyr0E

— eumsyouth (@eumsyouth) June 9, 2023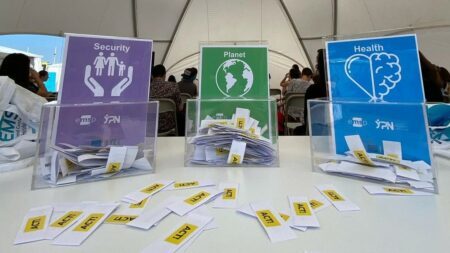 But the journey did not stop there. At the Living Library, young people living with Multiple Sclerosis had their opportunity to share their stories within the fields of environment, health, and security. Three young individuals living with MS stepped onto the stage, each a living testament to the power of resilience and activism. In the wake of their powerful narratives, a vibrant discussion surged forth, exploring the imperative for the EU to address these pressing issues from the perspective of the next generation.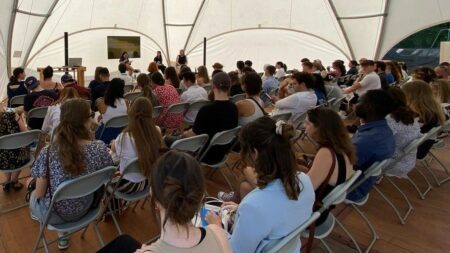 Feedback from the YPN
Tania
"The European Youth Event was an "EYE-opening" experience! Sharing the spotlight with my fellow YPN members, transforming our stories into powerful messages to impact change, was for sure a vitalizing, inspiring experience.
Millennials and Gen Z are a powerhouse changing the world. The audience was full of highly motivated young people who were eager to share their own ideas, but also very thankful that we put health, climate, and security centre stage. The best part was the eagerness of the audience to be part of the conversation and the truthful words of an audience member who thanked us for advocating for Multiple Sclerosis on a European level. Many people in the audience were ready to jump aboard or advocacy train. They approached us, asking how we got started. There was even one person asking how someone becomes an advocate. Another one asked us how she can volunteer at the EMSP. It shows many young people want to be part of the conversations, but may not know where to start, which makes me think how great it is the EMSP is contributing to building and shaping young MS advocates.
The question of intersectionality also popped-up and I was so grateful! There was a group of young people from the hearing-impaired community, who asked if we were familiar with the concept. We connected well and followed each other on social media, which got me thinking about how great these events are for networking. We also had a guest from a mental health organisation, who felt very related to our stories and was interested in connecting.
My highlight was simply the atmosphere created by thousands of young people whose ideas are building a more just, inclusive, and diverse Europe. It was truly an honour to be part of this empowering event. If I had to do it all over again, I would do so a million times."
Patrik
"I've already attended the European youth event in 2016 but this one was more rewarding! The energy, my colleagues, our stories, our messages – everything was good! The best part was the atmosphere and the energy created by young people from different cultures, with different ideas, all coming together to make the EU a better place to live. Very often we don't have enough time to think about all the problems and needs of other people; however, the EYE helped me to open my mind even more! I am thankful that we have young people who are thinking and advocating for different causes.
I am proud that I had a chance to be at the parliament, to raise my message with EMSP!"
Cornelia
"I'm grateful for being part of an event of such extent where everybody was united for a common goal, that is – better future.
My main takeaways:
Vote, vote, vote – it's our right and the way in which we can exercise our voice. The next round of European elections is in 2024; I encourage everyone to check together.eu where they can find out more about why it is so important to vote.
There are many opportunities and programs for young people of which I was not aware. It sparked a big curiosity in me, and I want to investigate more.
I felt very inspired being surrounded by young activists and advocates standing up for their cause and mine! "
Stephanny
"Being able to take part of the EYE as a ONE Youth Ambassador from Italy and collaborating with the EMSP was a very enriching experience. The intersectionality of the panel and the engagement of the team made me expand my knowledge about the issues dealt with, and confirm the effectiveness that activist has across nationalities and different ages – it made me connect to people on a more systemic level. I am very thankful to both ONE and EMSP to have given me this opportunity!"
Anna
"The EYE was a remarkable experience that effectively raised awareness about multiple sclerosis among a young audience. Moreover, on a personal level, it provided a unique opportunity for me to engage with fellow young activists who were genuinely interested in social issues. The event served as a platform for connecting with like-minded people from various corners of Europe, fostering a sense of unity and shared purpose."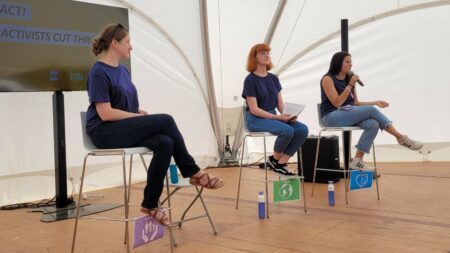 Viivi
"The EYE was an unforgettable experience. All the inspiring young activists made it even better. In my opinion, the best thing about the EYE was that people really listened to us and we managed to get their attention and get through to them via our stories and concerns about people, planet, and safety. Our team made my experience even better. I am proud to be part of the EMSP's YPN and it was an honour to participate in this event."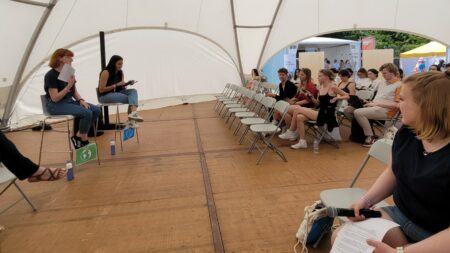 Conclusion
The EYE event was a remarkable gathering that not only brought together young individuals from across Europe but also provided a platform for people with MS to share their journeys and advocate for their needs.
Representing the Young People's Network at EMSP, these inspiring individuals voiced their experiences and aspirations, leaving an indelible mark on the event. Their participation served a dual purpose: to shed light on the priorities and challenges faced by those living with MS and to help shape the future priorities in Europe.
By emphasizing the crucial areas of the planet, health, and security, Young People with MS have demonstrated the urgency of addressing these issues and ensuring a brighter, more inclusive future for all. The EYE event stands as a testament to the power of unity, determination, and the unwavering spirit of those who strive for positive change, especially the youth!
---