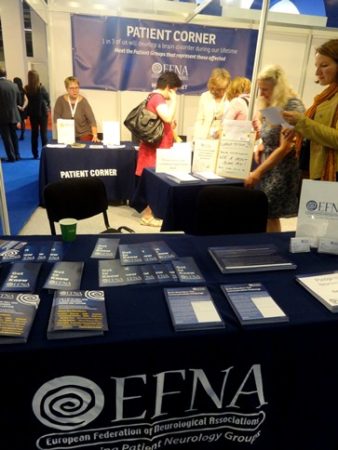 ---
EMSP News
EMSP represented in Patient Corner at the Joint Congress of European Neurology
04.06.2014
The European Multiple Sclerosis Platform (EMSP) took part in the Joint Congress of European Neurology 2014 organised between 31 May and 3 June, in Istanbul, by the European Federation of Neurological Societies (EFNS) and the European Neurological Society (ENS).
EMSP was one of ten member organisations of the European Federation of Neurological Associations (EFNA) to participate in a special Patient Corner – an opportunity to raise awareness of individual disease areas. EMSP promoted the newly revised Code of Good Practice in MS, Defeating MS Together, as well as several other deliverables, most of them presented at the recent Anniversary Spring Conference.
Present at the Joint Congress, EMSP's Chief Executive Maggie Alexander was further involved in EFNA's General Assembly, also taking place in Istanbul. At this meeting, Ms Alexander provided an update on the activities included in the Year of the Brain – an European Brain Council (EBC) initiative supported by EMSP along with 200 other organisations interested in highlighting the needs of millions of Europeans currently affected by brain diseases.
---