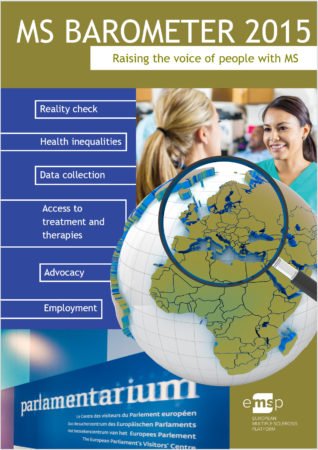 ---
EMSP News
EMSP launches 2015 MS Barometer
28.02.2017
UPDATE 1 March: Following feedback from member societies, we are in the process of updating specific information included in the Barometer. A new version will be available in due course. 
We are glad to announce the launch of our latest MS Barometer, a comparative survey based on key MS data collected by the national MS societies.
Find the full survey results here.
Purpose
First launched in 2008, the MS Barometer raises awareness of the geographical divide that underpins the difference in MS management across Europe. It also serves as a benchmarking tool outlining improvements and actions that can be adopted by national MS societies in order to influence the decision-makers.
Key findings
The MS Barometer found both scope and potential for improvement in four key MS management areas:
Access to treatment and care
Research and data collection
Employment for young people
Patient empowerment

How it works
The MS Barometer is a questionnaire with points scored based on the responses. The goal is for each national administration to score maximum points through the implementation of effective policies which optimise the situation for people with MS. The higher the score, the better the disease management, level of support and quality of life of people with MS.
The questionnaire is structured around the priority policy areas defined in EMSP's Code of Good Practice.
MS advocacy
The MS Barometer has built a strong track-record in supporting MS advocacy at both European and national level. The high profile events featuring MS Barometer outputs include roundtable debates held in national Parliaments and also in the European Parliament.
---