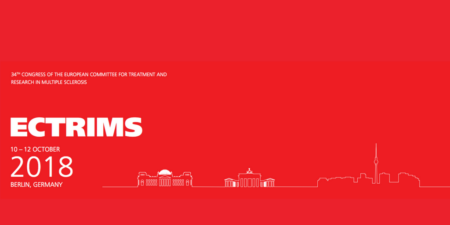 ---
EMSP News
From Europe
Stakeholder Events
EMSP Highlights from ECTRIMS 2018
07.11.2018
EMSP Highlights from ECTRIMS 2018
The 34th Congress of the European Committee for Treatment and Research in Multiple Sclerosis (ECTRIMS) took place in Berlin, Germany on October 10-12, 2018. With an attendance of 9,800 researchers, neurologists, and other MS professionals traveling from 105 countries to share the latest advances in MS research during the past year.
The EMSP stand in the exhibition hall attracted many visitors providing a unique opportunity to promote our flagship projects to the MS community from all over the world and our future vision and plans.
MS Data Alliance
EMSP hosted Questions & Answers sessions on the MS Data Alliance project   currently in development – a multi-stakeholder initiative based on the need for development of quality standards for data pooling, the support to MS registries to build on the expertise of others and the definition of the Patient Reported Outcome.
To learn more about the current existing MS registries across Europe, please read the newly published article: Multiple sclerosis registries in Europe – An updated mapping survey
This article was made through the detailed analysis of 19 questionnaires from European MS registries. The results show that the aim and focus as well as number of patients and inclusion criteria vary considerably between the existing registries. Most of the MS registries collect data within common general categories. There are more pronounced differences regarding specific subcategories.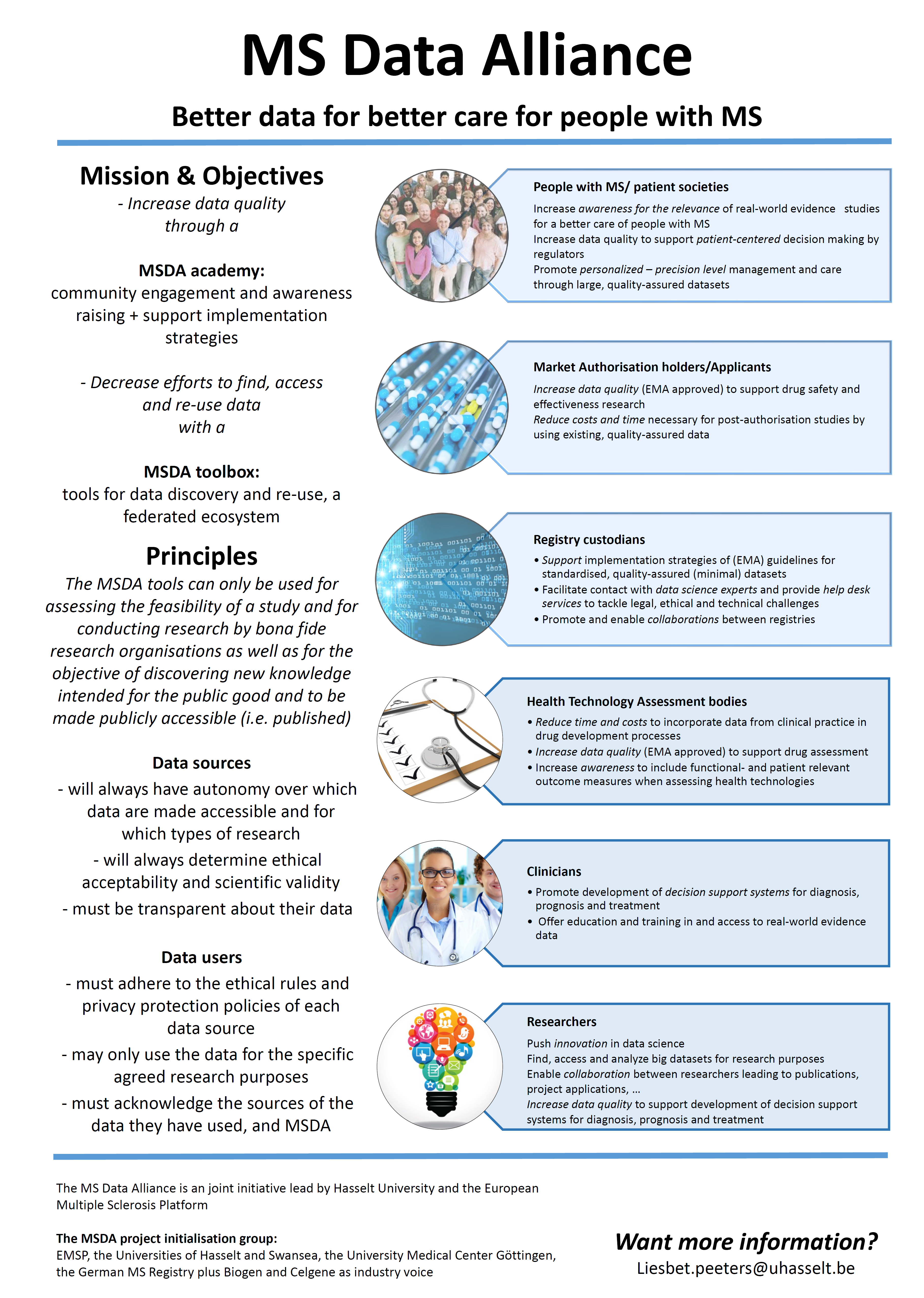 MS & Employment Booth Discussion
EMSP supporters know the range of issues people with MS deal with in their daily life. The impact of unemployment on people with MS was given prime time at ECTRIMS. On Wednesday, 11th October 2018, EMSP and Biogen co-hosted a booth discussion on the importance of employment for people with MS. Employment prevents poverty, brings financial security and a sense of self-worth. It enables people with MS to live independently.
Pedro Carrascal, President of the European Multiple Sclerosis Platform (EMSP) presented the holistic approach taken by EMSP in addressing this key issue to improve the quality of life of those patients.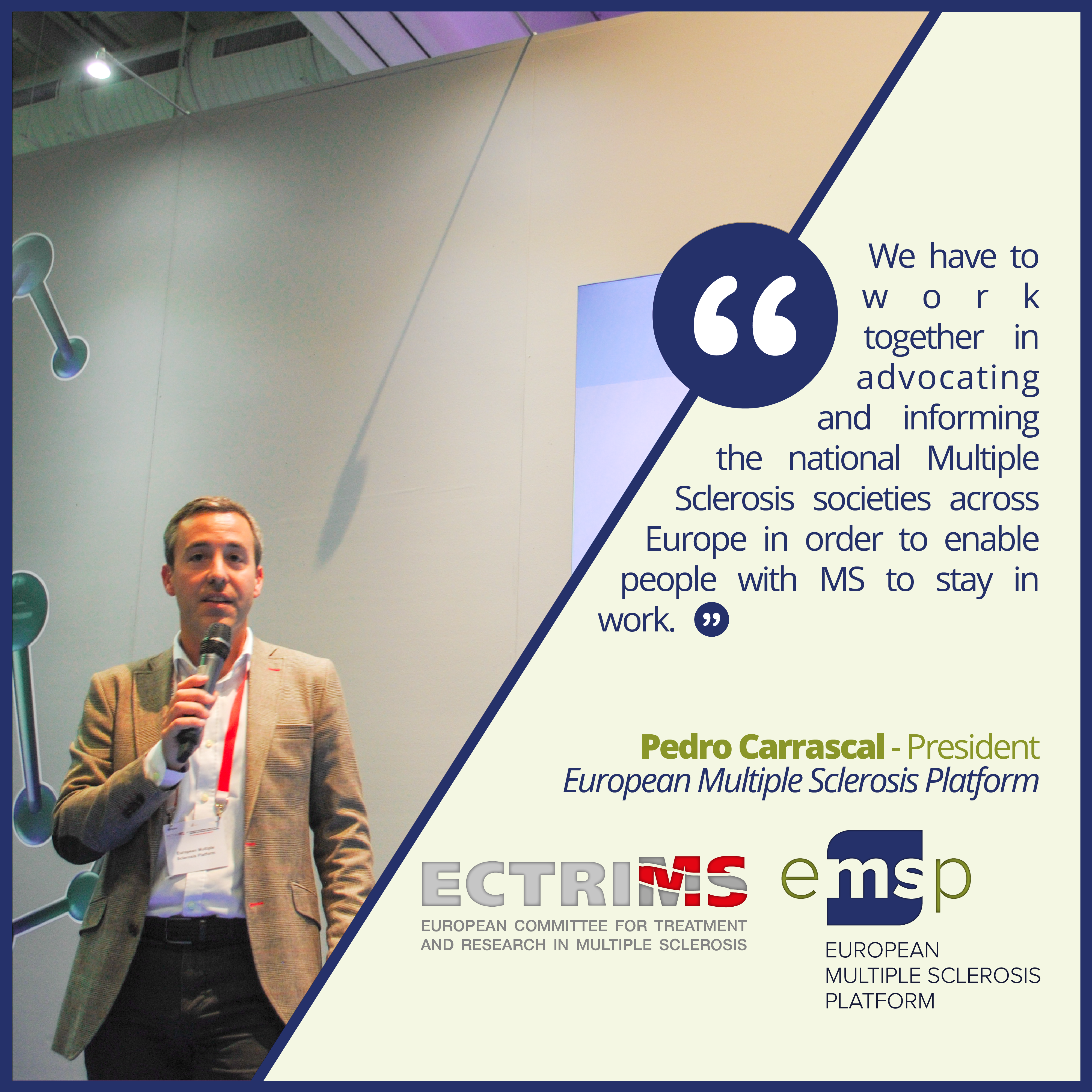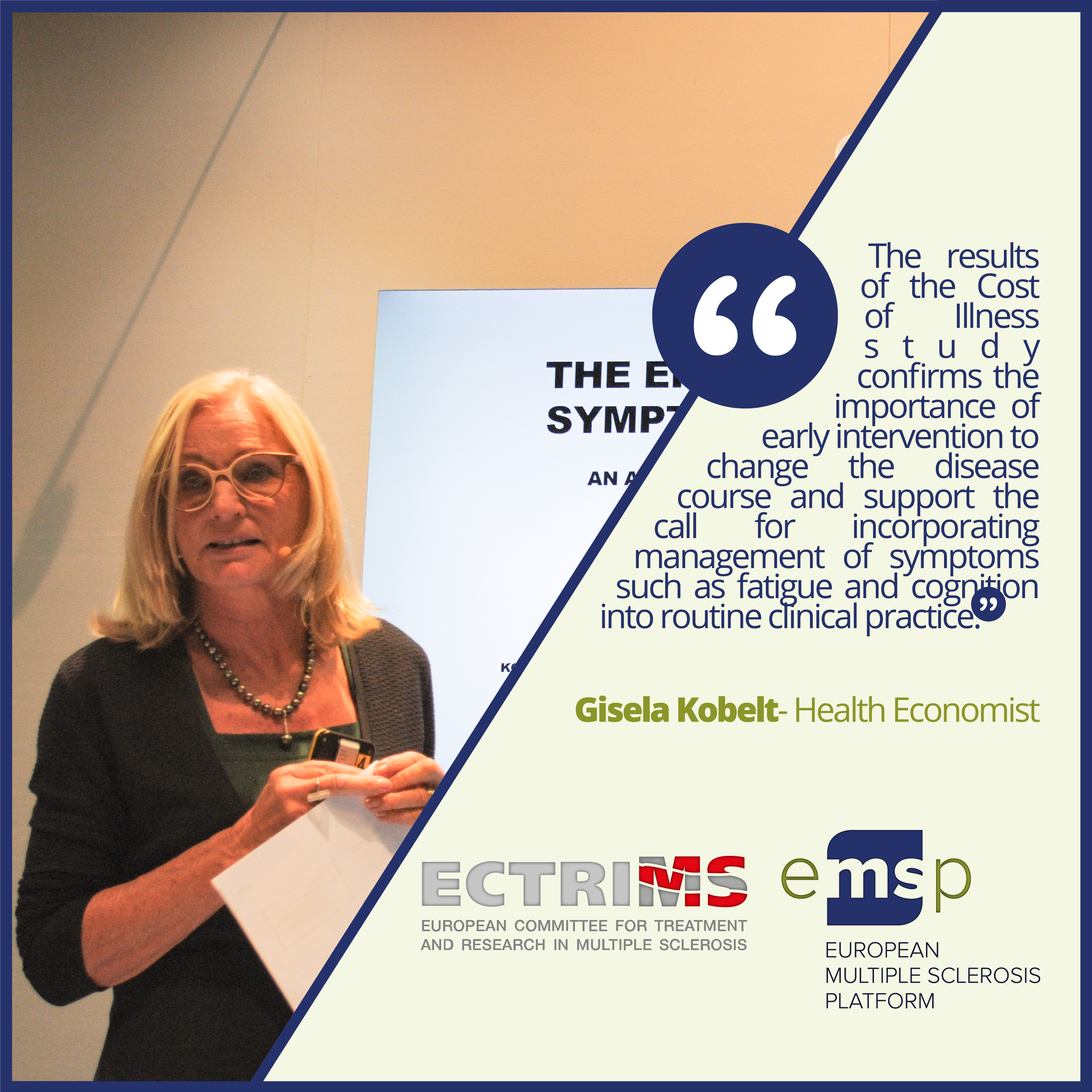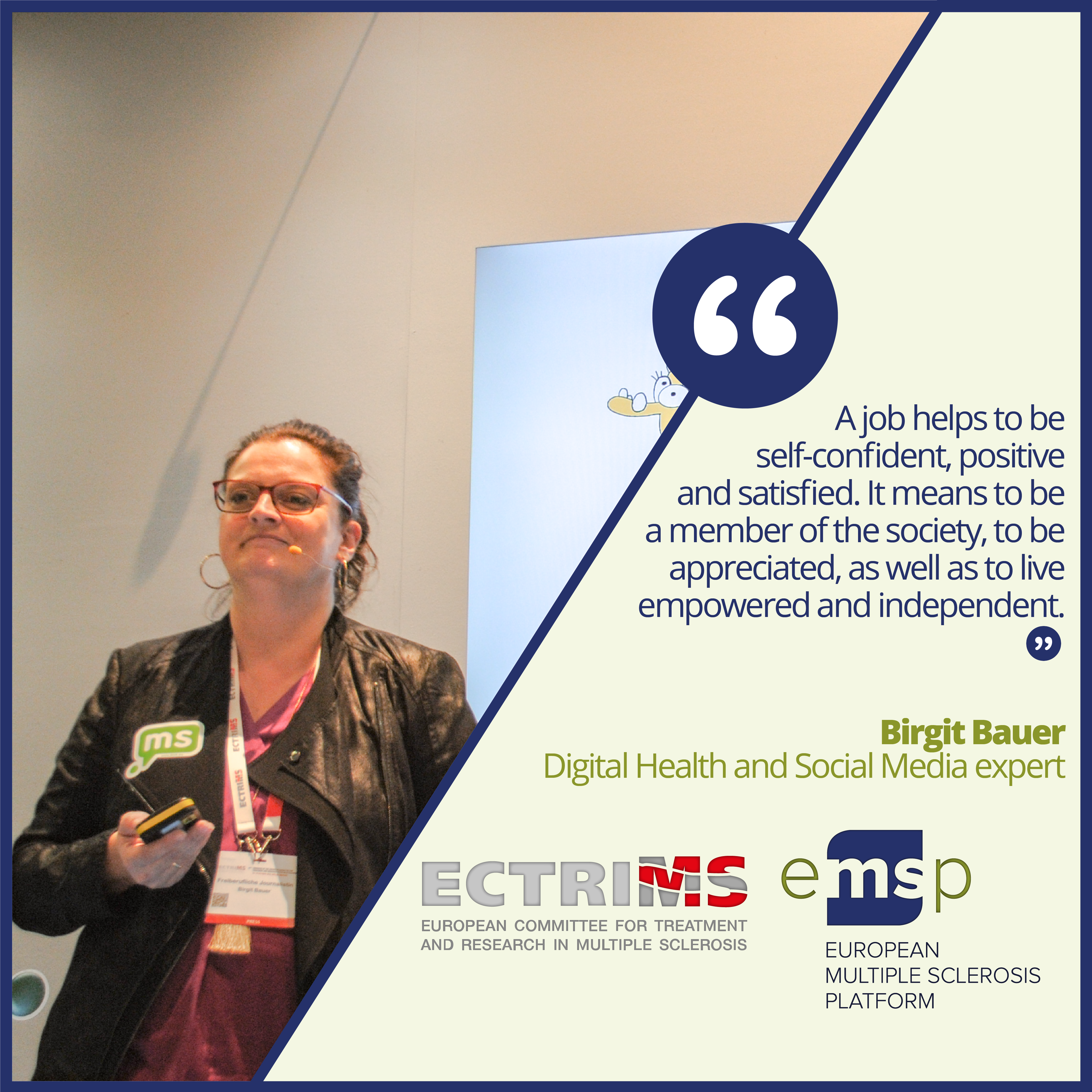 With data from the Cost of Illness Study in MS confirming the importance of early intervention for people with MS, we are in no-doubt that there are ways to deal with the impact of MS on a person's earning potential.
The European Pillar of Social Rights highlights the right to an adapted working environment that enables people to prolong their participation in the labour market.
People with MS need information on their responsibilities and rights as employees to make good decisions about their employment.
Employers and businesses benefit economically when they are equipped to respond to a changing workforce.
State social welfare and healthcare systems that can respond well to people with MS, will reduce resource consumption.
In the EU, 1 in 4 people have reported having mental disorder in their lifetime and 1 in 5 people experience chronic illness.
According to the European Network for Workplace Health Promotion (ENWHP), since 1990, the number of people who have fallen ill at work due to stress has more than doubled.
Healthcare professionals recognize work as an outcome of good clinical care
Why do people with MS with low Expanded Disability Status Scale (EDSS- a method of quantifying disability in Multiple Sclerosis) still leave the workforce? Patient representative Jacobo Santamarta Barral says, "Most symptoms of MS are not visible, and it is obvious that MS symptoms are not easily understood. Symptoms like fatigue, optic neuritis and other invisible symptoms, are not always associated with MS, but these symptoms have a major impact on work".
Being diagnosed with MS can have a profound impact on a person's mental health. The mental health support people have access to impact their professional lives. Intervention and support at the right time and right place will pay dividends for the individual and their communities.
Early intervention includes:
Access to the right medical treatment at the right time;
Rehabilitation and services to deal with the symptoms of MS;
Management of symptoms;
Support in the workplace.
EMSP is proud to partner on the Cost of Illness Study. We continue to work with our members to improve the lives of people with MS and their families across Europe.
Scientific Highlights from the Congress
 Day 1
ECTRIMS began with distinguished neurologist Professor Alastair Compston from the University of Cambridge UK, who hosted the opening lecture on the history and future of MS research entitled "Multiple sclerosis in the digital age: 'seeing through a glass darkly'." Watch the official ECTRIMS webcast!
On the first day of ECTRIMS 2018 there was a focus on the use of real word data for better understanding of treatment outcomes, as well as its pitfalls (methodological issues) in clinical data. In addition, seminars on the determinants of disability accumulation in secondary progressive MS and comparative effectiveness of big data in MS specific therapies were placed in the focal point.
The first day also featured a series of sessions in paediatric MS centred in biomarkers, treatments of paediatric MS, white matter development, demyelination, different therapies and the use of MOG-IgG1 antibodies in children.
Risk management was also an important issue discussed, together with cognition, targeting questions as the role of exercise, cognitive rehabilitation, neuroimaging, long-term cognitive performance and the effect of depression and bipolar disorder on MS disability worsening.
Other hot topics like neuropathology, biosimilars, molecular imaging, CNS autoimmunity and digital MS – focused on the improvement of data acquisition and analysis through standardisation of clinical documentation, automated MRI image analysis and the use of mobile devices for patient reported outcomes – were also addressed.
Day 2
After a busy start, ECTRIMS followed with scientific sessions on the way of predicting the course of newly diagnosed patients based on insights from cohorts, vision research, environmental risk factors of MS, immunomodulatory treatment, the neuromyelitis optica spectrum disease (NMOSD) and the new targets to fight neurodegeneration. Webcasts
Latest hot topics on imaging, emerging high throughput technologies, symptomatic treatment and  access to and restrictions in MS therapy across countries also had an important place on the agenda.
Day 3
Those who attended the last day of ECTRIMS 2018 could learn more about approaches for tackling treatment failure – definition and switching between therapies –; recent developments in progressive MS and imaging for treatment monitoring; robotic and telehealth supported rehabilitation and exercise training in MS; disease heterogenity; integration of clinical and multiOMICs data for better understanding of MS; and the latest breaking news related to MS.
Dr Klotz, Zamvil, Palace and Stangel finished the ECTRIMS 2018 conference with the latest developments in their fields: :
understanding the interaction between immune cells and different brain resident cells, highlighting the role of the gut in modulating immune system responses;
how new standards for diagnosis are improving the speed and accuracy at which people can now find answers when faced with the first symptoms; and
how nowadays we have a much better understanding, thanks to real-world data collection, of how medications can best be managed around pregnancy and breastfeeding.
EMSP Quiz | ECTRIMS 2018
Those who dropped by our booth at ECTRIMS had a chance to participate in our entertaining booth quiz.
We would like to thank everyone who participated and give a huge shout out to Esther Cockram, MS Specialist Nurse from the Norfolk and Norwich University Hospitals NHS Foundation Trust. She is the lucky winner of a free ticket for our next Annual Conference to be held in May 2019 in Vilnius, Lithuania.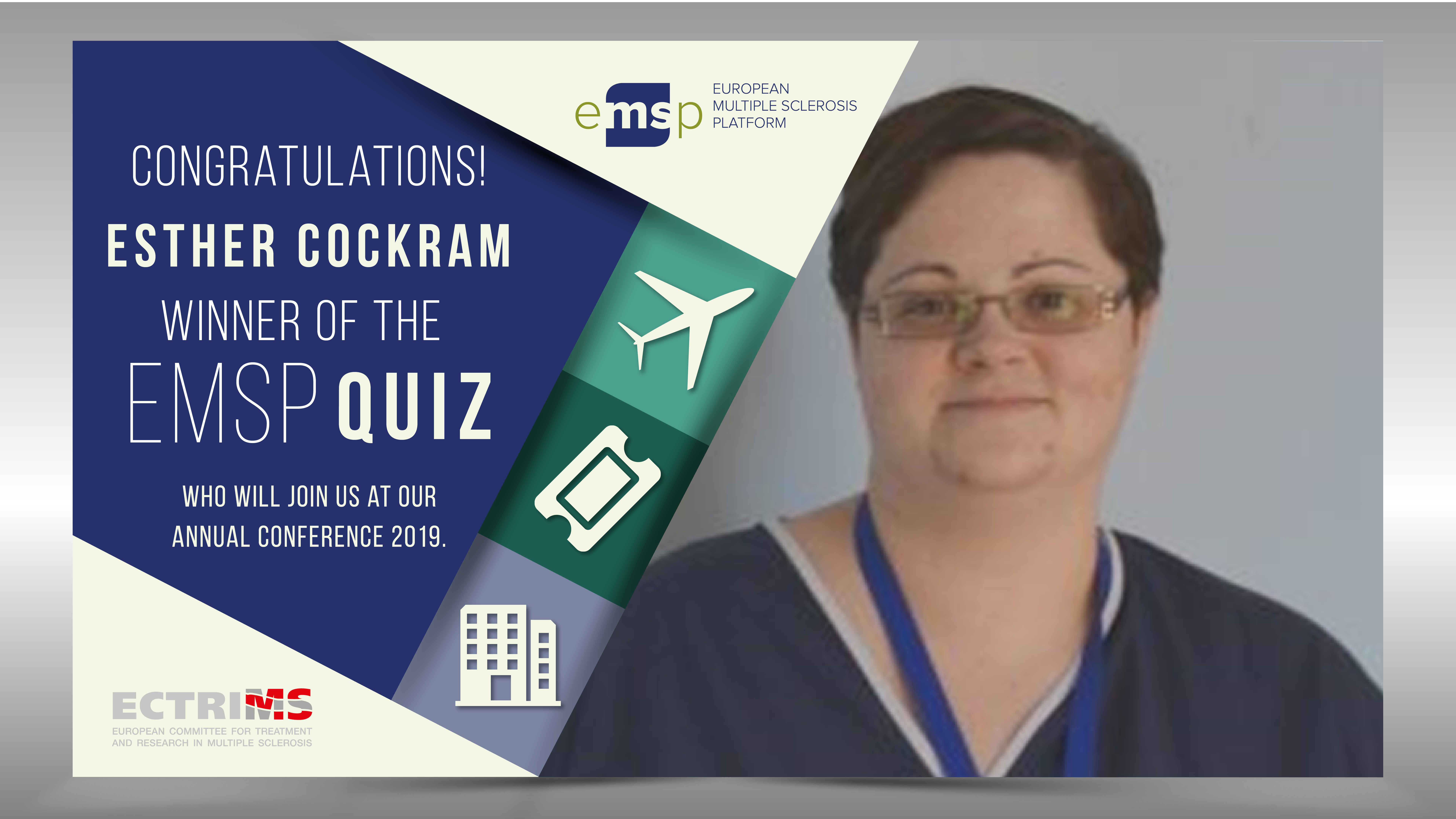 A huge Thank You to the ECTRIMS Board
The European Multiple Sclerosis Platform expresses its appreciation to the board of ECTRIMS for its generosity on behalf of the ten patients and representatives of EMSP's member national Multiple Sclerosis societies, who had the opportunity to attend the ECTRIMS Congress in 2018 for the very first time. Thank you ECTRIMS!
We are already looking forward to next year's conference in Stockholm! Save the Date! #ECTRIMS2019 11 – 13 September 2019.
---