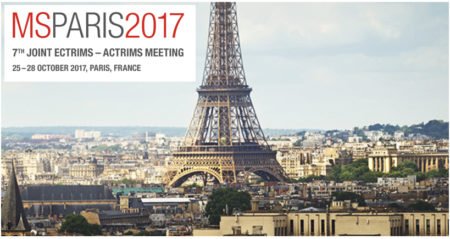 ---
EMSP News
EMSP Highlights from ECTRIMS 2017
14.12.2017
http://https://www.youtube.com/watch?v=x4UzpLay62M&feature=youtu.be
Last October, EMSP was at ECTRIMS-ACTRIMS 2017 the world's largest annual international conference devoted to basic and clinical research in multiple sclerosis. During the 3-day conference, we co-hosted a session on the Cost of Illness Study (COI) with Dr. Gisela Kobelt. Neurologists, patients, industry representatives and researchers gathered in a panel to share their views on the role of fatigue on employment and how we can support better employment policies for people with MS.
EMSP also hosted a meeting on the MS Data Alliance project in development, a collaborative endeavor between various stakeholders. The project aims at optimizing exploitation of registry data for regulatory work, health technology assessment and patient advocacy as secondary use for health care data. This meeting is a direct result of the recommendations made by the European Medicines Agency earlier this year. As a result of the discussions, the main stakeholders including MS registry holders, industry partners and MSIF, agreed on the need for a multi-pillar approach: the development of quality standards for data pooling, the support to MS registries to build on the expertise of others and the definition of the Patient Report Outcome (initiative led by MSIF). This meeting launched the work of a working group to develop a project proposal due early 2018.
EMSP successfully launched the 6th module of MS Nurse Pro on rehabilitation to a packed hall of participants. Intended to be an informative launch, MS nurses from the UK, Romania and Spain all pitched in to reiterate the importance of having a program like MS Nurse Pro especially in countries where there are less resources for MS patients.
ECTRIMS was a great opportunity to reach out to the greater MS community. We were able to meet with various stakeholders as well as some of our members from Germany, Lithuania, Croatia and Slovakia who shared their plans and activities for the coming year. We had a blast participating in the largest gathering of MS experts. We are already looking forward to next year's conference in Berlin!
---