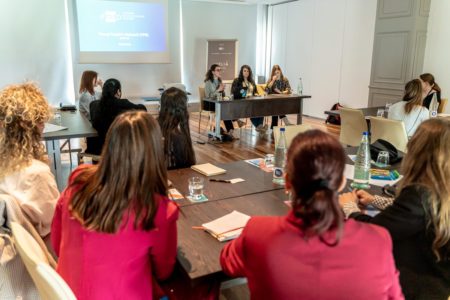 ---
EMSP News
EMSP elects new Young People's Representative
28.06.2022
After three long years, it was a privilege for us to bring together the European MS community to reimagine the future of MS Care. The event was organized in partnership with our two Spanish member MS Societies, Esclerosis Multiple Espana (EME) and AEDEM-COCEMFE in-person, in Madrid, as well as online.
#EMSP2022 brought together national MS societies, the patient communities, healthcare professionals, researchers, and policy decision-makers to discuss the different approaches to personalised multiple sclerosis care that will allow the provision of better quality and timely care for people affected by MS. The interventions Young People's Network (YPN) were extremely valuable, as EMSP seeks to support people of all ages to manage their physical and mental health well-being, build community resilience, and make informed decisions and choices when their health changes.
For that matter, a dedicated session to the Young People was organised, where two young people with MS from Spain talked openly about the activities they organise with their community at regional levels – from how mobilize a group of people to how to look for sponsors. The session ended with young people designing their own actions and campaigns based on what 'makes them tick'.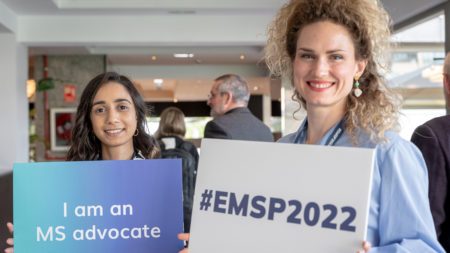 EMSP is dedicated to involving the voice of young people with MS at all levels of the decision-making process. Hence, EMSP reserves a seat on the Executive Committee  for a Young People's Representative. For the past 4 years, Patrik Puljić, from Croatia, has done a tremendous job representing his peers and speaking for their needs within our Executive Committee.
While Patrik has certainly influenced the work of EMSP over the course of his mandate, we are happy to hear that this position has also changed his perception of MS as a whole.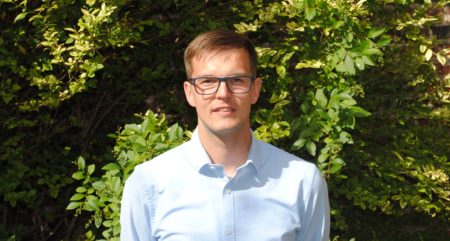 "When I was diagnosed with MS in 2011, I didn't believe that MS can bring also good things.
One of the good things that MS has brought to my life is the EMSP conference in Warsaw in 2015. Before that, I didn't know there was a conference that brings people with MS together who work to improve the quality of life of people with MS but also a place where we have the opportunity to discuss the problems in our lives. It was something new for me, but not also for me, it was something new for my MS society in Zadar.
I was at the same moment shocked positively, scared because I heard all the problems but also happy that there are people who are listening and my voice is heard on the highest level. I knew I want to be part of the EMSP and I want to help and I want to help people in my local community.
So, in 2018, I decided to run for the position of Young People's Representative on the EMSP Board as I wanted to be more involved in the work of EMSP. I was very happy to share the beautiful news and celebrate with my family, friends, and the MS society of my town when I came back from the conference from Bratislava. When I  shared the news on my social media and I got a call from the local newspaper which wanted to write an article about the position and my work with MS. At that moment I knew I reached something big and I get a chance to change something and I can influence important people will hear the voice of young MSer! I felt responsible and I was sure I want to use this opportunity to make some changes and improve the position of the young people at EMSP.
Now at the end of my mandate, I am happy and proud of myself because I was part of an EMSP Board where I had the opportunity to talk and learn from experts and real professionals. In the past four years, I met so many wonderful people around Europe, I met many young people with wonderful and inspiring stories, and I had the chance to meet people from other MS platforms and societies. I met people who are decision-makers and I gave my best so they can hear the voice of the young people. 
I am grateful to EMSP for the chance and the wonderful four years but it is not the end! I will continue my work and I will be more than happy to be involved in the next projects in the coming years.
The best I've learned is that MS can bring nice things, really nice things."
Building on the great work of Patrik, EMSP has elected Margarida Piçarra Navalhinhas from Portugal as the  new Young People's Representative on the EMSP Board on 28 April at the Annual General Meeting held in Madrid. We asked Margarida to share a few words about her expectations for the upcoming four years.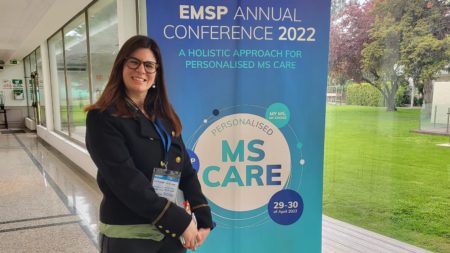 "I was diagnosed with pediatric MS 16 years ago and with so many years living with MS, I became an active advocate.
Currently, I am a Board Member of the Portuguese MS Society (SPEM) where I'm the representative of young people with MS and I co-share the responsibilities of Care and Employment – as well as a sociologist in the region of Alentejo.
I'm a very active person with a big heart, am I'm willing to devote my spare time to helping those that need it most. For me, this is a noble mission and a very important part of my life. I have a positive vision of MS in my life because even though it is not a good diagnosis, the truth is that it gave me so many opportunities. I have faith and I believe that we can transform bad things into good things, we can transform them into opportunities and this is what I want to do with my work at EMSP.
I think that young people with MS must have faith and hope in the future because we can face MS together as a big community. We have a voice and I want to give us more empowerment to advocate for our rights and help other people with MS to never give up on their individual dreams. Having MS is a big challenge every day but we can live with this and fight together.
It's a big honor for me to be elected as representative of young people with MS in the Young People's Network with EMSP. It is a big adventure but is also a mission I want to be a part of. I'm ready and very happy to work with this team, for us. You can count on me!"
EMSP strives to bring together people living with MS. With that, we aim to create a space in which young people can connect and share their unique challenges and adventures with each other. That is why, through the work of the Executive Committee as well as all of our actions, such as the Annual Conference, we focus on making the voice of the young people with MS heard. We want to thank both Patrik for this great work with on our Board and to welcome Margarida to the team. The MS community is very lucky to have both of you to advocate for the needs of young people living with MS.
---