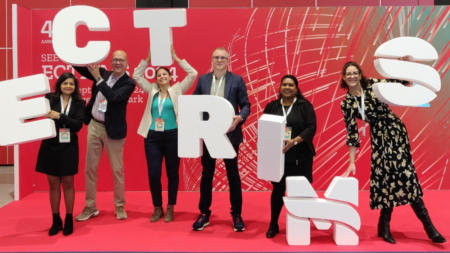 ---
EMSP News
EMSP News|MS Research
From Europe|Stakeholder Events
EMSP @ ECTRIMS 2023 – Key takeaways
26.10.2023
Introduction
On 11-14 October 2023, EMSP team participated in ECTRIMS/ACTRIMS in Milan, Italy. ECTRIMS is the European Committee for Treatment and Research in Multiple Sclerosis, and it is a non-profit organisation that focuses on multiple sclerosis (MS). ECTRIMS prioritises promoting research, education, and collaboration in the field of MS.
ECTRIMS was organised jointly with ACTRIMS, the American committee, hosted its 39th annual conference and 9th joint conference, and brought together researchers, healthcare professionals, and experts in the field of MS to share and discuss the latest advancements in MS research, treatment, and patient care. ECTRIMS plays a crucial role in advancing our understanding of multiple sclerosis and improving the lives of people affected by MS.
More than 9000 participants from 110 countries, with 240 speakers participated in this year's event. ECTRIMS 2023 was hybrid event with in person and online coverage of educational sessions, discussion of hot topics, nurses sessions, scientific sessions as well as paper and digital poster sessions.
EMSP at ECTRIMS
EMSP delegates actively participated in ECTRIMS 2023 . Our aim was to stay up-to-date with all the  latest findings on treatment and care for MS, but also to use this European and international platform to advocate for the needs and rights of people living with MS and raising awareness about the crucial role of patients. EMSP also establishes and maintains collaboration and networks with professionals in the field of MS through ECTRIMS, to work hand in hand on initiatives and projects that can improve the lives of people with MS. By participating in ECTRIMS, we can also contribute to and influence the priorities of MS research and clinical practice, especially by providing the patient perspective.
Thanks to a generous support of ECTRIMS, we were able to organise an exhibition booth, meet the MS community, connecting over priorities of people with MS and explaining EMSP projects and the priorities of our members. We also focused, through our MS Nurse Pro project, on the role of MS Nurses in MS research and MS care. Through its poll in the booth on the role of MS nurses in research, EMSP provided the chance for participants to express their perspective band to win a sports voucher, promoting a healthy lifestyle across the MS community. MS Nurse Pro project also hosted two sessions on the face of MS nursing and the role of MS nurses in pregnancy.
From a huge selection of sessions, EMSP chosen those that are of interest to people with MS.
Highlights of sessions attended by EMSP delegates
Plenary session
In the opening speech, Dr. Mar Tintore, President of ECTRIMS, emphasised that how we think about MS is changing continuously, and so should we evaluate it. The theme of this year's ECTRIMS was "every person, every pathway". Research now is focusing on in-depth understanding of MS progression. With the stemming research, it is time for a new mechanism to redefine the classification of MS. Dr. Tintore pointed that "ECTRIMS is aiming to be more inclusive, not only in research and clinical trials, but also in its engagement with the MS community." ECTRIMS, just like last year, has also included a Patient Community Day on the 14th of October to bring together researchers and people with MS and related disorders such as neuromyelitis optica spectrum disorder (NMO) and myelin oligodendrocyte glycoprotein (MOG)-associated disease (MOGAD). Dr. Massimo Filippi also welcomed participants at ECTRIMS-ACTRIMS joint conference and urged attendees to share data, research and stories together to shape the future of MS and accelerate treatment and care. Dr. Stephen Hauser also led on an introductory discussion in which he explained that highly effective therapy provides better treatment protection against late disability and the earlier treatment starts, the better the prognosis. Dr. Hauser also highlighted the efforts and progress that MS research has did in the past 20 to 30 years, mentioning that researchers are now closer to having a cure than they ever were. Dr. Hauser added that the coming two decades will change the face of MS and that "thanks to the MS community, MS is one of the neurology-success stories with research improving and understanding MS more and more".
Epstein-Barr virus (EBV) and MS
With recent emerging research on the link between EBV and MS, this hot topic was addressed at ECTRIMS. Dr. Christian Munz, among other professionals, stressed that the EBV infection matters for MS. He explained that EBV can be exchanged through saliva and that it replicates itself in the body once contracted. It persistently infects almost all the population and by controlling the immune system in theory, EBV may be prevented. An interesting point was raised that populations with high hygiene practices have lower exposure to infections during childhood, which seem to be putting them more at risk of contracting EBV later in life, thus increasing their risk of MS. Research now is looking into understanding if vaccination against EBV can help in preventing MS. Dr. William Robinson continued the discussion by questioning: Does EBV cause all of MS and that it may be challenging to believe that one single cause can cause a disease that is so heterogeneous like MS. Dr. Robinson discussed that other diseases are linked to MS, like lupus, but people with lupus don't necessarily have MS. The stirring debate came to the conclusion that is still very complicated to understand the causes of MS and that what research is looking into can help understand if certain EBV strains, not all, may increase the risk of MS. Research is, therefore, focusing on further understanding the role of EBV in MS.
Transition of MS from childhood into adulthood
During on the MS Nurse Pro sessions developed by nurses to nurses, Lucy Lyons, Advanced Nurse Practitioner stressed that MS nurses have a vital role in supporting a person with MS from childhood into adulthood, especially in navigating the different treatments, care and services that change as a person with MS grows. Lyons emphasised that young/paediatric people with MS should be empowered with enough knowledge about MS and are supported to have the confidence to self-advocate: raise their own needs with their medical team. Barriers to a successful transition can often be reliance on parents, skills and efficacy of the young person, their beliefs, access to knowledge and relationship of this person and the services they receive. Lyon also added that over-involved parents may limit the capacity of their children in self-management of MS as it may damage their self-esteem. Therefore, parental support must be done with awareness. The patient experience of a young person is different especially that they feel 'normal' and feel that they are surrounded by 'sick' people while they are not, particularly when the progression is independent of relapses. Lyon added that young patients may often feel distress from exposure to patients with severe disability and it is up to the medical team, especially nurses, to help young people with MS to navigate through needed services, including new services that emerge with adulthood, such as employment, education and building a family.
Pregnancy and the role of MS Nurses
The MS Nurse Pro sessions also discussed the topic of family planning and pregnancy. Nurse Lorena Lopez Reyes explained how misinformation highly affects family planning. MS doesn't have a negative effect on pregnancy by itself but the concern may come from using Disease Modifying Therapy (DMT) on the embryo. Lack of information about family planning is very common and the internet is often used as the source. The risks and benefits of MS on pregnancy should be discussed clearly between the health care professional and people with MS. Family planning and pregnancy desirability should be part of a routine clinical care and the discussion should start at a very early age. Reyes also explained that mothers' concerns to have children  are highly affected by MS diagnosis as the disease seem to worsen after childbirth, with an increased risk of relapse after pregnancy. Nurse Daisy Cam also explained that by the time of MS diagnosis, many women will still be planning pregnancies.  She mentioned that it is important for healthcare professionals to understand the common fears women may have and facilitate pre-conception counselling, plan pregnancy and labour and support during post-partum period. Nurse Cam explained that a multi-disciplinary team can come together, under one roof and through her experience, within one consultation, to address the concerns of women with MS and support during the entire process. Combining professionals under one clinic can decrease delays of referring one person with MS from one professional to the other, often a very lengthy process that delays care.
Progression independent of disease activity (PIRA)
PIRA was a highly important topic discussed at ECTRIMS. Dr. Carmen Tur, neurologist specialist in MS, explained that PIRA is situation where a person with MS experiences a worsening of their disability and symptoms despite the absence of shown relapses or new MRI-detectable lesions. PIRA describes disease progression in MS that is not clearly linked to the typical markers that commonly track disease activity like relapses or new lesions. PIRA is an important consideration in the management of MS, as it highlights the need to address not only disease activity but also the long-term disability and quality of life of individuals with MS. What researchers are focusing on is predicting PIRA and understanding the main predictors of PIRA. PIRA can predict long-term outcomes. The longer the duration, the greater the disability. Researchers at ECTRIMS explain that they are developing deep-learning models to be able to use PIRA as a tool to predict progression, disability and long-term outcomes. Within this topic, Dr. Jennifer Graves also explained that researchers are now investing in more technology to track injury to the eye, which can detect sub-clinical events. Eye injury can show brain function and eye-tracking can help in understanding any changes in progression. A discussion about next-generation digital tools, also called digital biomarkers, was addressed through this session and other sessions. This topic was considered important throughout ECTRIMS as such tools can help in signalling subtle differences in MS progression over time, can be more sensitive and can be more practical, faster and less invasive in monitoring MS. Digital tools can also have the potential to track and detect deterioration in symptoms on a larger scale, remotely which makes investing more in such tools a priority to researchers in the field of MS. More and better use of researched digital tools have the potential to change the trajectory of MS, slowing or preventing progression and disability risk because of early detection, especially of silent progression.
Symptomatic management to improve the quality of life
The management of symptoms in MS was a crucial topic addressed in various sessions at ECTRIMS. One of the most common symptoms discussed was fatigue. Fatigue often has subjective and objective definitions which makes it a very 'confusing' symptom in MS to track and care for. The topic of fatigue was addressed during ECTRIMS particularly because fatigue highly affects the quality of life of people with MS and may affect their employment. There are more than 30 different factors that are associated with fatigue, with the most prominent factors affecting fatigue being damage to the central nervous system and inflammation. There is no objective way to measure fatigue. Dr. Bardia Nourbakhsh stressed that "The gold standard for measuring fatigue is what the person with MS tells you", no better standards than patient reported ones. This discussion also highlighted that 90% of people with MS report fatigue but only one third are offered treatment through cognitive behavioural therapy, exercise, pharmacotherapy and sometimes DMTs.
Dr. Stefania Iaquinto continued her discussion on MS symptoms and their severity and how they affect the quality of life of people with MS. She explained that there are different factors associated with a lower quality of life, including the type of MS, presence of comorbidities, knowledge about symptoms, but also other factors less addressed like education, work and smoking. Dr. Iaquinto explained that age and MS duration are major factors in MS symptoms' severity. From her research, Dr. Iaquinto sharing that depression fatigue, pain, muscle weakness and memory problems seem to be most associated with lower quality of life among people with MS. This session was concluded by emphasising the importance of symptom management to ensure improvement in the quality of life for people with MS.
Health lifestyle for MS management
ECTRIMS also discussed the topic of lifestyle in managing MS symptoms. From dietary habits, smoking, vitamin D, to weight loss, experts shared the latest research in this field. As for dietary habits, there seems to be a direct link between the gut microbiota (bacteria in the gut) and MS. Diet can be considered as a disease modifier as it can help in managing the symptoms of MS but there is no direct causal linkage to date. According to Dr. Ilana Katz Sand, research on diet can be 'tricky' as it is usually observational. There are various diets studies with different findings but the common denominator is that a healthy lifestyle, with diet focusing on unrefined and unprocessed food options and that maintains healthy weight is recommended. Having enough vitamin D as part of food in the diet also seems protective but more research is needed to prove if vitamin D supplements have protective effects on MS and its symptoms. Dr. Ulrik Dalgas elaborated on the topic of physical activity in MS. According to his research, people with MS are less physically active, with some as much as 40% less active, and newly diagnosed are 25% less active. Dr. Dalgas elaborated that physical activity is a modifiable factor for the progression of MS and that with decreased physical activity, symptoms may worsen. The recommendation is for people with MS to move at least 150 minutes per week, but of course as tolerated. Physical activity may modify the progression of the diseases in the long term, but more long term research studies are needed, especially among people with disability and older population. Dr. Sharon Lynch also shared her research on weight loss and that shows that people with MS who have been supported to lose excessive weight have shown decreased fatiguability, improved mobility and improved quality of life.
The patient perspective to better identify MS progression
The topic of patient reported outcomes in MS (PROMS), was addressed quite often across ECTRIMS. PROMS are active and passive measures when people with MS report their status themselves. Researchers are working together to capture the experience of people with MS by monitoring patient-reported measures in a scientifically relevant manner. Currently, there is a lack in tools to prospectively assess if and when the progression or transition in MS occurs. PROMS aim to monitor and detect hidden symptoms through measures that track symptoms/functional domains and validate them through additional This ongoing project to determine efficient and precise PROMS will be a breakthrough in monitoring symptoms directly from and by people with MS themselves, especially for symptoms that matter the most for people with MS.
Female health
Female health, especially pregnancy and breastfeeding, are two topics that were addressed on various occasions at ECTRIMS ,especially because MS is more common among women and women health needs and research need to be up to date. Dr. Emmanuelle Leray reiterated that family planning in women of childbearing age with MS should be included in standard clinical care, especially in order to choose the right treatment plans based on pregnancy desire. She also emphasised that if planned earlier on, MS treatment should not be compromised because there are solutions. For the time being, few clinical trials include pregnancy because of the risks that they may cause to pregnancy. As for fertility, there is no evidence it is affected by MS. However, women with MS are having less pregnancies which could be due to psychological or physiological effects of MS. There is currently no evidence that MS is linked to increased baby prematurity or adverse neonatal outcomes, MS is not risky for pregnancy. It is important to note though, that MS disease activity decreases during pregnancy but the relapse rate after pregnancy is higher, with the first relapse happening 3 months post-partum. This risk decreases over time after pregnancy and are affected by changes in therapy practices and the use of DMT before and possibly during pregnancy. As for breastfeeding, it is protective for the mother as it decreases the risk of MS relapses but the challenge in this case, depending on the type of DMT used, that they leak into the breastmilk and hence consumed by the infant. The current recommendation is that if the MS is active, DMTs are restarted soon after delivery. This makes is challenging to breastfeed but an in-depth risk/benefit discussion with the mother with MS needs to take place to provide all the options possible, balancing the risk for mother and child.
Patient Community Day
The Patient Community Day was designed for people living with multiple sclerosis and related neurological diseases, and their caregivers, to stay updated and involved in the advancements being made on their journey towards managing their conditions.
During the meeting, attendees had the opportunity to meet with the scientific community, learn about the latest research and treatment unveiled at MSMilan2023, and take part in discussions that will enable them to voice their opinions and initiate meaningful conversations.
Federica Balzani, EMSP Vice-President and a person living with MS, urged initiatives and research to take the perspective of people with MS from different backgrounds, a broader and diverse community to represent various and wider range of needs.
The event was held in 🇬🇧 English, with simultaneous translation in different languages.
The recording of the event is also available in 🇮🇹 Italian, 🇫🇷 French, 🇪🇸 Spanish, 🇩🇪 German and 🇵🇹  Portuguese.
ECTRIMS Podcasts
You can listen to three ECTRIMS Podcasts summarising each day of the event, click on the image to listen to the podcast:



---