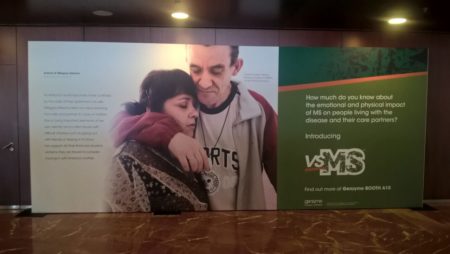 ---
EMSP News
EMSP at ECTRIMS 2015: Wide dissemination of MS healthcare priorities
13.10.2015
The 31st Congress of the European Committee for Treatment and Research in Multiple Sclerosis (ECTRIMS 2015) provided the perfect setting for EMSP to advocate on behalf of the 700,000 people living with MS in Europe.
The Congress was organised between 6 and 10 September in Barcelona, Spain, and was attended this year by more than 8,000 MS specialists and healthcare professionals from around the world, but the total outreach was far greater. For example, the social media interaction around ECTRIMS generated an online outreach of some 2 million people.
Growing health inequalities are one of the main challenges facing people with MS, and this topic served as a powerful introductory message for the presentation delivered by EMSP's President Anne Winslow during the Congress.
Titled "The increasing differences in MS care in Europe – and patient-driven measures for improvement", Anne Winslow's presentation invited Congress participants to find ways to appropriately include people with MS in the decision-making process in areas affecting their quality of life.
The presentation can be found here.
EMSP's President also conveyed messages for the general public through her interview (see extract image above) for the Spanish public news agency SINC.
"Multiple sclerosis doesn't necessarily mean living in a wheelchair", explained Anne Winslow for the publication covering science and technology news.
The interview (translated in Spanish) can be found here.
EMSP also engaged with the online public during the Congress. Apart from the regular updates, we participated in a Tweet chat discussion moderated by Spanish neurologist Mar Tintore, from the Cemcat MS centre of Catalunya. The main topic: the relation between patients and healthcare professionals, as highlighted in the State of MS report.
You can find the transcript of the chat here.
The chat was initiated by EMSP's corporate partners Biogen.
EMSP engaged will all corporate partners around ECTRIMS – the collaboration with Genzyme, for example, produced a series of inspiring photo panels which were exhibited at the entrance in the ECTRIMS exhibition hall.
The panels were based on footage from EMSP's multimedia project Under Pressure.
---