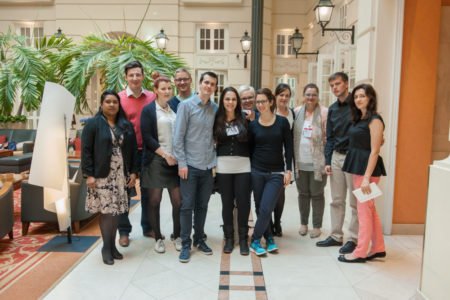 ---
EMSP News
EMSP 2016 Annual Conference: Bursaries for young people with MS
26.02.2016
UPDATE: Our available bursary places have been filled. Due to limited resources, we cannot offer extra places. However we would be glad to register any young person interested to participate at the Conference, provided they can cover the related expenses themselves or through their national MS societies. 
We are pleased to announce that EMSP is once more offering a limited number of bursaries for young people with multiple sclerosis (MS) for our Annual Conference and Young People's Conference – both taking place in Oslo, Norway, between 17 and 19 May 2016. The bursaries cover the registration fee, travel and accommodation expenses – if needed.
These are open to young people willing to participate and collaborate with EMSP and support our activities to better raise awareness of the challenges faced by young people with MS.
Please find all the Conference-related information here.
Young People's Conference
We would like to encourage young people with MS to attend EMSP's Young People's Conference that will take place during our Conference: it will start on Wednesday 18 May and continue until Thursday 19 May. The Conference offers a unique opportunity to learn about current developments across Europe in the MS field and to network with a number of high-level experts in the MS community.
Find details on how to apply here.
Find a summary of activities here.
The related programme will be made available in early March.
Requirements 
The applicants must fulfill the requirements described below.
Interest in actively participating in the Young People's network;
Proficiency in English (oral and written);
35 years of age or under on 30 May 2016.
Deadline
Please note that the Young People's Conference starts on the second day of the Conference, on Wednesday, 18 May. Activities will take place up to Thursday, 19 May, with travel home the same day.
The deadline for applications is Monday, 7 March.
Please disseminate this message to your network of young people with MS!
For further details, please contact Elisabeth Kasilingam at elisabeth.kasilingam@emsp.org.
---