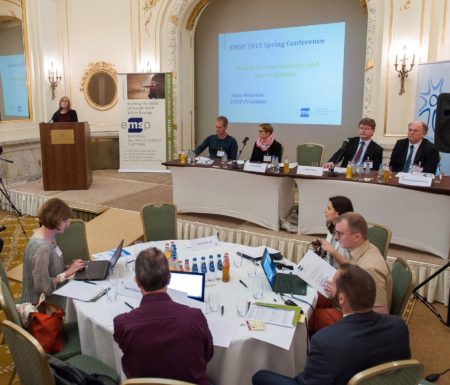 ---
EMSP News
EMSP 2015 Annual Conference: Presentations available
17.05.2015
EMSP's Annual Conference in Warsaw, Poland hosted, on 15 and 16 May, nearly 150 stakeholders interested in finding the best solutions for 'Access to employment and participation' – the main theme of the event.
Conference presentations from both days are available in the full article (to access click on the title).
Day 2:
European Employment Pact, EMSP CEO Maggie Alexander
Launch of MS Nurse Pro in Poland, EMSP President Anne Winslow
European Patients' Academy on Therapeutic Innovation, Journalist, Blogger Birgit Bauer
Dancing for Disability – The People's Strictly (video clip), MS Advocate Trishna Bharadia
Work as a clinical outcome for care?, The Work Foundation's Stephen Bevan
The role of patient advocacy, Jean Mossman
Stem cells transplant, Prof. Joachim Burman
Therapeutic Plasma Exchange, Prof. Mariusz Stasiolek
Day 1:
State Fund for Rehabilitation, Polish Ministry of Health
Message from EU Health Commissioner Vytenis Andriukaitis
Progress in the field: therapeutic improvements for all patients?, Prof Krzysztof Selmaj
Patients use of social media, Journalist, Blogger Birgit Bauer
eHealth, MHRA Group Manager Mick Foy
Health Unlocked, Community Manager Simone Pereira
UN Convention on the Rights of People with Disabilities, European Disability Forum Board of Directors Member Gabor Petri   
The 2015 Annual Conference brought together people with MS, advocacy organisations, healthcare professionals and researchers, alongside policy-makers from across Europe to offer a dynamic mix of presentations, interactive sessions and debates.
The event also marked the 25th anniversary of the Polish MS Society.
---