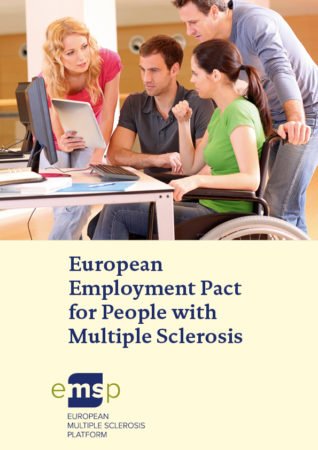 ---
EMSP News
Call to action: Sign the Employment Pact for People with MS
27.05.2015
The European Multiple Sclerosis Platform (EMSP) launched a Call to Action around our European Employment Pact for people with multiple sclerosis and other neurodegenerative diseases.
EMSP is now asking fellow patient organisations, national and European decision-makers and European employers to support the Pact.
By supporting the Pact, you sign for improvements in:
Employment policy
Recruitment
Equal opportunities
Training and awareness in the workplace
Reasonable accommodations: flexible hours, rest areas, accessibility, return to work policy
[gravityform id="2″ title="true" description="true" ajax="true"]
What makes EMSP's Pact so important?
Our Chief Executive Maggie Alexander explains:
Find the related Press Release here.
The Pact is also available in German, French, Spanish, Italian and Polish.
Breaking down the barriers
The Call to Action for the Pact was organised in the European Parliament on 26 May and chaired by MEP Adam Kosa.
The Pact was first presented to stakeholders, at the same venue, on 24 March. The event was hosted by MEP Rosa Estaras-Ferragut under the title "Breaking down the barriers: Access to employment and the economics of brain health".
Paving the Path to Participation
The Employment Pact has been developed as part of EMSP's EU-funded Paving the Path to Participation project.
Whether you represent a small or medium size business or are part of a larger multi-national organisation, the Pact is a step towards recognising the value and importance of policies that enhance workplace health and promote diversity.
---