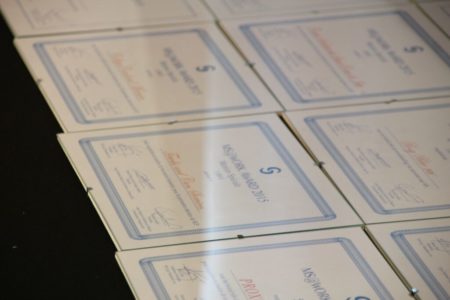 ---
Member News
Belgian MS organisations reward 'best' employers
21.09.2015
The Belgian National MS League together with other federal and local multiple sclerosis (MS) organisations have organised, in September, the MS@WORK Award 2015 event meant to recognise the companies and institutions who supported people living with MS in Belgium following their diagnosis.
People with MS from the Flanders, Brussels and Wallonia regions submitted 24 nominations, and one from each region was selected among the three final winners. There were also five 'honorable' mentions.
Deputy Prime Minister and Minister of Employment, Economy and Consumers, Kris Peeters (pictured below), handed out the awards.
Mr Peeters emphasised the pivotal role of enterprises in providing workplace adaptations for people with MS and other chronic conditions:
"We cannot expect people to stay in work longer if the context and approach to their careers is not evolving. There is a need to make working feasible and today's winners have reached this goal: adapting the working conditions to suit every employee. This is why they will also be winners in the long-term."
The awards also comprised a financial element. The winners received € 5,000 each, with the mentions being handed € 1,000 each.
EMSP's members from the Belgian National MS League were keen to underline that for people with MS, and other chronic conditions, being employed boosts self-esteem and allows for more empathy towards others.
---