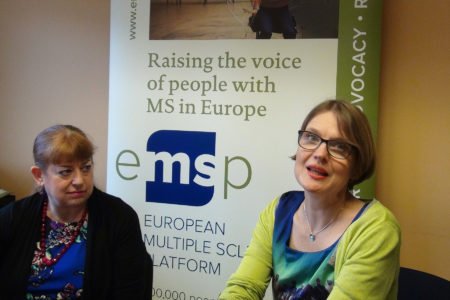 ---
EMSP News
EMSP handover. Outgoing CEO: I leave the organisation in an excellent state
29.03.2016
The European Multiple Sclerosis Platform's (EMSP) outgoing Chief Executive (CEO) Maggie Alexander handed over the reins in late March to incoming Interim CEO Bettina Hausmann.
In their joint video message marking this transition, Maggie and Bettina expressed confidence in the strength and professionalism of EMSP's staff and leadership, and reinforced their optimism in the organisation's future.
"Although I will be sad to be leaving this wonderful organisation, I'm very pleased that EMSP is in an excellent state and is busy carrying out its ambitious programmes on behalf of all those affected by multiple sclerosis (MS) in Europe"
said Maggie Alexander (pictured below, on the left) at the end of her three-and-a-half-year spell before introducing her short-term successor, Bettina Hausmann (pictured, right).
Bettina is a Communications and Organisational Management Expert, and has been living with MS for 10 years. During this time she has worked with EMSP in different capacities.
"I am delighted to join the team as Interim CEO on a part-time basis, for as long as EMSP needs my help"
said Bettina Hausmann.
"I see my role focused on three areas: one is to ensure continuity in a very professional and active organisation; the second is to help with the transition to a new CEO and make sure that Maggie's excellent work gets handed over; and last but not least, to work together with a very capable team as a voice of hundreds of thousands of people living with MS in Europe."
Bettina Hausmann is officially starting in her Interim CEO role with EMSP on 1 April.
---