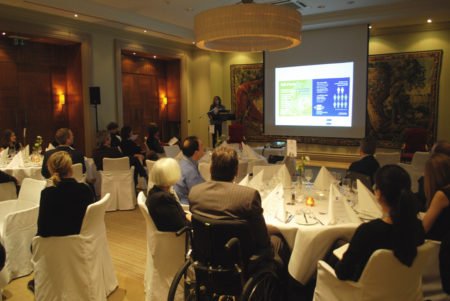 ---
EMSP News
2017 Networking Dinner: Achievements and key priorities
28.02.2017
EMSP was glad to host representatives of sponsors and partners at our 2017 Networking Dinner organised on 21 February at Hotel Amigo, in Brussels, Belgium.
As in previous years, the scope and focus of this meeting were to promote the deliverables of 2016 and outline the priorities for 2017 and beyond.
Achievements
An innovative presentation of last year's achievements was very well received by participants.
Click here to download the full slideshow.
Key priorities
Project Coordinator Emma Rogan talked about the importance of access to employment, one of the main priorities of our organisation.
Emma Rogan mentioned EMSP employment-focused projects such as Believe and Achieve and Ready for Work.
Find her presentation here.
External Affairs Director Christoph Thalheim then placed the focus on the collection of real world MS data.
Christoph Thalheim referred to our plans to continue the success of the EUReMS project with an ambitious new initiative: EuNetMuS.
Find his presentation here.
An open discussion followed the presentations, with MSIF's CEO Peer Baneke as moderator.
---