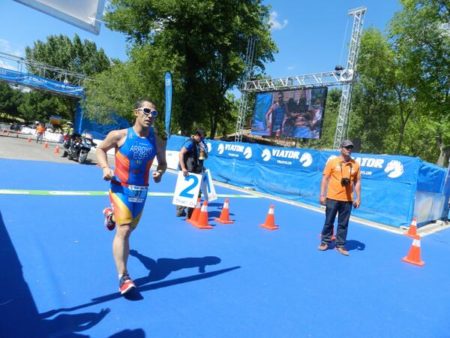 ---
Member News
100 meters: MS 'Ironman' movie inspired by fantastic true story
02.12.2016
Ramon is diagnosed with multiple sclerosis (MS) in his 30s. His doctor tells him that he will barely be able to walk, let alone run. But he decides to attempt the ultimate sporting challenge. To complete an Ironman race: 42 km run, 3,8 km swim and 180 km bike ride.
This is the true story of Ramon Arroyo, 44 years old, turned legendary MS athlete after his MS diagnosis from 12 years ago. His fantastic journey was recently adapted into a movie for the big screen: '100 meters'. The trailer with English subtitles can be viewed below:
100 meters: Giving up is not an option
The movie was launched in November 2016 and features accomplished Spanish actors. More information can be found here.
'100 meters' is running in cinemas across Spain and will also be available for the international audiences in early 2017.
The storyline was build around Ramon's book, '100 meters: Giving up is not an option'.
Both Ramon's real life story and the movie it inspired were supported and promoted by the Spanish MS societies EME and AEDEM.
Ramon for EMSP: 'I am very respectful to those disabled by MS'
EMSP wrote about Ramon Arroyo in our newsletter from March 2014 [on page 5].
He told us that MS is different for each person affected and recommended that those newly diagnosed seek personalised care and treatment.
Ramon added it is extremely important that people with MS take up sports to the best of their abilities:
"I am very respectful to those disabled by MS, but if just one person with multiple sclerosis takes up any kind of exercise after hearing my story, I will be the happiest man on earth"
A dedicated MS advocate
Despite his health issues, Ramon continues to compete in endurance races.
While sharing his experiences he also raises awareness of MS on his blog and Twitter account. And during interviews with national media.
---