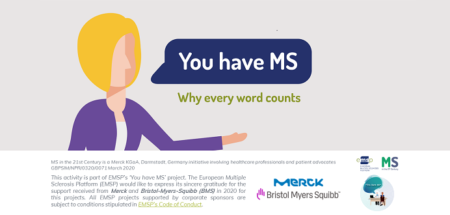 ---
EMSP News
'You have MS: why every word counts' Webinar
21.04.2020
On Wednesday 15th April at 13:00 CET, in collaboration with the MS in 21st Century initiative, we organised a webinar entitled 'You have MS: why every word counts'.
The webinar intended to show the need to improve communication between people affected by MS and healthcare professionals. Our expert panelists shared their personal experiences and existing initiatives that focus on overcoming such communication barriers.
Did you miss the webinar? Watch the recording the now:
One of the important takeaway messages from the webinar was that by working together we can help to bridge the communication gap between patients and healthcare professionals and that is why the 'You Have MS' project and MS in 21st Century would welcome your help and feedback on their latest resources in development.
If you would like to learn more, download the webinar slides here:
Shall you be interested in getting involved with EMSP's 'You Have MS' project, please contact Nora Kriauzaitė at programme.coordinator@emsp.org
If you would like to get involved with MS in the 21st Century, please write an email to MS21@ch-iscience.co.uk
---