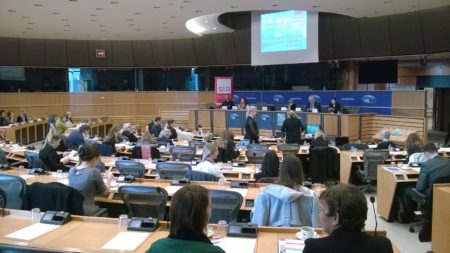 ---
From Europe
World Mental Health Day: Young people in the digital age
12.10.2016
EMSP's partners at Mental Health Europe joined by healthcare stakeholders and policymakers marked World Mental Health Day 2016 with a meeting hosted on 10 October in the European Parliament in Brussels.
The event was titled 'Mental health and young people in the digital age: addressing risks, seizing opportunities'.
It was co-organised by Members of the European Parliament (MEPs) Miriam Dalli and Julie Ward.
European Health Commissioner Vytenis Andriukaitis also attended.
Creativity vs bullying
On the one hand, the related presentations and discussions focused on identifying the potential negative effects of the internet and social media on mental health.
@V_Andriukaitis: Digital age brings opportunities & dangers for young ppl such as bullying and addiction #WMHD16 pic.twitter.com/vKM3Ua4vnc

— European MS Platform (@eumsplatform) October 10, 2016
On the other hand, the participants highlighted the many positive aspects of using digital tools to preserve and improve mental health.
@Miriamdalli: Let's help young ppl create interesting digital content to reduce the risks of bullying, anxiety and depression #WMHD16

— European MS Platform (@eumsplatform) October 10, 2016
Find the event presentations here.
Mental health in numbers
1 in 4 people in Europe will experience a mental health problem in their lifetime.
1 in 5 young people will be affected
50 percent of mental health problems are already evident by the age of 14
12 percent of young people between 11 and 16 years have reported being cyber-bullied in 2014
---