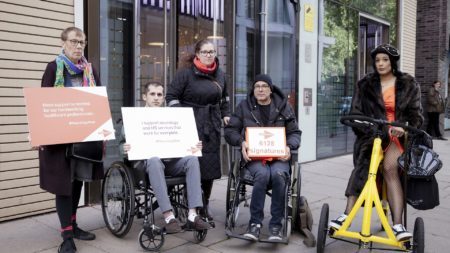 ---
From Europe
UK MS Society launches Neurology Now campaign
29.11.2021
The UK MS Society launched a campaign calling for prioritisation and investment in neurology services. As part of the campaign almost 8000 signed a letter to UK Governments and over 40 members of parliament (MPs) met with the UK MS Society to hear more about the need for action.
Neurology Now – the campaign
The UK MS Society launched our #NeurologyNow campaign in October this year, publishing a new report that highlights the gaps in neurology services across the UK and how they are failing people with MS.
Their report shows the COVID-19 pandemic has put extra strain on already stretched services. Nearly a third (29%) of people living with MS in the UK had appointments cancelled or delayed during the pandemic.
And nearly two thirds (63%) of MS professionals find it very challenging to provide a good service to everyone. In some areas people with MS get great care and feel supported by their team. But this isn't the case everywhere in the UK – made even worse by the pandemic.
The UK MS Society asked supporters to sign our open letter to UK governments calling for a plan to build a thriving, sustainable neurology workforce with better investment in neurology services.
As part of the campaign they launched two campaign videos from a person living with MS, Ayad, and a neurologist, Dr Waqar Rashid, to highlight the scale of the challenge they face and drive supporters to take action and call for change. Sharing personal experiences of the issue helps present the issue in a way we can all better understand and highlight why action is so important.
Across the UK they had over 8000 signatures on the national versions of this letter – a fantastic level of support for such a crucial cause! Staff and volunteers handed letters in to the relevant Government departments and hope to hear back soon.
Speaking with MPs about the campaign
In addition to handing in our open letters they held a very successful drop-in event in Parliament last month, allowing members of parliament (MPs) to learn more about the campaign and speak directly to people living with MS about their experiences of UK neurology services. They spoke with over 40 MPs and Peers about the need for urgent action to make sure everyone with MS has access to the right professionals and treatment, at the right time, across the UK.
Jessica, Robby, Ayad, Su and Roxy, who are all MS Society volunteers living with MS, joined us to tell parliamentarians about their experiences with MS services. After the event, Roxy said:
Jessica also wrote a blog post for us sharing her experience of the event and why it was such a brilliant experience, writing "Given my reliance on a variety of neurology services, I was extremely keen to support the Neurology Now campaign. Attending the event in parliament was a brilliant way to get directly involved and influence UK governments with my own knowledge and experiences."
Consultant neurologist Dr Waqar Rashid also addressed parliamentarians at the event. He said:
"I'm pleased to be talking about neurology services and to raise the profile of this area. There is a clear need to get services back to and beyond where they were pre-pandemic.
It has been interesting to hear the effect that the impact on services has had on people with MS and we need to look at what the Government can do to improve neurology services."
Next Steps
Staff from teams across the UK MS Society worked together to make our event run smoothly and it was especially brilliant to have five of their volunteers there too. They were really pleased with how the day went and actually had their highest turnout yet at a parliamentary event.
"Speaking to Government representatives face to face really seems to have a solid impact and they were all asked very poignant questions about the campaign and why Neurology Now is so important. After being unable to meet MPs in person during the pandemic it was great to be able to hold an in-person event to really showcase our work and allow MPs to hear directly from the MS community as well staff who worked on our report. It's vital people can access essential services and support from the NHS through every stage of their MS journey. So we'll be keeping the pressure on." – said Jonathan Blades from the UK MS Society.
The UK MS Society is calling for enough funding to support the development of national plans to restore and improve neurology service. And extra funding to recruit and retain neurology professionals. But they recognise that they can't do this alone and are working with other neurology charities whose communites are facing the same pressures to keep the campaign going.
They will also continue to meet with Government and NHS representatives to discuss their report and the proposals it outlines for each nation.
We need a stronger neurological sector voice
Right now health services across Europe are under huge amounts of pressure and neurology services that people with MS rely on are often forgotten. In the UK, 1 in 6 people live with a neurological condition yet services are nowhere near where they need them. To create the change we need to see we need to mobilise pressure and awareness amongst decision makers and build a unified neurology sector voice. We are stronger if we speak out together.
---