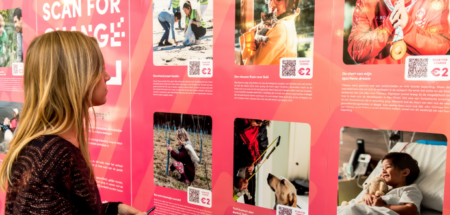 ---
From Europe
Scan for change – Belgian MS Ligue joins Payconiq campaign
19.12.2019
What does 2 euro represent for you? A cup of coffee? Your daily newspaper? A quick drink after work? For many of us, 2 euro is just a small amount you might pay as part of your daily ritual. But for some people, 2 euro can make a big difference. With this in mind, the Bancontact Payconiq company, in conjunction with 19 Belgian charities, including the Belgium Multiple Sclerosis Ligue, launched the Scan for Change campaign in Belgium.
This innovative campaign encourages small donations to support good causes in Belgium: people can easily and securely donate 2 euro simply by scanning a QR code via the Payconiq Bancontact app.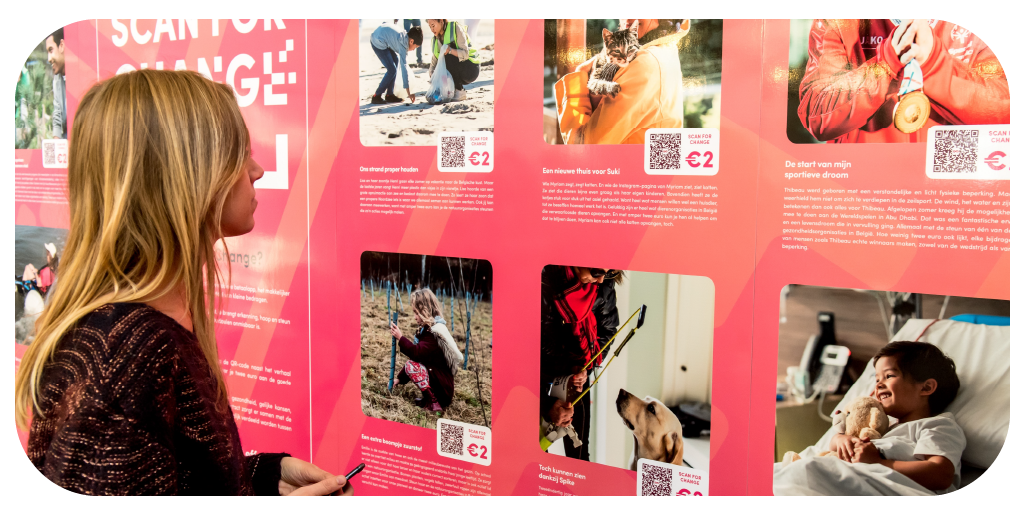 QR codes all over the Belgian railway
Started on the 3rd December – marking GivingTuesday, the international day of charitable giving – the Scan for Change campaign will be running until 18th December 2019 in 7 Belgian railway stations (Antwerp Central, Bruges, Brussels Central, Brussels North and Brussels South, Ghent Sint-Pieters and Liège Guillemins).
Large banners at the train stations are inviting passers-bys to reflect on what 2 euro means for them, and what it means for other causes. People can read about inspiring true stories . By scanning the QR code associated to a story, a direct donation of 2 euros can be made to the charities involved in the campaign.
At the end of the campaign, Bancontact Payconiq Company will double all donations –every 2 euros donated will become 4!
The campaign is also running online. All the stories are featured on the www.scanforchange.be  website.
How will the donations be distributed?
All donations will be passed on to a fund in each category: health, poverty, child welfare, nature and animal wellbeing.
King Baudouin Foundation will ensure that the donations made for each category are divided equally among all of the participating charities active in this category.
The Belgian Multiple Sclerosis Ligue has also joined this innovative fundraising appeal as one of the health charities.
Payconiq promotes digital fundraising through smartphone donations in Belgium
"Donate with a smartphone is a development that fits in perfectly with our society becoming more and more digital. Our aim is to make donating small amounts to charity as natural as buying a cup of coffee or any other of our daily habits. We're all increasingly spending small amounts using our mobiles. So why wouldn't we make a habit of using mobile payments to give society a helping hand?" says Nathalie Vandepeute, CEO of Bancontact Payconiq Company.
As plenty of little donations can make a big difference, Bancontact Payconiq Company and the 19 charities involved are enthusiastically supporting the first edition of this innovative fundraising campaign – demonstrating that the power of small, mobile donations as an exciting new way to raise funds.
---